This isn't boring soup. Ultra-creamy vegan butternut squash soup is made with roasted garlic and smoked paprika to keep things interesting. And it's easy to make!
Recipe Overview

Why you'll love it: The soup has more protein than you would expect because of the addition of canned beans. Roasting the squash, onion, and garlic gives the soup a rich, satisfying flavor.
How long it takes: 1 hour
Equipment you'll need: baking sheet, blender, large saucepan
Servings: 4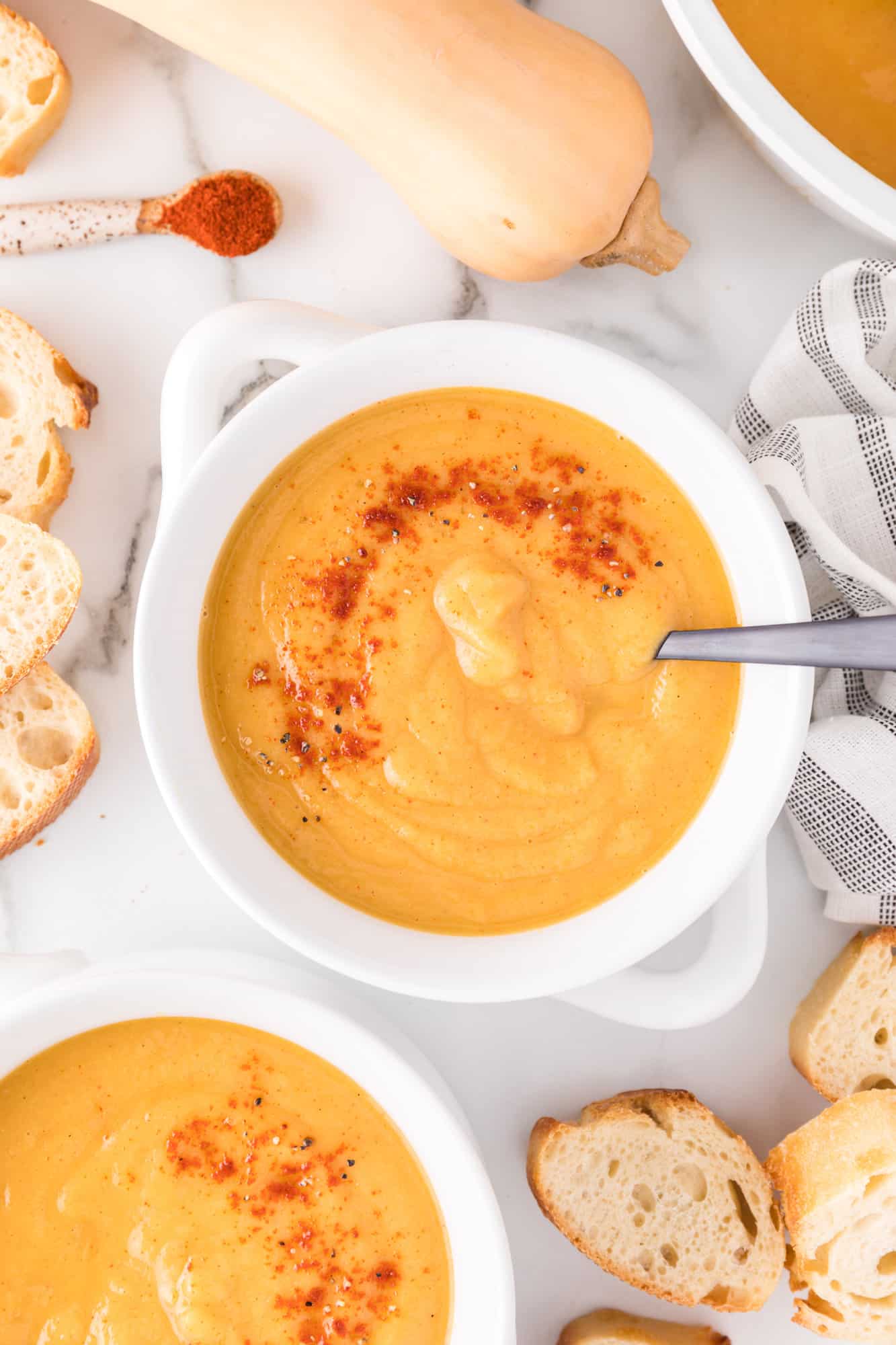 Ready for a new take on butternut squash soup? You'll find several recipes for squash soup on Rachel Cooks. I guess you could say I have a thing for it.
There's something so satisfying about creamy soups and bisques, whether they are made with actual cream or not. Squash has a naturally creamy texture, especially when it's puréed, so it easily transforms into a luxurious smooth soup.
One of my most popular recipes is Panera copycat squash soup, a classic curried squash soup that's a bit more healthy than the restaurant version. For something just a bit different, try kabocha squash soup. Kabocha is an especially sweet winter squash.
And we can't forget about pumpkin soup! Pumpkins are a winter squash, too. Try crockpot pumpkin soup with only 5 ingredients or pumpkin curry soup that uses canned pumpkin so it's super easy to make.
About This Roasted Squash Soup
Roasting enhances the flavor of the soup. We've all learned how roasting vegetables caramelizes the natural sugars that are found in some vegetables. The hot temperature evaporates excess water so the flavor is intensified. In this soup recipe, the squash, onions, and garlic are roasted, guaranteeing that the soup will have the best flavor. It's definitely worth the extra time!
This vegan soup has plenty of flavor. Two ingredients really shape the flavor profile of the soup: roasted garlic and smoked paprika. Perhaps you're not familiar with roasted garlic and a whole head of garlic seems like a garlicky mistake. Not true! Roasting the garlic makes it sweet and nutty in flavor with a buttery texture. It's perfect for the soup! Smoked paprika adds just a hint of smokiness that is unmistakeable and unique.
Squash soup is a healthy choice. Butternut squash is a rich source of antioxidants, vitamin A, and fiber, among other things. This soup recipe has the added benefit of canned white beans which add protein and fiber. It's low in calories (234 calories per serving) and saturated fat.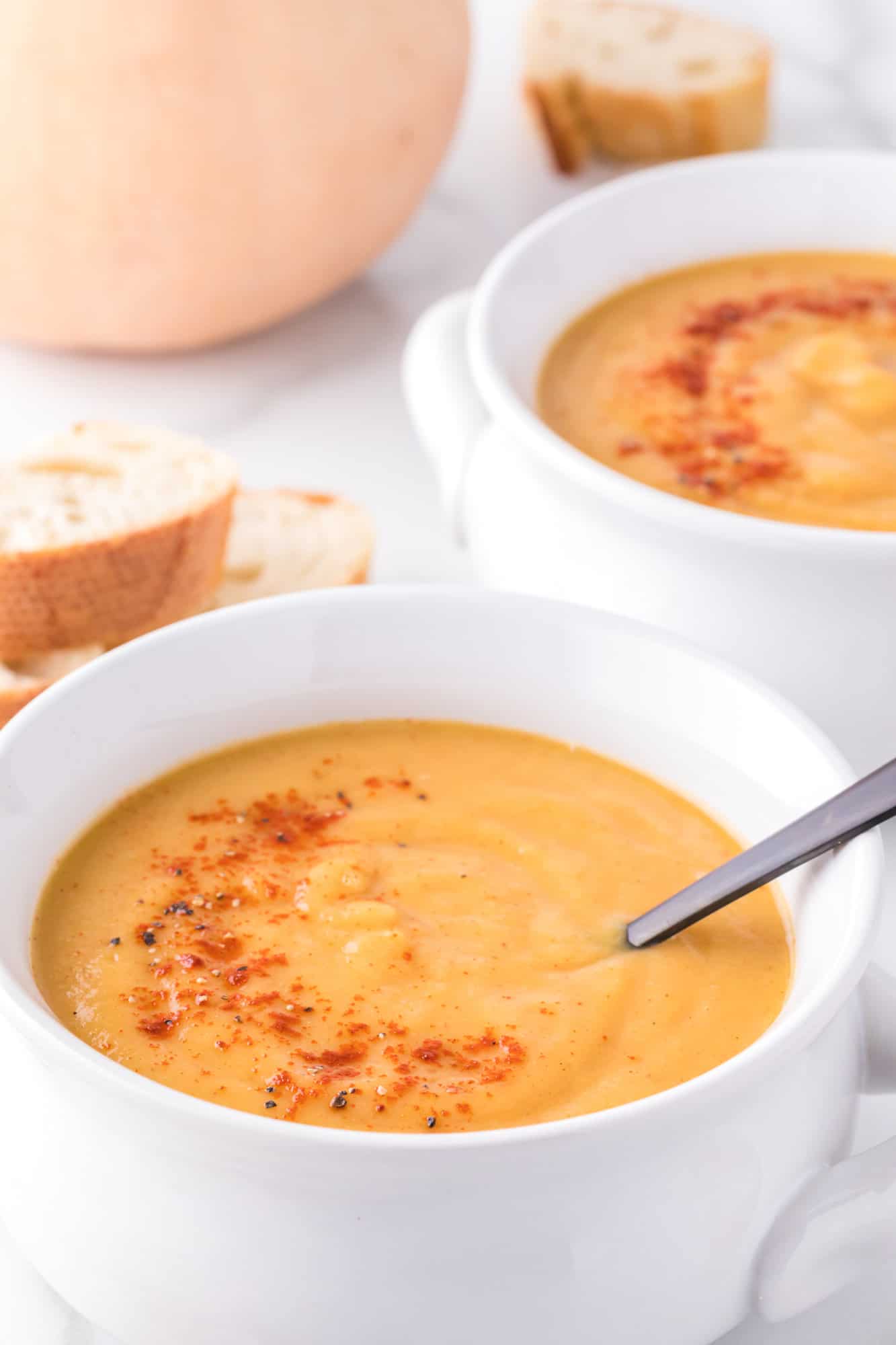 Ingredients You'll Need
Butternut Squash: Butternut squash is a bell-shaped winter squash that is light tan in color. Look for a squash that weighs about 2 pounds.
Sweet Onion: There are several varieties of sweet onions: Spanish, Vidalia, Texas, Walla Walla, and Maui. A large white onion is good, too. Store sweet onions in the fridge.
Head of Garlic: An entire head of garlic is roasted and puréed with the soup. Roasted garlic is surprisingly sweet and mellow; it's much less pungent than raw garlic. Learn how to roast garlic, it's easy and adds so much flavor to soups, breads, spreads, etc.
Smoked Paprika: If you're used to regular paprika, you'll be pleasantly surprised by the flavor of smoked paprika which is made from red peppers that are slow roasted over a smoky oak fire. Smoked paprika isn't too spicy hot.
White Beans (Cannelini or Great Northern): You wouldn't guess that there's a can of beans in the soup! They add substance and protein to this vegan soup. Some vegan soups are thickened with raw cashews. This is a nut-free recipe.
Vegetable Broth: Look for low sodium broth. If you aren't concerned about the soup being vegan, you can sub in chicken broth.
Apple Cider Vinegar: Just a tiny splash of tangy vinegar balances the acidity of the soup. You won't taste it but you'd notice if it wasn't in there.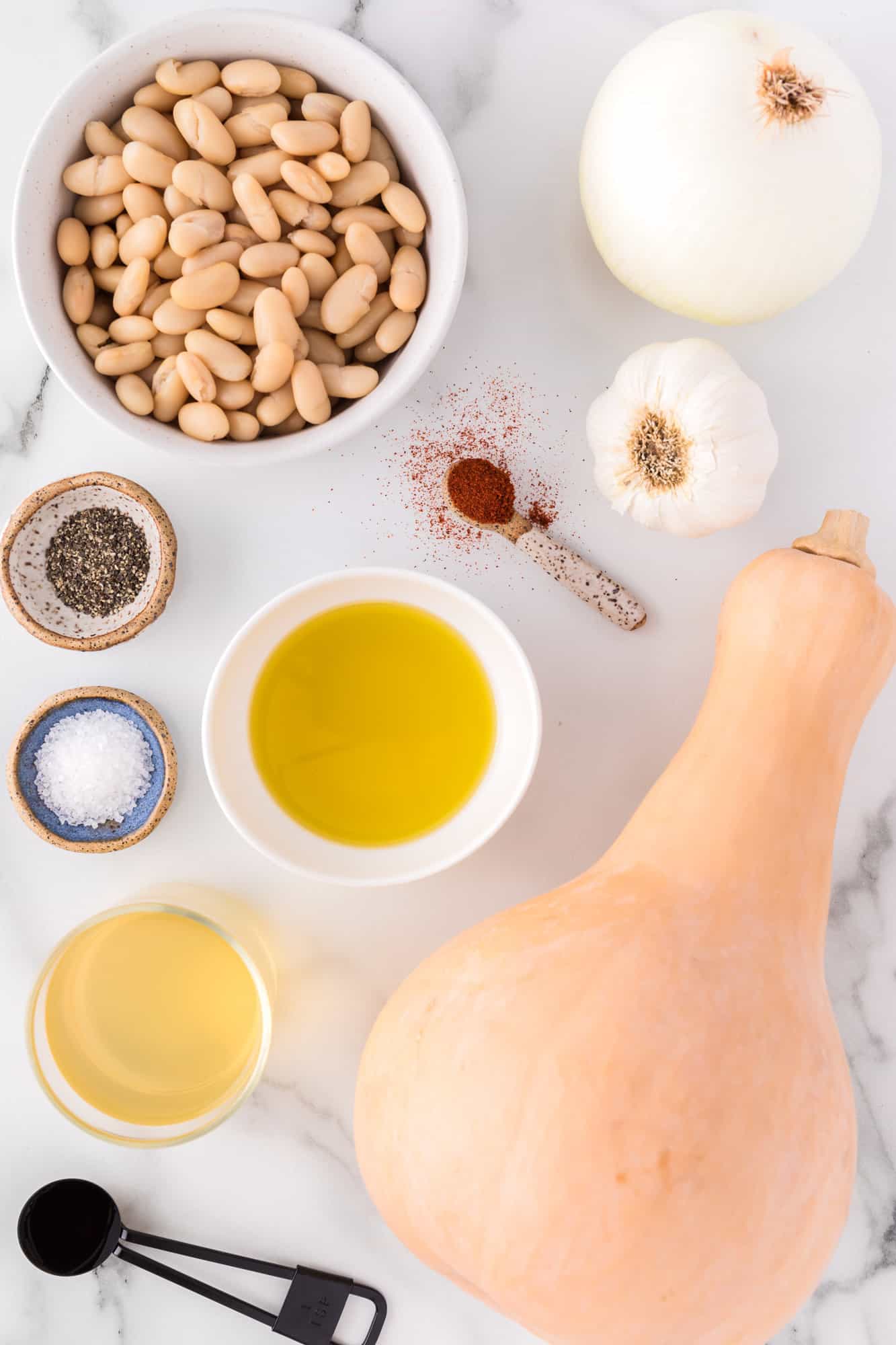 How To Make Squash Soup
Prep the squash, onion, and garlic. Cut the squash in half and remove the seeds with a spoon. Rub the cut sides with oil, season with salt and pepper, and arrange the squash halves, cut sides down, on a rimmed sheet pan.
Peel the onion and quarter it. Put it on the baking pan and drizzle it with oil. Cut off the top of the garlic, place it on a square of foil, and add a bit of oil. Wrap the garlic tightly with the foil and place the packet on the baking pan.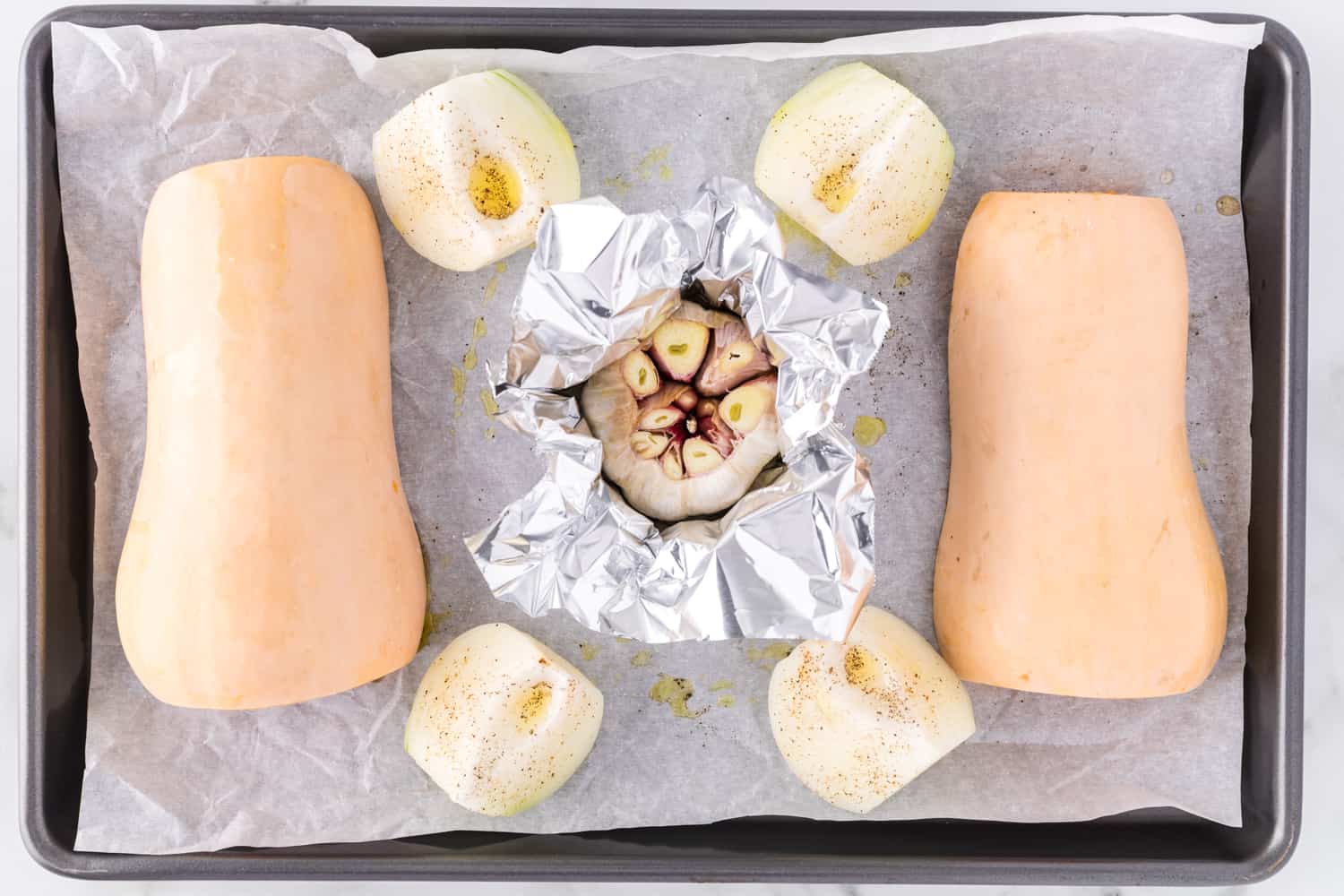 Bake at 400°F for 45 minutes or until the squash is tender. To test the squash, poke a fork into the thickest part of the squash to see if it goes in easily.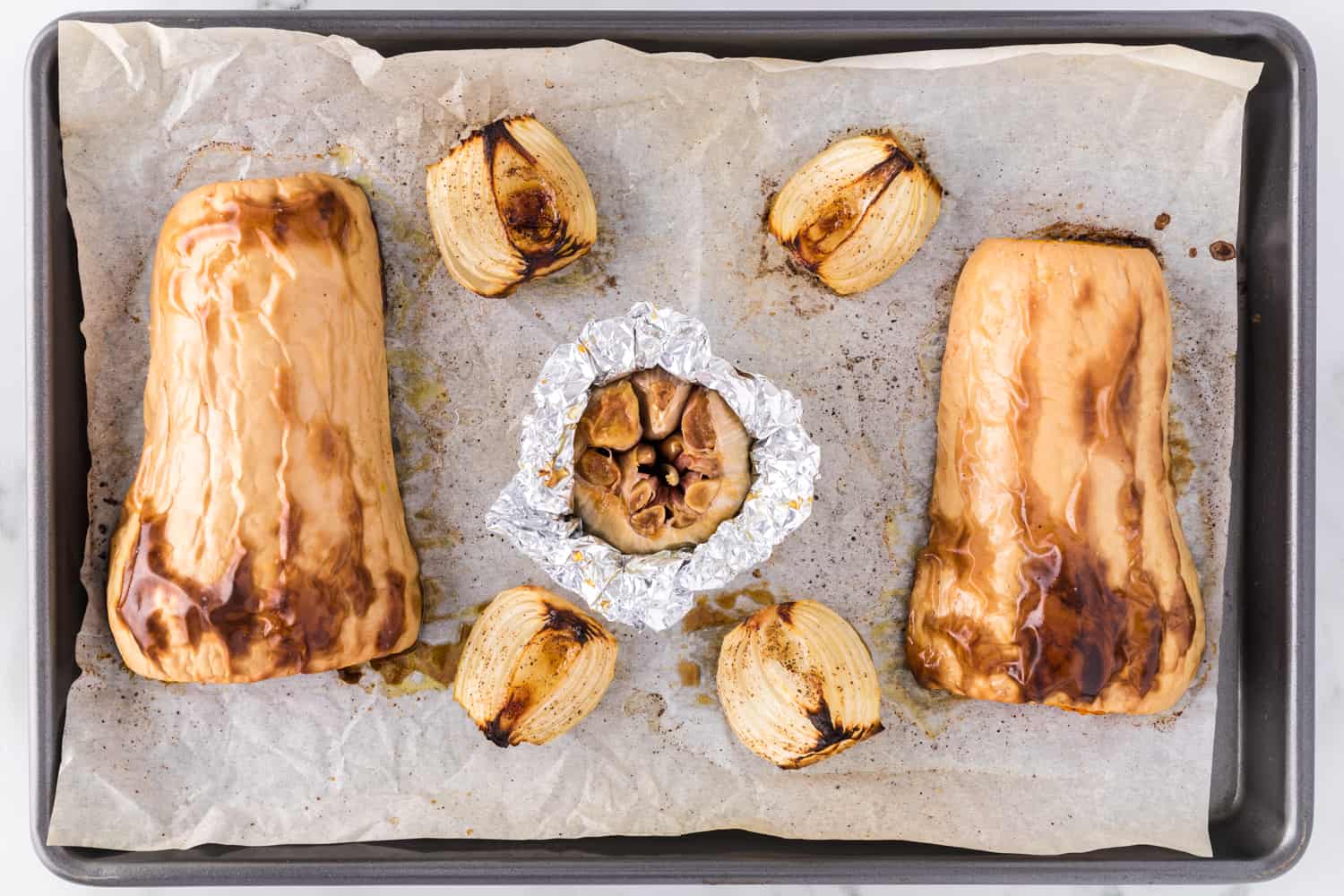 Process soup in a blender. Allow the squash to cool slightly so you don't burn your hands. Carefully scrape the roasted squash from the skin with a large spoon, transferring it to the blender.
Squeeze the soft garlic from the cloves and add it to the blender, along with the roasted onions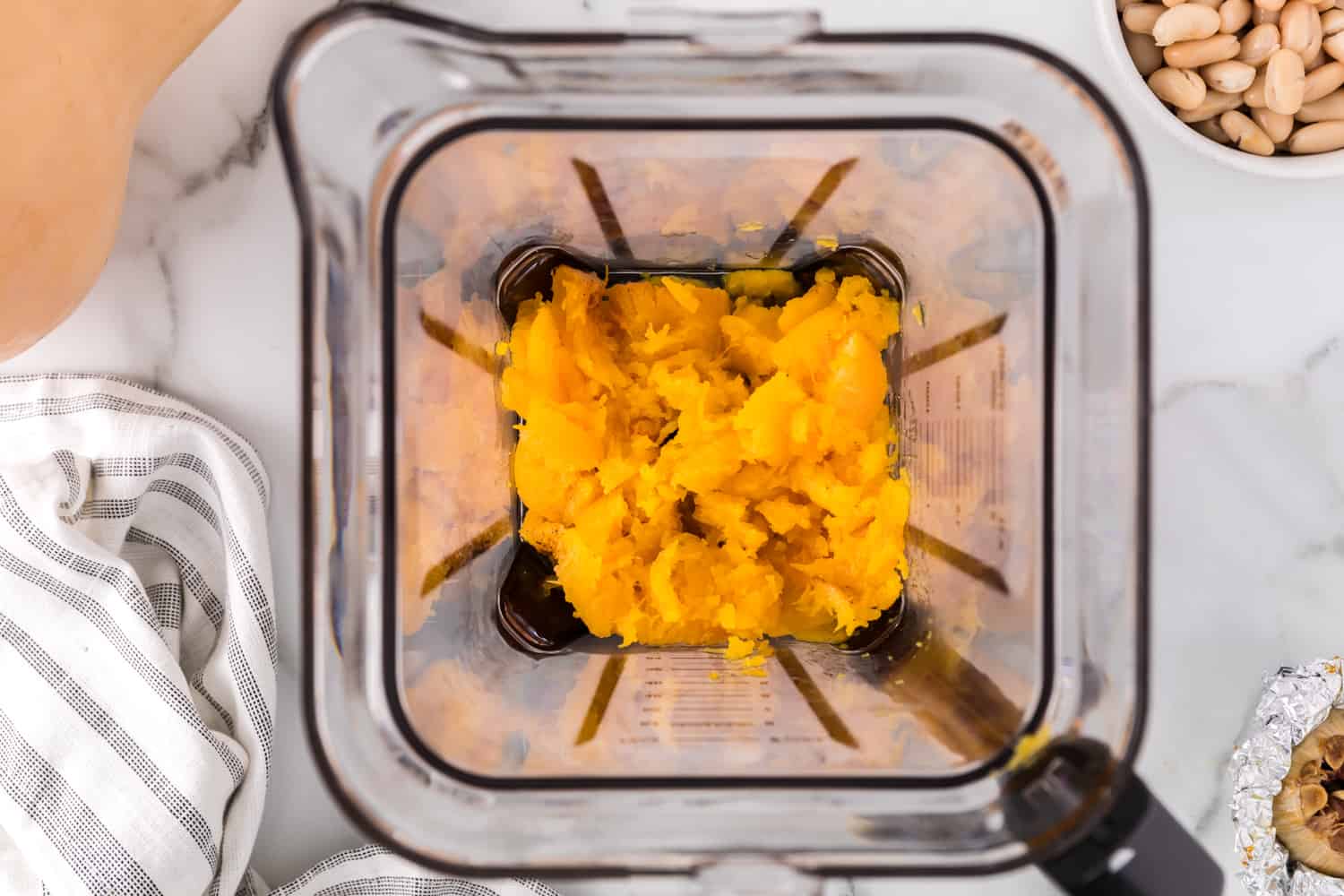 You'll also add broth, and a can of white beans to the blender.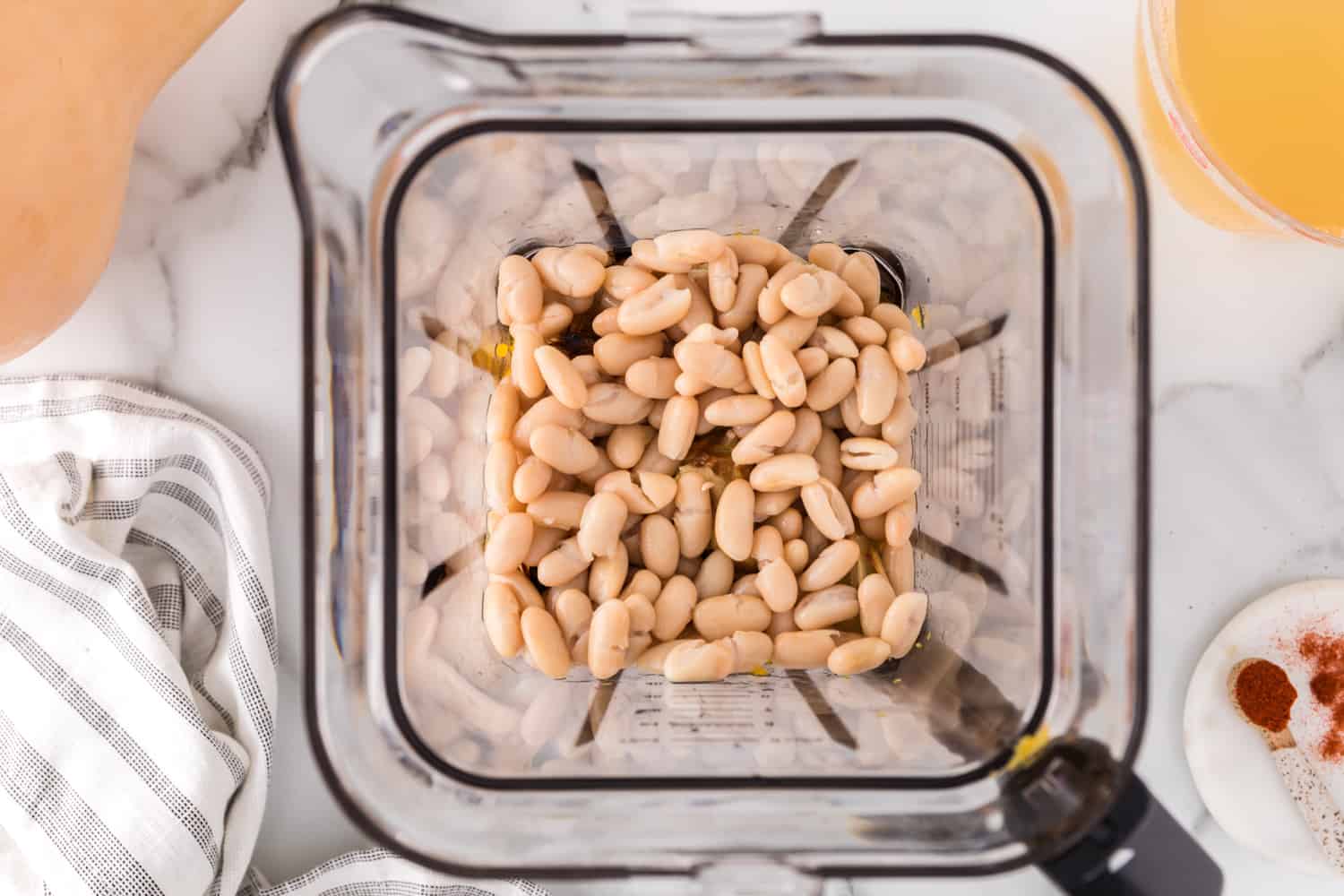 Process until very smooth. You can use an immersion blender but it will take a little longer and won't be quite as velvety.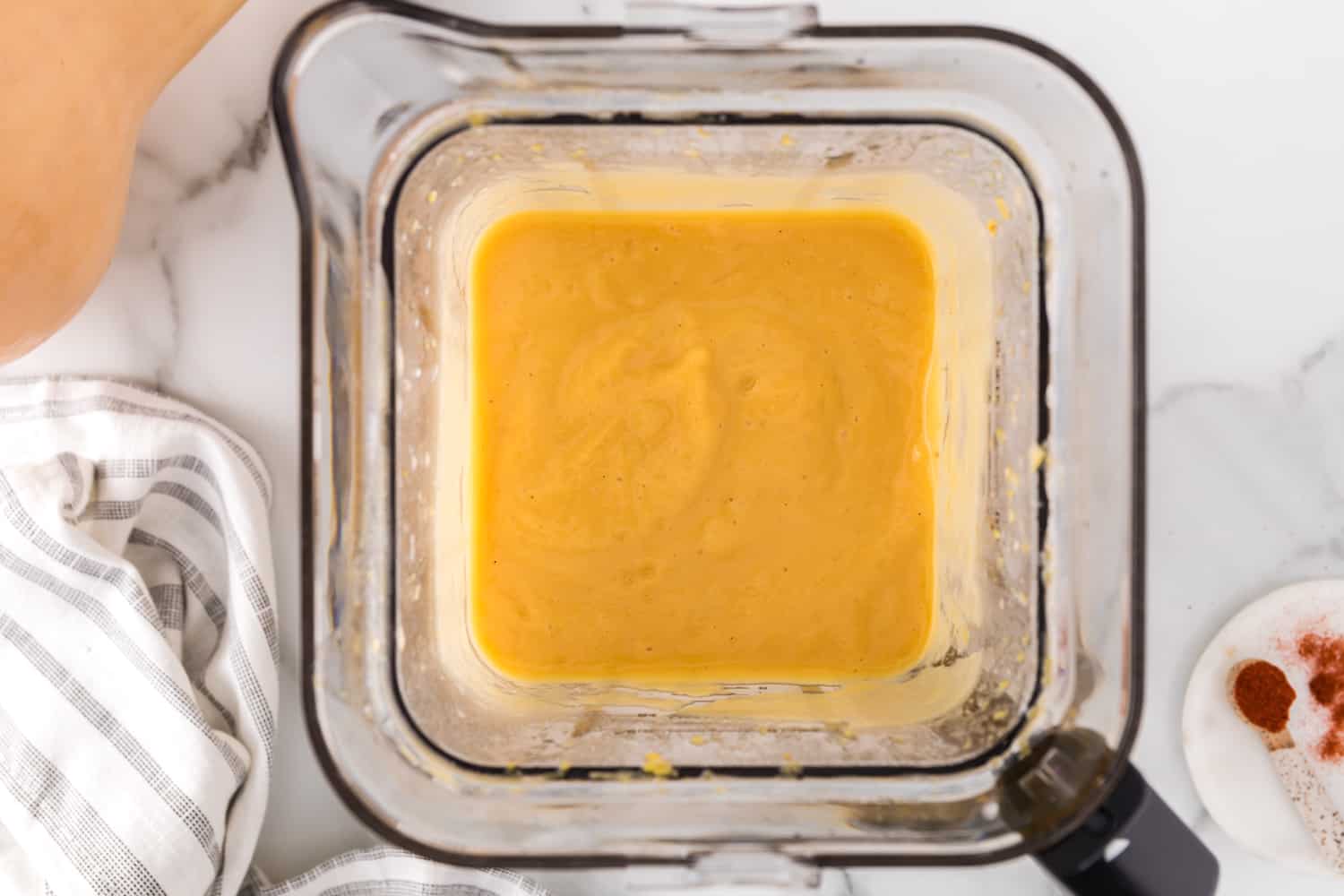 Warm soup in saucepan. Transfer the soup from the blender to a large saucepan. Stir in the smoked paprika. Taste the soup; add salt and pepper, to taste.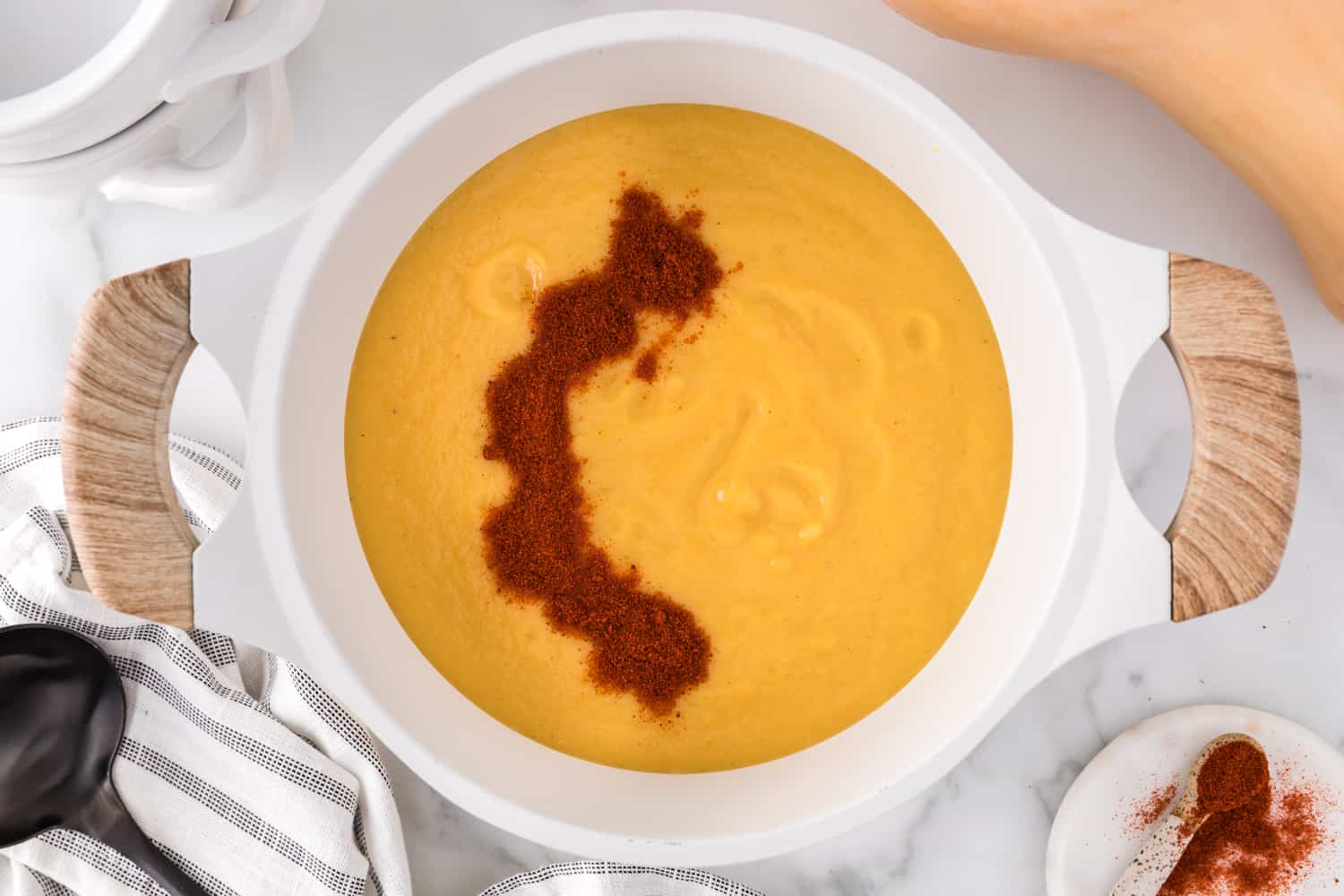 Over medium heat, gently warm up the soup until it's steaming. Stir in a splash of apple cider vinegar just before serving.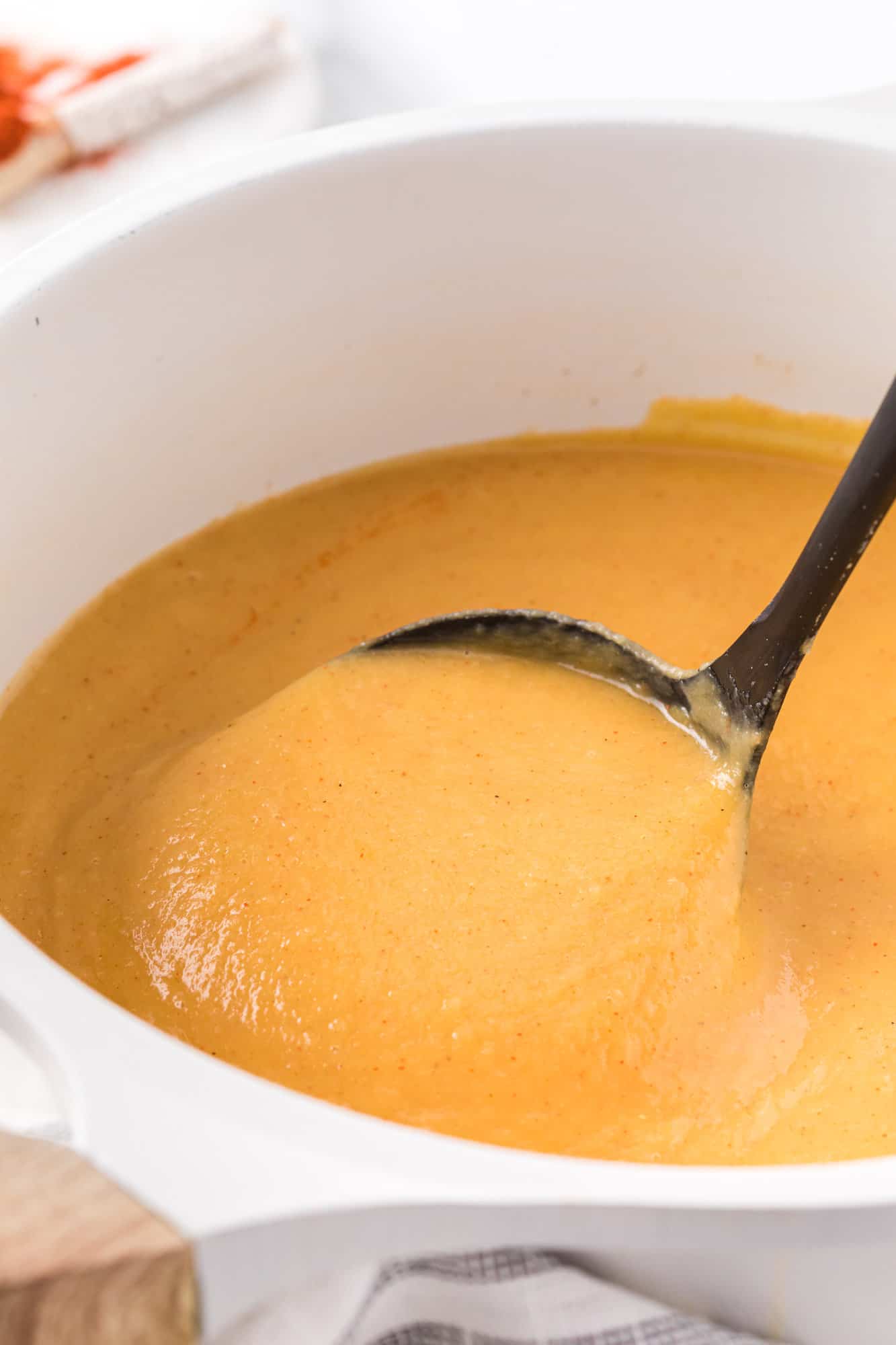 What Goes Well with Butternut Squash Soup?
Muffins, bread, or crackers:
Salads: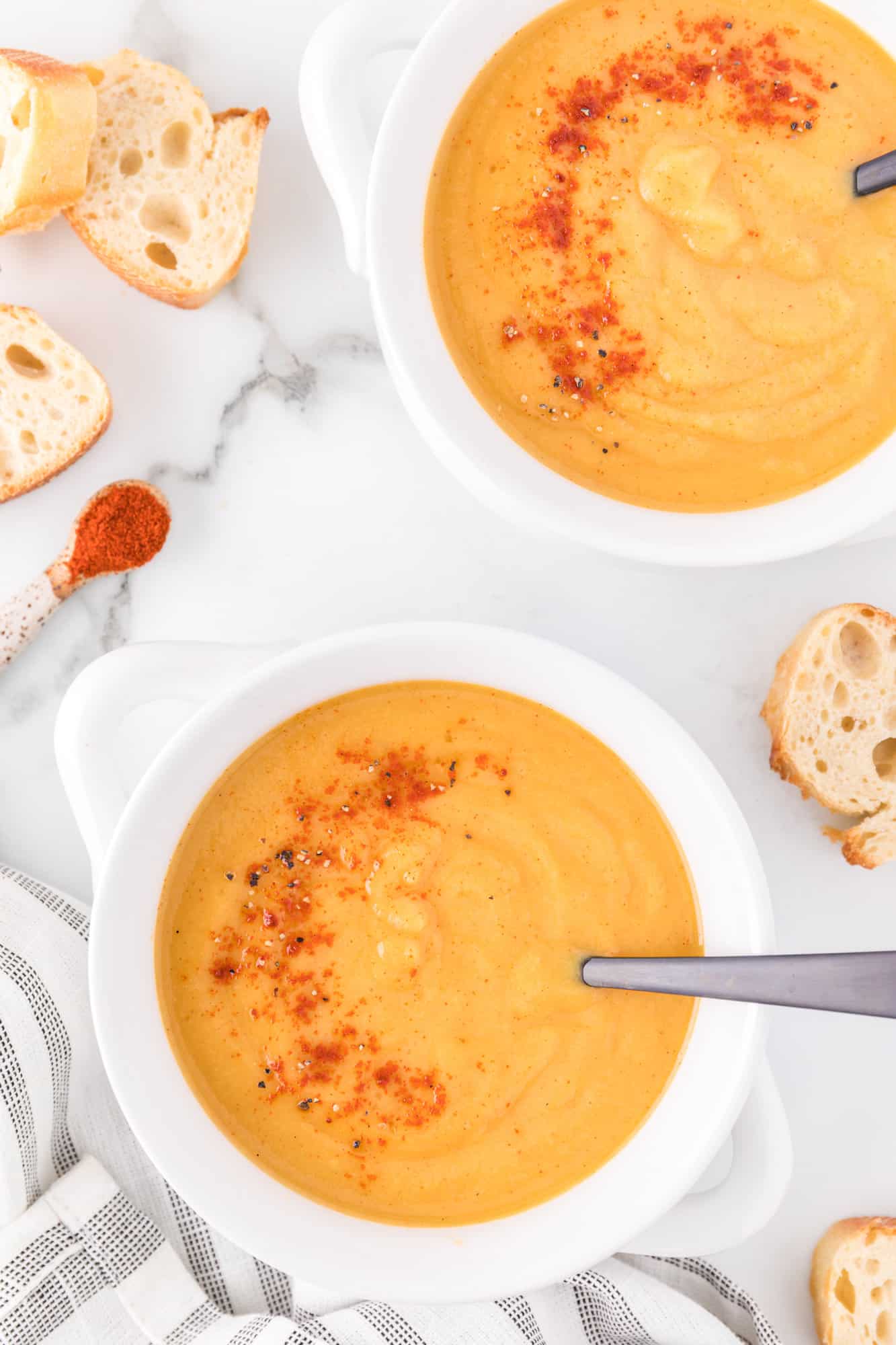 Make Ahead & Storage Ideas
Refrigerate: The soup will keep in the refrigerator for up to 5 days in a covered container. You can have a nutritious lunch every day!
Freeze: This soup also can be frozen for up to 3 months. Often creamy soups don't freeze well but this vegan soup is an exception because it doesn't contain cream.
Reheating: For best results, thaw frozen soup overnight in the fridge before reheating. Microwave soup in a microwave-safe bowl or mug until heated through. Larger portions can be reheated in a saucepan on the stove over medium low heat.
Did you make this? Be sure to leave a review below and tag me @rachelcooksblog on Facebook, Instagram, or Pinterest!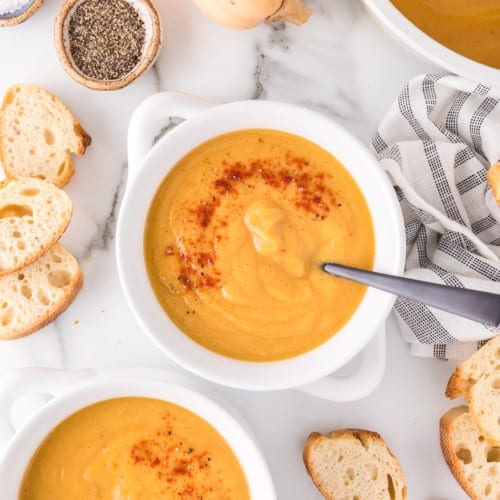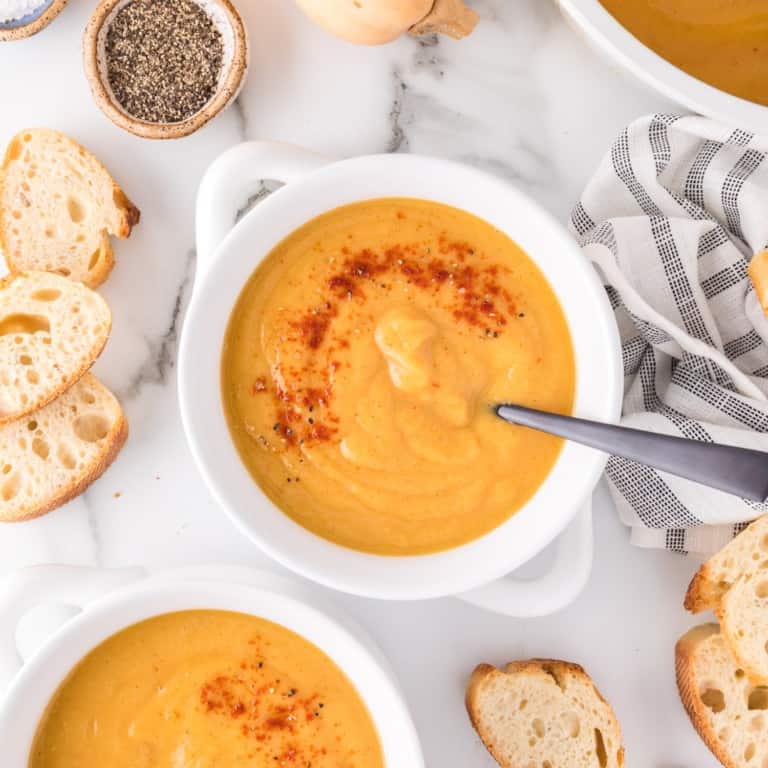 4 servings
Prevent your screen from going dark
This isn't boring soup. Vegan butternut squash soup has roasted garlic and smoked paprika to keep things interesting. And it's super simple to make!
Instructions
Preheat oven to 400°F and line a rimmed baking sheet with parchment paper; set aside.

Arrange butternut squash halves, cut sides up, and onion quarters on baking sheet. Drizzle with 1 tablespoon oil, rubbing the oil in to cover the cut sides; season with salt and pepper. Flip squash halves over so they are cut side down.

Place garlic clove on square of foil and drizzle with remaining oil. Bring sides of foil up and close tightly to make a packet. Set packet on baking sheet with squash and onion. Roast vegetables for 45 minutes or until squash is tender.

Once the squash is cool enough to handle, carefully scoop the squash flesh away from the skin and into the blender. Squeeze roasted garlic into blender. Add onions, white beans, and broth to blender. Process until very smooth.

Pour contents of blender into large saucepan. Stir in smoked paprika; taste and season with additional salt and pepper, if desired. Heat soup over medium heat until heated through, then stir in apple cider vinegar.
Notes
If desired, use a handheld immersion blender instead of a blender. Process the soup in the saucepan. The soup will have a slightly less creamy texture.
Recipe updated 1/2023. 
Nutrition Information
Serving: 1.5cups, Calories: 234kcal, Carbohydrates: 34g, Protein: 10g, Fat: 7g, Saturated Fat: 1g, Polyunsaturated Fat: 1g, Monounsaturated Fat: 5g, Sodium: 305mg, Potassium: 640mg, Fiber: 7g, Sugar: 5g, Vitamin A: 275IU, Vitamin C: 6mg, Calcium: 111mg, Iron: 4mg
This website provides approximate nutrition information for convenience and as a courtesy only. Nutrition data is gathered primarily from the USDA Food Composition Database, whenever available, or otherwise other online calculators.