Soft buttery caramels are dipped in creamy chocolate and topped with a little salt for the perfect treat. Our recipe for chocolate covered caramels is easy-to-follow and has a video to make things extra easy.
Watch the Video
Related: We love our popular salted caramels!
How to Make Chocolate Covered Caramels
These chocolate covered caramels are soft, chewy and perfectly melt away in your mouth. You probably have all the ingredients needed to make them in your kitchen right now.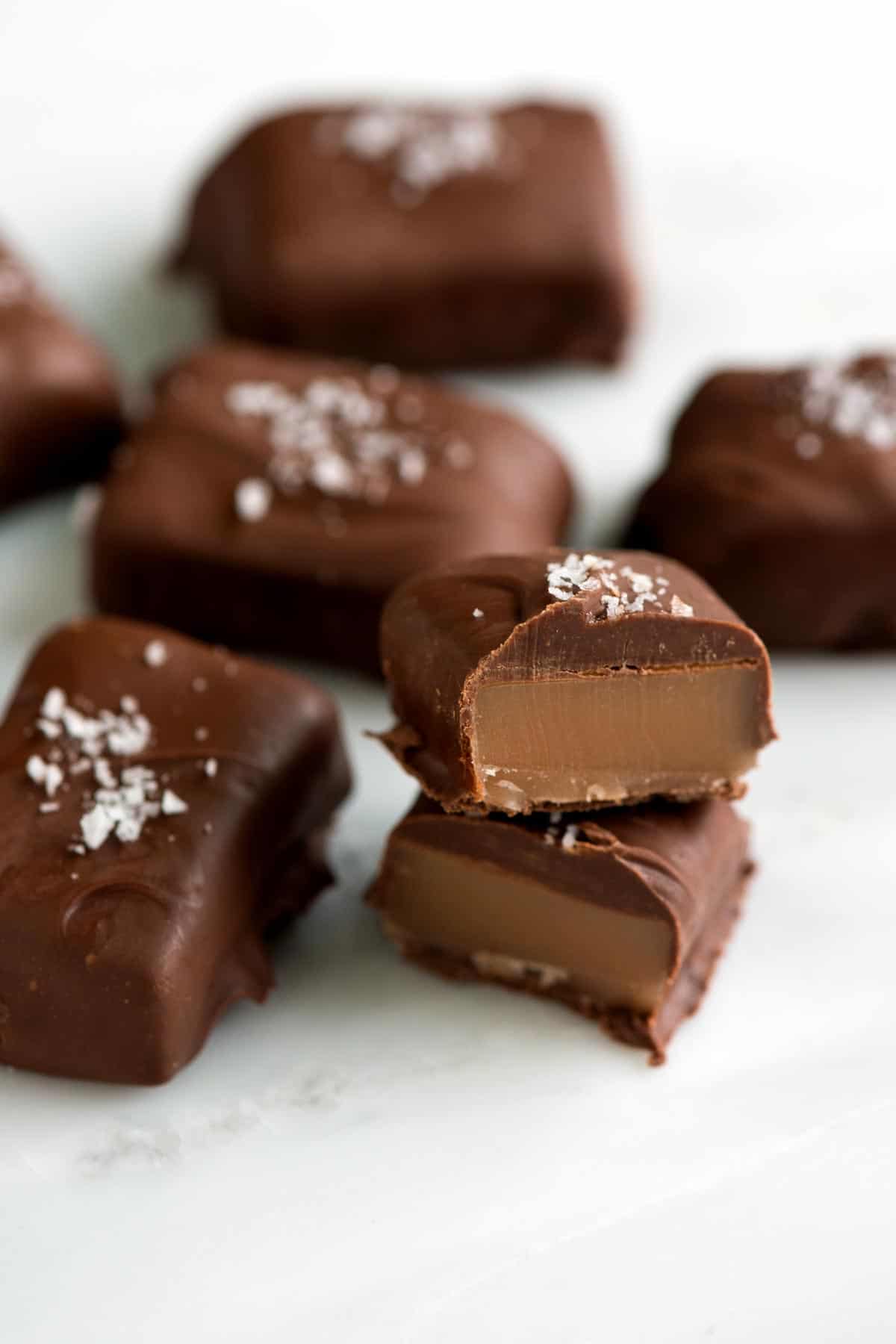 They make a great gift or treat to have at home for yourself! Here are our top tips for making them best:
Read the Recipe All The Way Through Before You Start
Before you begin making caramels at home make sure you you've read through the recipe a few times and have all the equipment ready and ingredients measured out. Candy making can go by quickly and if you're not ready, things can go from good to bad fast.
Use a Candy Thermometer
Don't try this without a candy thermometer. The temperatures really do matter. Our recipe is a two-part process: First, we cook the sugar syrup (sugar, corn syrup, and water), and then we add a combination of cream and butter.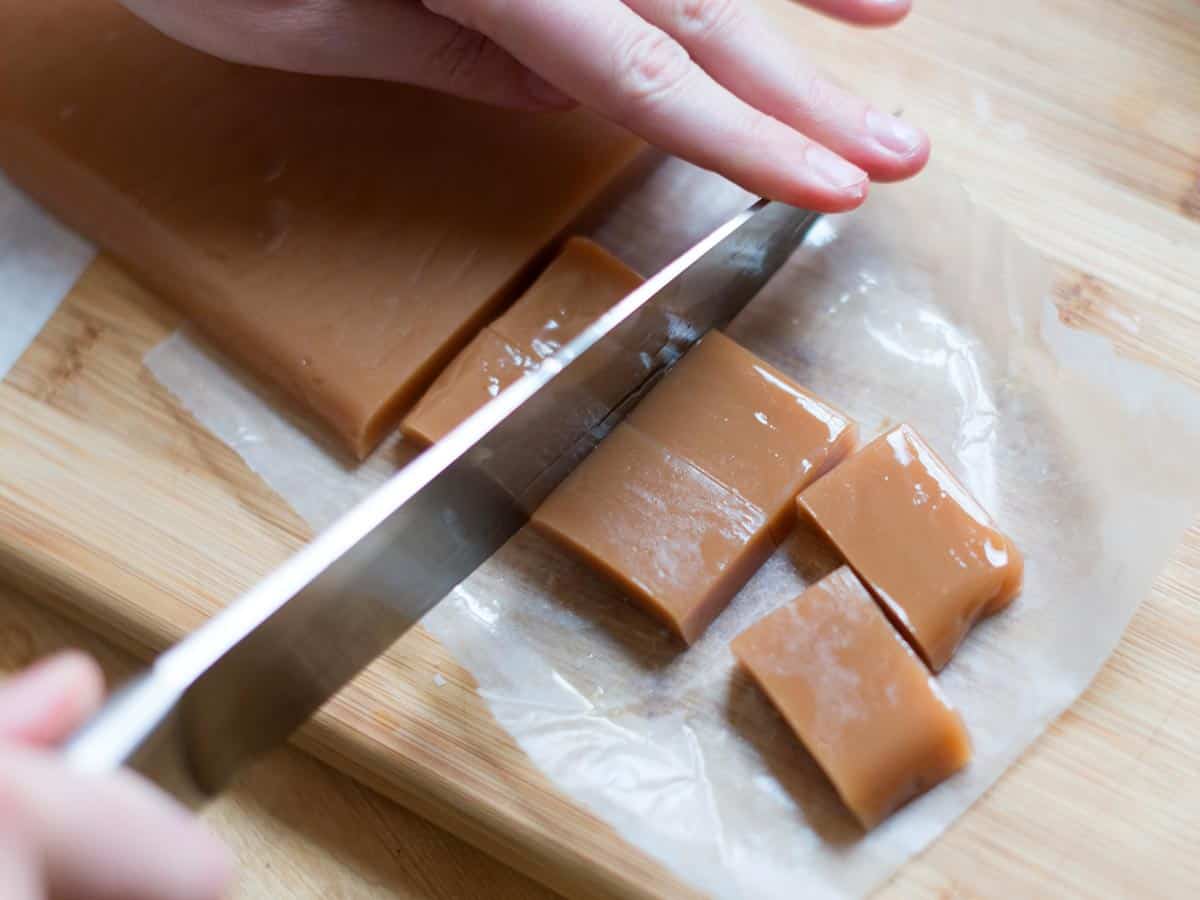 Since this recipe has two stages, there are two temperatures to look out for: 320 degrees F in the first stage and 240 degrees F in the second stage. These two temperatures makes sure the caramels taste fantastic and remain soft and chewy.
Use Good Chocolate
Whether you choose to dip the caramels in milk, dark, or white chocolate, it's a good idea to use a good quality chocolate. A few brands we love using in our own kitchen are Ghirardelli, Callebaut, and Scharffen Berger.
We melt the chocolate in the microwave, but you could just as easily use a double boiler. Then, we dunk each caramel into the chocolate — a messy, but delicious process!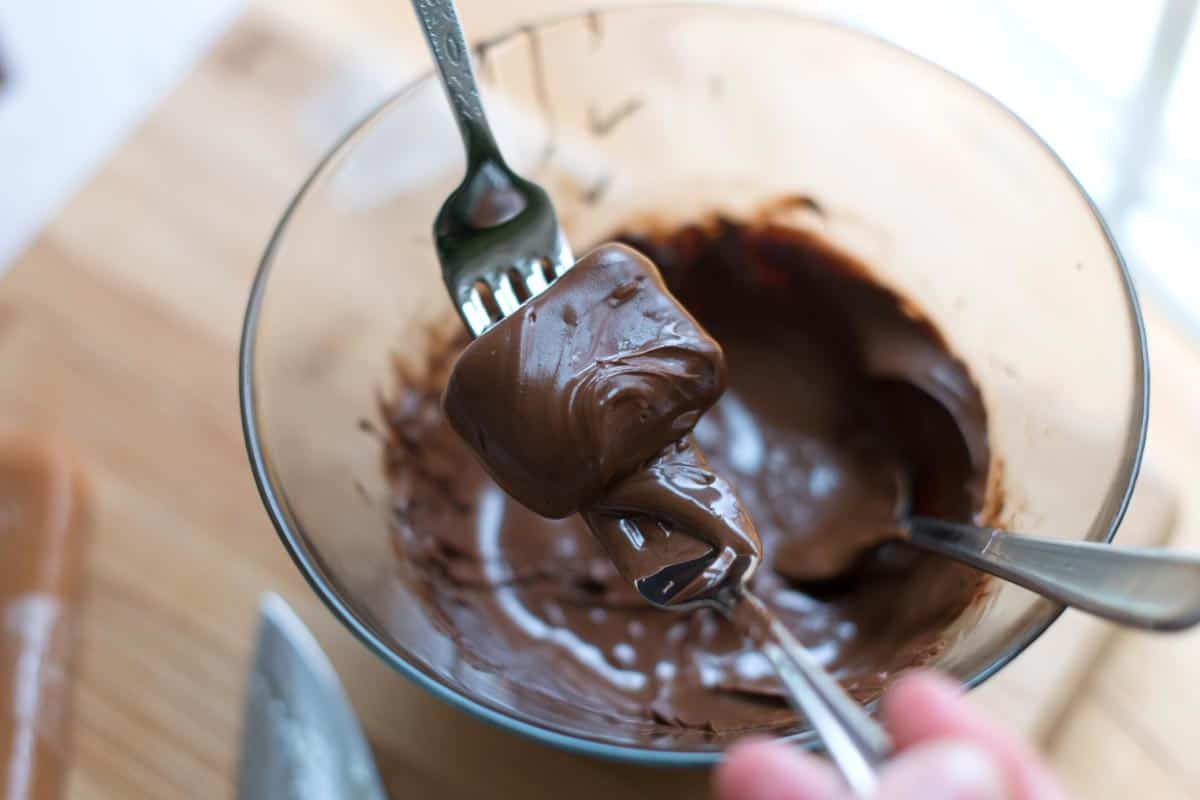 And finally, to make them really special, we add a sprinkle of sea salt on top. By the way, we have also used pink salt and smoked salt. Both were wonderful.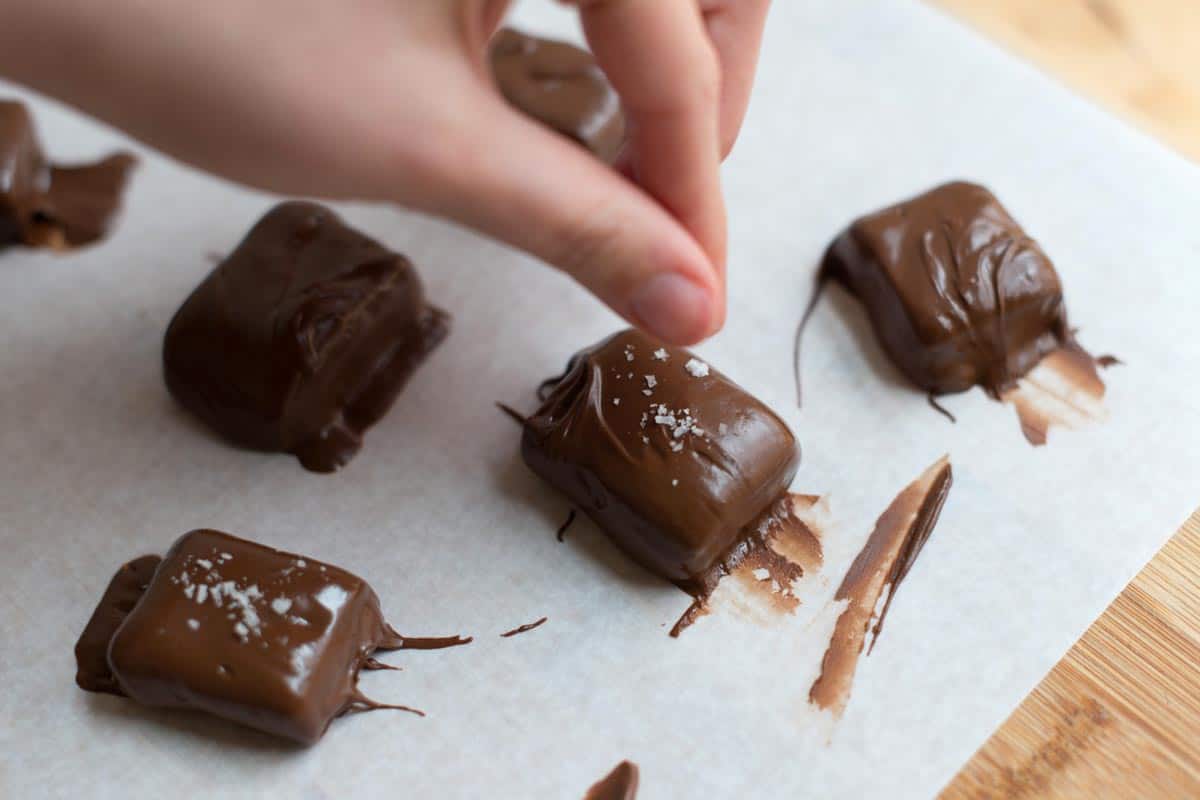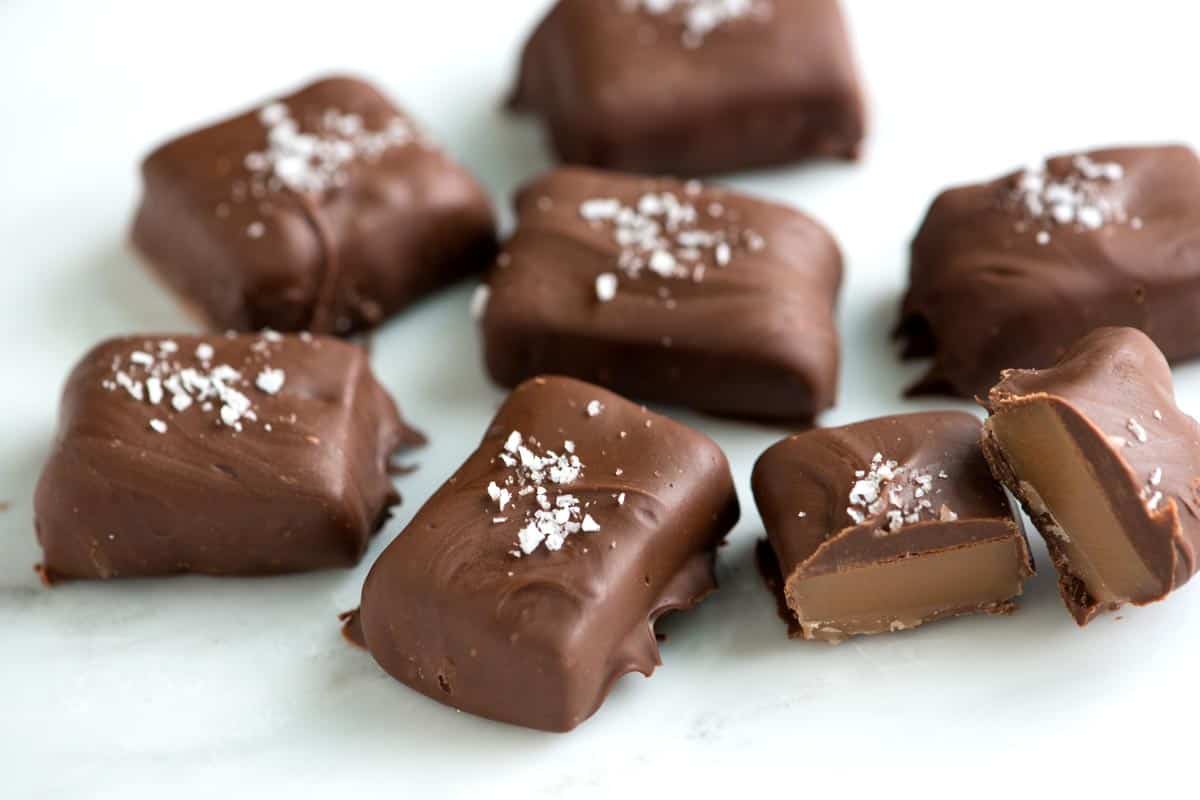 Salted Chocolate Covered Caramels
Chocolate caramels that are soft, chewy, and perfectly melt away in your mouth. Before starting to make these, get all equipment ready and ingredients measured out. This recipe has been inspired and adapted from Jacques Pépin's book, "Chez Jacques: Traditions and Rituals of a Cook."
Makes approximately 40 caramels
Watch Us Make the Recipe
You Will Need
Caramels
1/2 cup (113 grams) unsalted butter (1 stick)
1/2 cup (120 ml) heavy cream or heavy whipping cream (36-40% butterfat content)
3 tablespoons water
1/4 cup (60 ml) light corn syrup
1 cup (200 grams) sugar

Chocolate Coating
1 pound high quality chocolate, milk, dark, or white
2 tablespoons butter
1/2 teaspoon course or flaked sea salt
Directions
Prepare Pan and Ingredients

1Lightly oil a 9 x 5 inch loaf pan then measure and cut a piece of parchment paper that will fit inside the pan and come up the sides by at least 1 inch. Next, lightly oil the parchment paper and place into the pan. Set the pan aside.

2Cut butter into 8 pieces then combine with heavy cream in a small microwave-safe bowl. Heat in the microwave for 1 to 2 minutes until hot and butter has melted. Set aside, we will use this later.
Make Caramel

1In a small saucepan combine the water and corn syrup. Then, add the sugar, but try your best not to splatter the sugar up the sides of the pan. Now, use a spoon to gently stir the sugar into the water and corn syrup, just moistening the sugar.

2Heat over medium heat until the sugar has come to a boil. Then, cover with a lid for 1 minute. This adds steam/moisture to the pan, so any sugar that may have stuck to the sides of the pan melts and falls back into the boiling sugar.

3Remove lid then attach a candy thermometer to the side of the saucepan. Then, cook sugar for 5 to 10 minutes, until the sugar reaches a temperature of 320 degrees F. At this temperature, the sugar will take on a light amber color around the edges of the pan.

4The moment the sugar reaches 320 degrees F, carefully pour about a sixth of the butter and cream mixture then stir, using the base of the candy thermometer to incorporate it. Repeat with the remaining cream and butter (adding a sixth of it at a time then stirring). The sugar will bubble violently as you add the butter and cream – so do this carefully and slowly to prevent the mixture from bubbling over the sides of the saucepan.

5By adding the cream and butter, the temperature will drop. Now, continue cooking for another 5 to 10 minutes, until the caramel reaches a temperature of 240 degrees F. This will create a soft caramel, if you want slightly harder caramels, bring the temperature closer to 245 degrees F.

6The moment the caramel reaches your desired temperature, pour into the prepared loaf pan. Cool 20 to 30 minutes then scatter the salt over the caramel. Then, let the caramel cool 3 1/2 hours.
Unmold Caramels

1Unmold the caramel. If the caramel is too soft to work with, place into the refrigerator 30 to 45 minutes to firm up. Then, use a large sharp knife to cut into your desired shape. We like to cut into 1-inch by 1-inch squares.
To Finish

1Line a baking sheet with parchment paper. Then, use a heavy knife to chop chocolate into small pieces. Separate about 1/3 cup of the chocolate and set aside then add the remaining chocolate to a microwave-safe bowl. Add the butter then microwave for 30 to 45 seconds, stir then repeat until melted (stirring after every 30 to 45-seconds). Once the chocolate has melted, add the 1/3 cup of chocolate and stir until smooth and shiny.

2Use two forks to dip each caramel into the melted chocolate then place onto parchment paper. Sprinkle a little salt on top of each caramel and allow chocolate to set.

3Wrap caramels in plastic wrap or waxed paper and enjoy immediately or refrigerate for enjoying later.
Adam and Joanne's Tips
Once coated, the chocolate coated caramels will keep 2 weeks in the refrigerator.
Softer caramels: This recipe makes soft and chewy caramels, for softer caramels, experiment with adding 2 to 4 more tablespoons of cream.
Corn syrup substitutes: Corn syrup is reliable in this recipe, however, we have had success substituting pure honey and golden syrup.
If you make this recipe, snap a photo and hashtag it #inspiredtaste — We love to see your creations on Instagram and Facebook! Find us: @inspiredtaste

AUTHOR: 

Adam and Joanne Gallagher