Freshly made corn tortillas are such a treat. We're sharing how we make tortillas in our own kitchen along with lots of tips to help you in your own tortilla making journey.
Watch The Video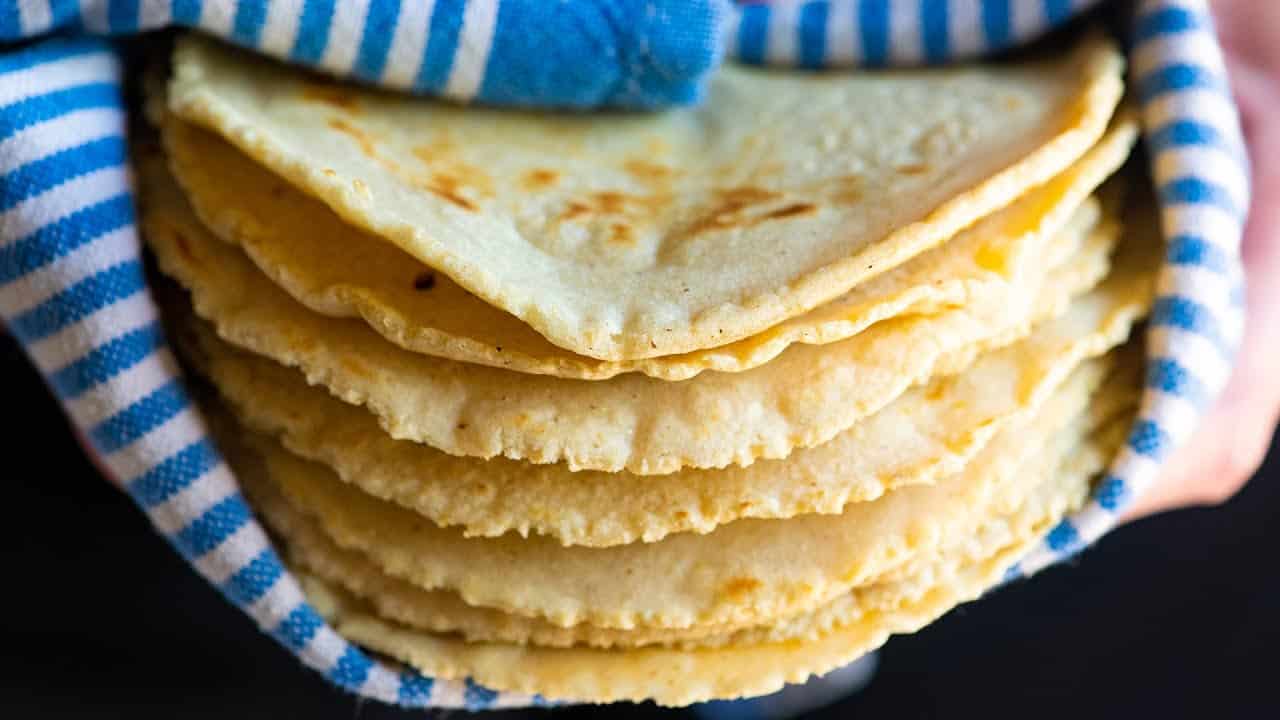 Ingredients
You only need two ingredients to make truly irresistible corn tortillas. Let me walk you through them:
Masa harina — Masa harina is made with nixtamel or dried corn that has been cooked and soaked in an alkaline solution of water and calcium hydroxide (also known as slaked lime or cal). After sitting in this solution, the corn is then ready to be ground into masa or (masa dough). Tortillas can be made from this freshly ground masa or the masa can be dehydrated so that it turns into a powdery corn flour. This is quite different than the process for making cornmeal. Cornmeal is not an adequate substitute for masa harina.
This ancient process was developed in Mesoamerica by the Aztec and Mayan civilizations. Nixtamalization makes the outer walls of the corn more easily digestible and unlocks nutrients available in the corn. The process also makes tortillas taste incredible. Not all store-bought tortillas use this method (especially here in the United States), which is why the flavor of corn tortillas can vary and why homemade corn tortillas are such a treat. (Note, if you do plan to buy corn tortillas, look for the words "nixtamel" or "nixtamalized" on the package. You can also look at the ingredients list on the package. It should be short and have the words "lime" or "cal" present.)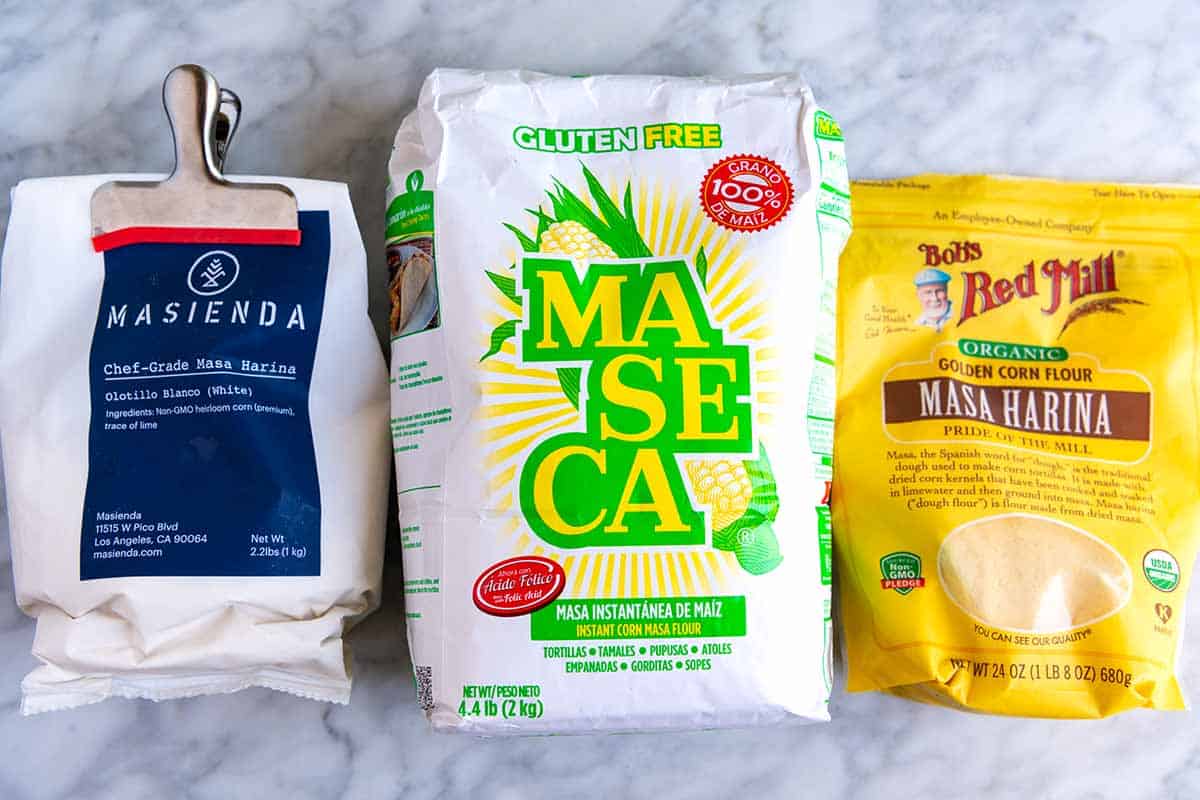 Here are three bags of store-bought masa harina. The corn in these bags has gone through the nixtamalization process. In other words, it has been cooked and soaked in an alkaline solution, ground into masa dough, and then dehydrated. There's more than one brand of masa harina available, but here are the options we have used in our own kitchen. Availability might vary depending on where you live. You might be able to find one or more brands of masa harina at your local grocery store or in Mexican markets. If you cannot, all of these are available for purchase online.
We like all of the options shown in the photo. Maseca and Bob's Red Mill are available for purchase in stores, while Masienda is generally available for purchase online. Of all three shown, my favorite is Masienda, but the other two are still excellent options and will beat anything that's sold in the grocery store!
Warm water — Since masa harina is dehydrated masa dough, we need to rehydrate it. Warm water is better than cold water because the heat in the water helps to "bloom" the flavor of the masa and activates the little bits of corn skin (pericap) in the flour. This simply means that warm water helps the tortillas taste better and helps to bind the dough.
Salt (optional) — I add salt to my dough, but you can always leave it out. I like my tortillas lightly seasoned, which means I add a pinch or two of salt.
You might also be wondering about adding fat to the tortilla dough — just as we do when making flour tortillas. This isn't a traditional ingredient in corn tortillas. That said, we have tried it and adding a tablespoon or so of pork fat (lard) to the dough does add a hint of porky flavor. If you are planning on eating your tortillas plain, right off the pan, then the addition of pork fat is a tasty one. If, however, you plan to fill your tortillas with something else, I'd skip the fat all together since you won't really taste it.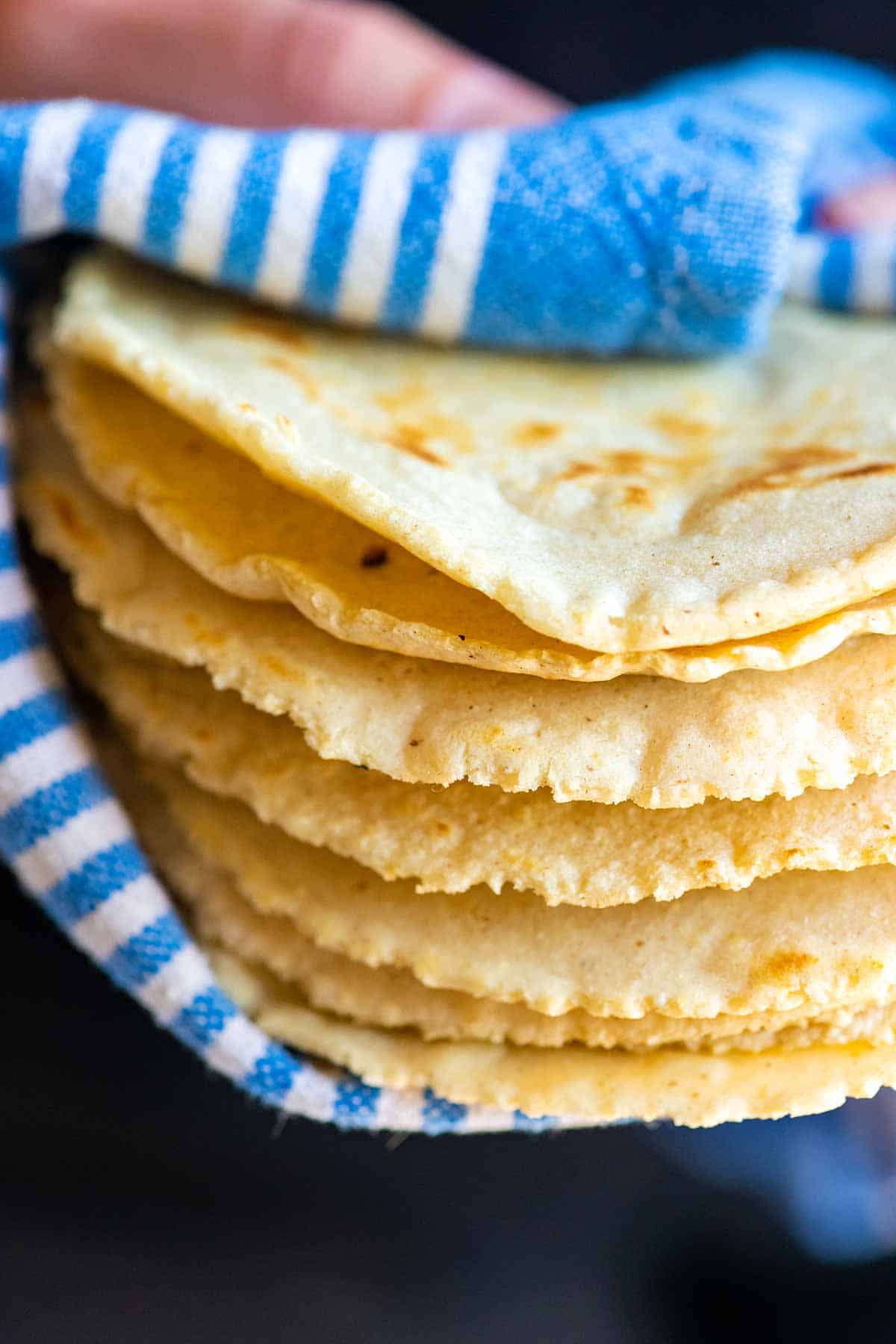 How to Make Tortillas
This is our step-by-step process for making corn tortillas, to see how we make flour tortillas, look at this recipe.
Mix masa harina with salt (optional).
Slowly stir in warm water until no dry bits of dry masa flour remains.
Knead until the water is evenly incorporated. There should not be any dry, powdery spots left. Dough used for tortillas should be moist to the touch, but not tacky. Use the texture of playdough as a guide.
Divide the dough and roll into small balls.
Use a tortilla press to smoosh the dough balls into tortillas, about a sixteenth-inch thick. If you do not have a tortilla press, use a baking dish to press down each ball into tortillas (Patrick shows this method in his recipe for corn tortillas)
Cook tortillas on a hot, dry skillet (see the recipe below for detailed cooking instructions).
Transfer to a tortilla warmer or bowl with clean dishtowel to keep warm.
You can watch our video to see us go through the whole process, but if you have never seen a tortilla press, here are some photos to guide you:
Parchment paper or a plastic bag cut into two sheets helps to prevent the dough from sticking to the press. Place the dough between the sheets of parchment or plastic.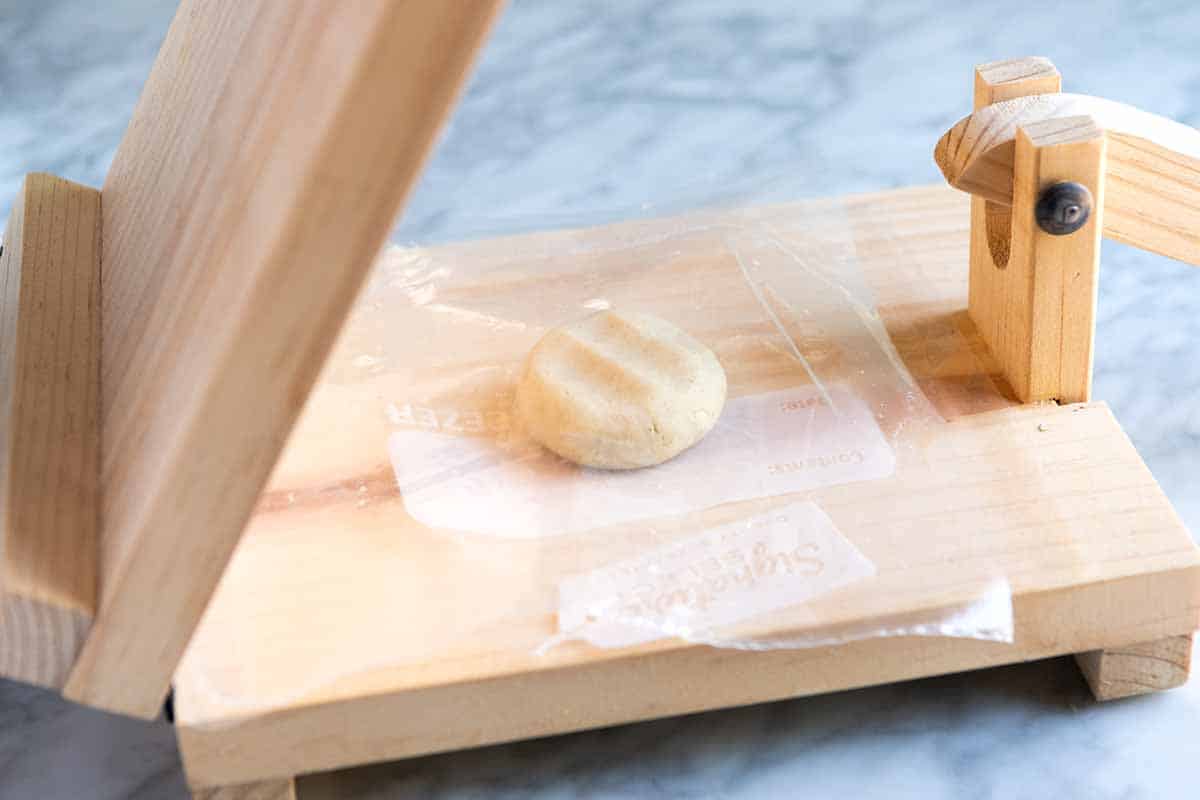 Gently press the dough down a bit, close the press and push down so that the dough is pressed into a thin disk.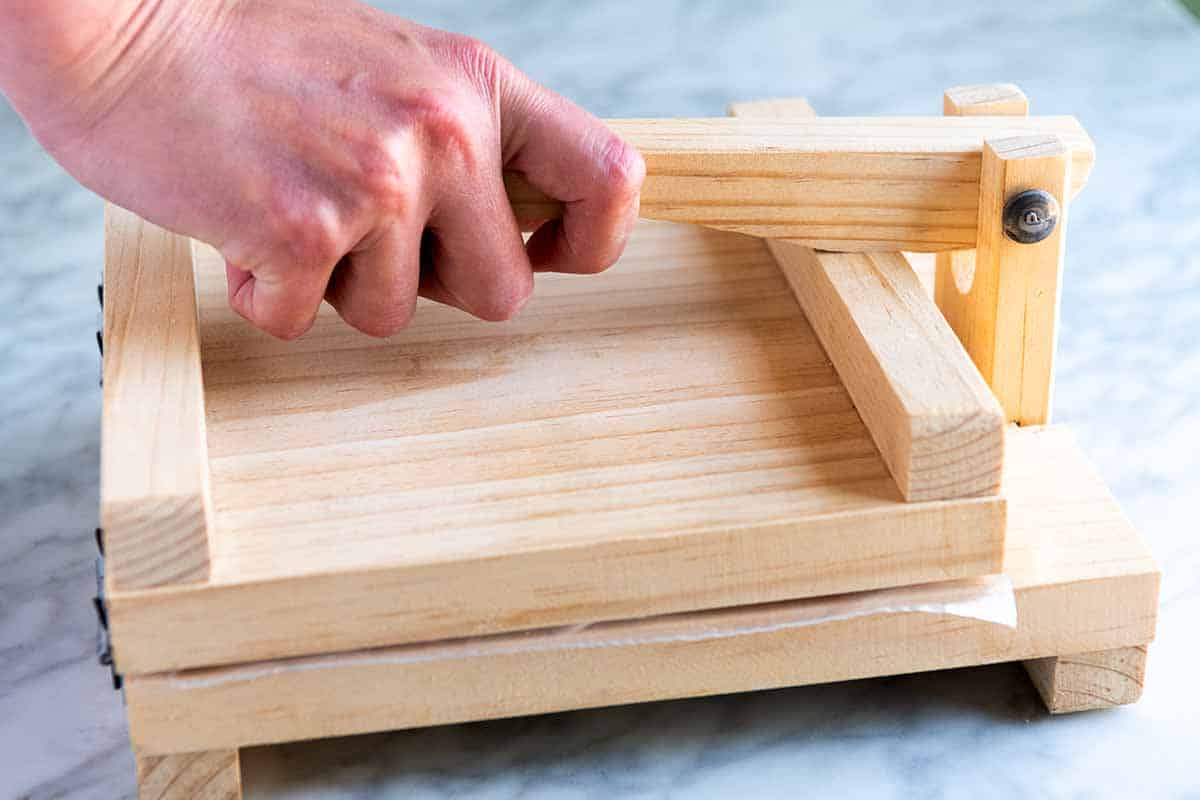 Then open the press and remove the tortilla. Work gently and go straight to the hot skillet. I like to press a tortilla while the one I pressed before it is cooking.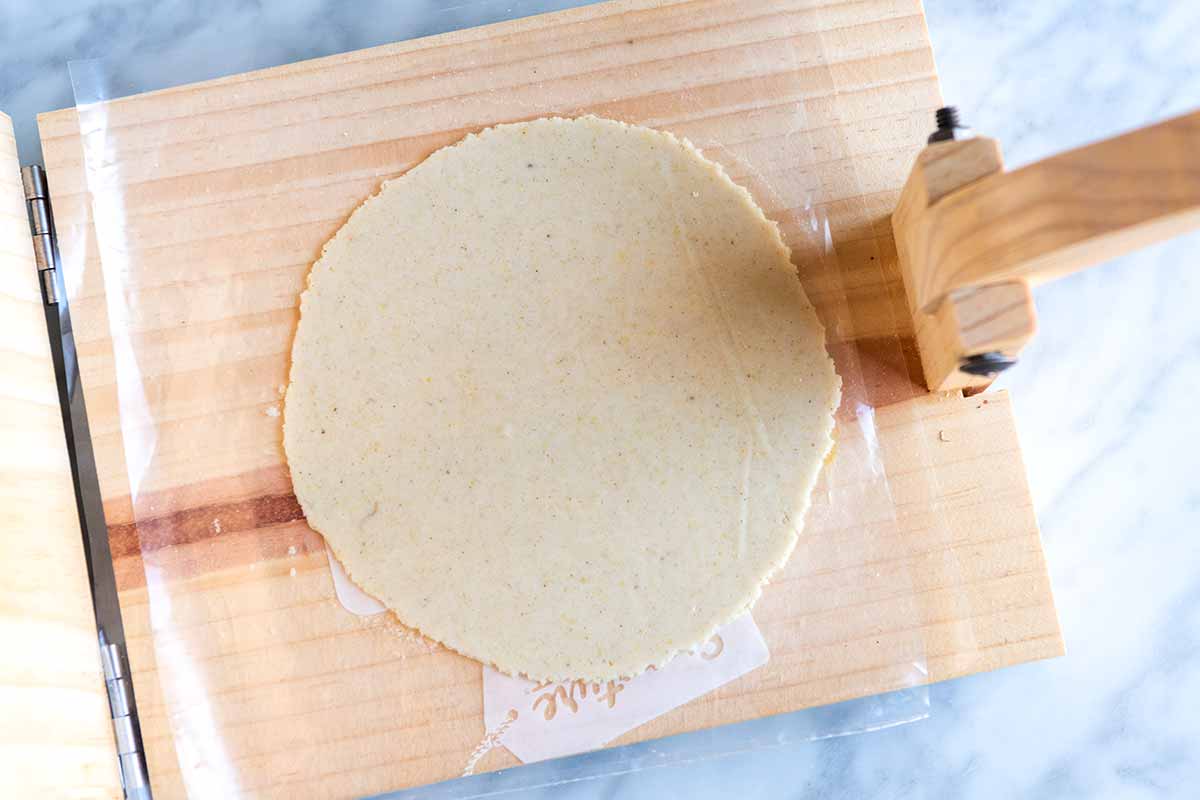 When you cook the tortilla, you should see that the tortilla puffs in the middle. If yours isn't puffing up, use a spatula to press down gently in the middle of the tortilla. This usually encourages the dough to puff.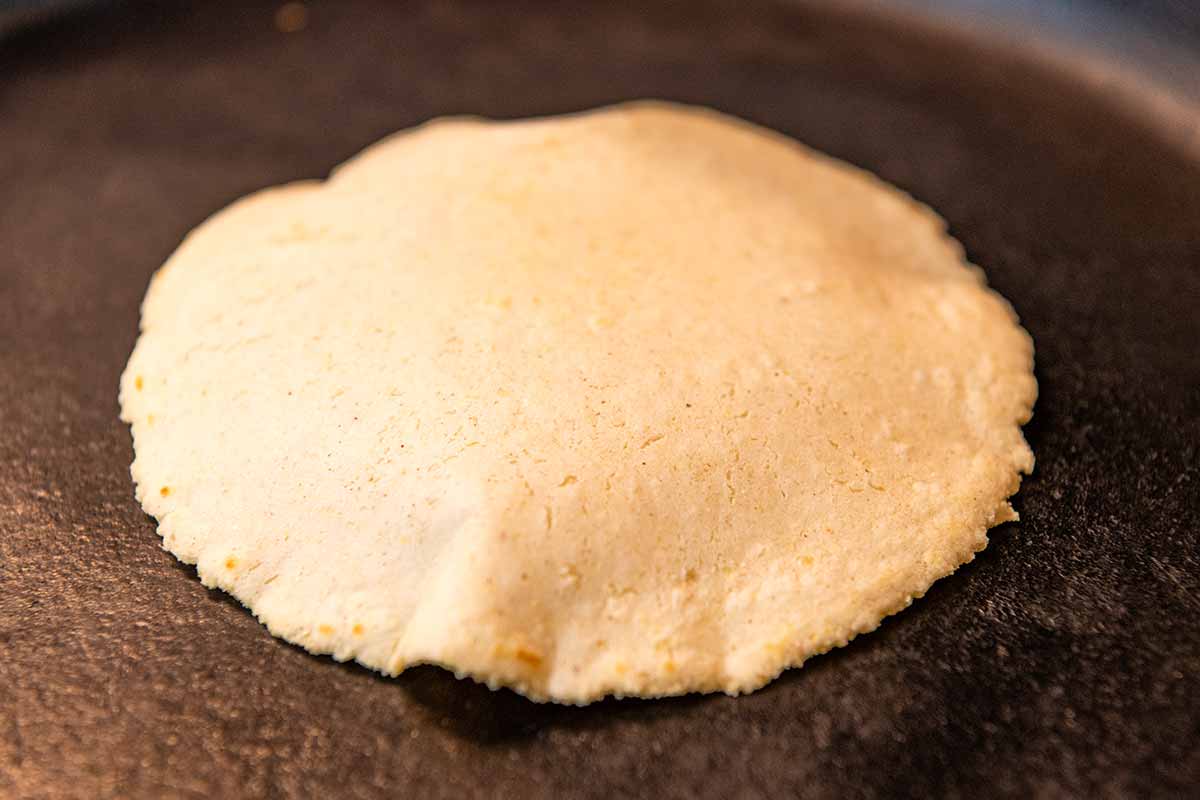 Tips for Success
Since learning how to make our own corn tortillas at home, we've picked up a few tricks to ensure the best results.
Use warm water — I explained why above, but to recap, warm water brings out the natural flavors of the masa and rehydrates better.
Take note of the texture of the masa dough. You are looking for something that's similar to playdough. It should be moist, but not sticky. Watch our video, in it you can see me pushing the dough with my fingers. When I do, no dough sticks to my skin.
Knead the dough for a few minutes before forming and cooking the tortillas. This time makes sure that all of the water is incorporated and the masa is properly hydrated.
Keep a spray bottle with water close by when cooking the tortillas. If you notice that they are dry or cracking on you while cooking, spritz them a little with water.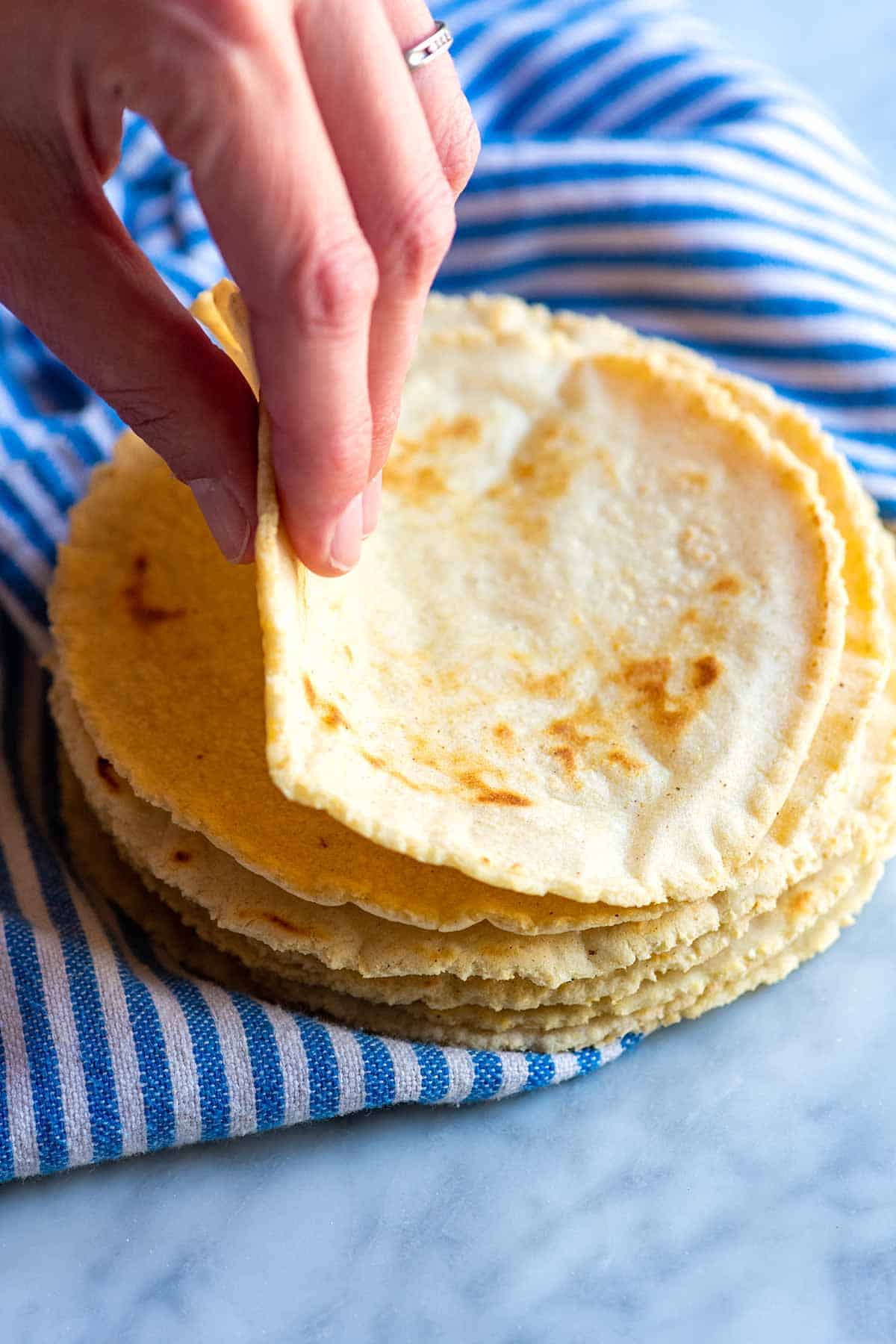 Related Recipes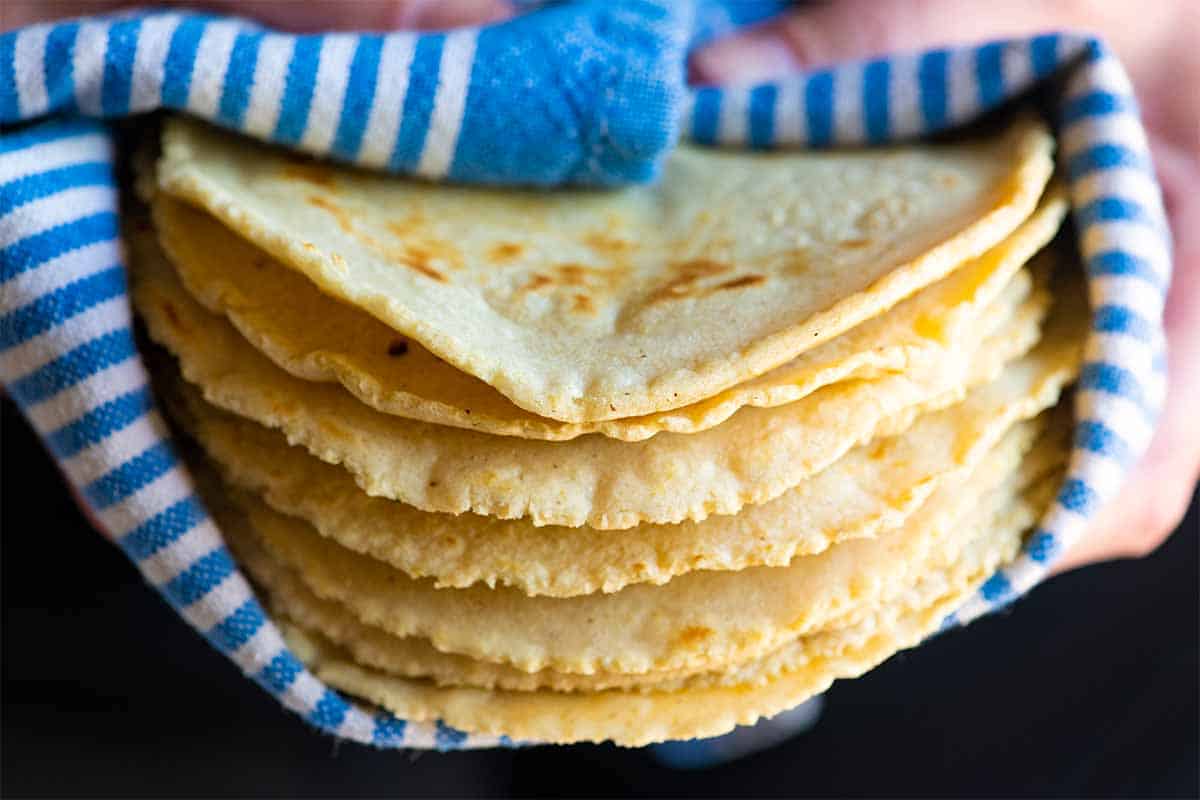 Our Best Soft Corn Tortillas
Freshly made corn tortillas are such a treat. Watch our video to see us go through the whole process. If you have never seen a tortilla press, there are some photos in the article to guide you.
Makes 8 tortillas
Watch Us Make the Recipe
You Will Need
1 cup (115 grams) masa harina, see notes
1/4 to 1/2 teaspoon fine sea salt, optional
1 cup (237 ml) warm water
Directions
Prepare Dough

1Whisk the masa harina and salt together until well blended.

2Switch to your hands or a spoon. While mixing, slowly pour in the warm water. When the dough is moist and starting to hold together, stop adding water. You will most likely have a little water leftover. If the dough seems dry, add a little water, a few teaspoons at a time or if it seems too wet or is sticky, add a little more masa harina.

3Knead the dough for a few minutes or until there are no dry or powdery spots left. Kneading the dough helps the masa flour to rehydrate. You are looking for a dough that resembles playdough. It should be moist, but not tacky. When you press your finger into it, you should not feel any dough stick to it.

4Divide the dough into 8 equal pieces and roll into balls. Keep the balls covered with a damp towel while you press, and then cook each tortilla. It is important that the dough does not dry out, working quickly and keeping them covered helps with this. If you notice that the balls are starting to dry out, spritz them with a little water.
Press and Cook Tortillas

1Heat a wide, heavy-bottomed skillet over medium-high heat. As you cook the tortillas, you might find that you need to reduce the heat slightly. If you notice that tortillas are browning too quickly, turn the heat down to medium.

2While the skillet heats up, cut two pieces of parchment paper into the shape of the surface of the tortilla press. You can also cut a plastic freezer bag into two sheets and use that.

3Open a tortilla press and lay one piece of parchment paper or plastic down onto the press. Add a ball of dough and gently press it down with your fingers. Cover the dough with the second piece or parchment paper or plastic. Close the tortilla press and press down until the dough has spread into a thin disk, about a sixteenth-inch thick. Watch us do this in our video. (Check the tips section for an alternative method using a baking dish.)

4Carefully remove the tortilla from the parchment or plastic and place onto the hot skillet. Cook the first side for 10 seconds, flip and cook the second side for about 1 minute. Flip again and cook until the tortilla starts to puff and is cooked in the middle, 30 to 60 seconds more. If the tortilla is cracking or looks too dry, spray with a little bit of water.

5While the tortilla finishes cooking, press the next tortilla.

6Transfer cooked tortillas to a tortilla warmer or bowl lined with a clean dishtowel. Keep the tortillas in the warmer or wrapped with towel until ready to serve. Fresh tortillas are best when enjoyed fresh, however, you can store them in an airtight container for a few days. Reheat on the stovetop — if they are a bit dry, spritz or brush them with a little water.
Adam and Joanne's Tips
Masa harina must be used in this recipe and is dehydrated masa dough made with nixtamalized corn. Cornmeal is not an adequate substitute. Read through our article above explaining what masa harina is and suggestions for where to buy it. Common brands found in the United States are Maseca, Bob's Red Mill and if you are willing to purchase online, Masienda.
A baking dish can be used to press the tortilla dough instead of a tortilla press. Place a ball of dough between two sheets of parchment paper and then slowly and evenly press a baking dish down on top until the dough is about a sixteenth-inch thick.
A spray bottle filled with water is helpful to have close by. If you notice the dough beginning to dry out, spray it with a little water. You can also do this when cooking the tortillas. If they are cracking or look too dry, spray with some water (we do this in our video).
Nutrition facts: The nutrition facts provided below are estimates. We have used the USDA database to calculate approximate values.
If you make this recipe, snap a photo and hashtag it #inspiredtaste — We love to see your creations on Instagram and Facebook! Find us: @inspiredtaste
Nutrition Per Serving
Serving Size
1 tortilla
/
Calories
51
/
Total Fat
0.5g
/
Saturated Fat
0.1g
/
Cholesterol
0mg
/
Sodium
73.4mg
/
Carbohydrate
10.9g
/
Dietary Fiber
0.9g
/
Total Sugars
0.2g
/
Protein
1.2g

AUTHOR: 

Adam and Joanne Gallagher