Whether you make it sweet or savory, mashed butternut squash will be a standout on your Thanksgiving table, or as a healthy side dish any day of the week!
Recipe Overview

Why you'll love it: Mashed butternut squash is a simple side dish elegant enough for a holiday dinner but easy enough for a weeknight.
How long it takes: 15 minutes of hands-on time, plus 45 minutes of roasting.
Equipment you'll need: chef's knife, sheet pan
Servings: 8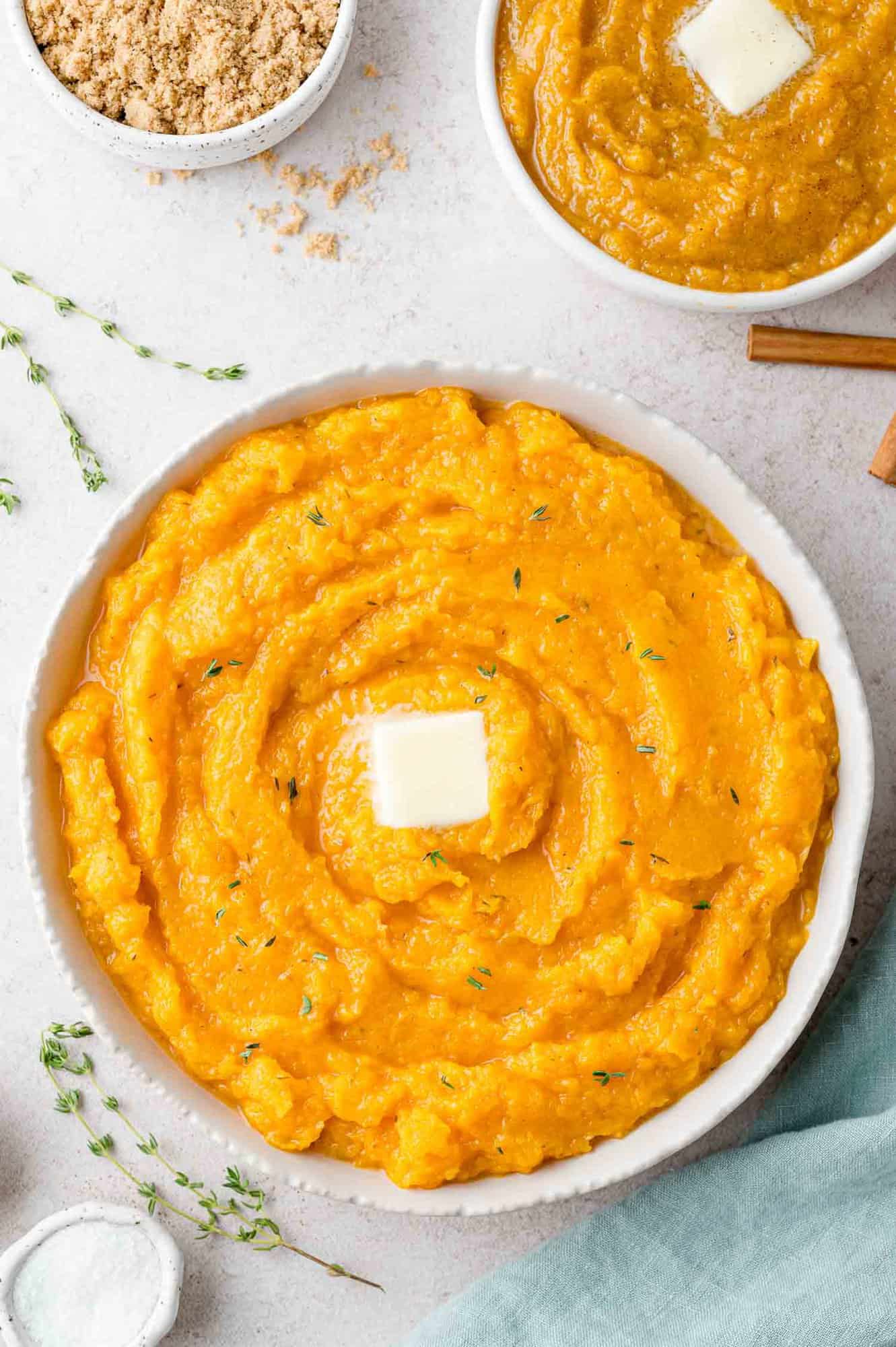 In the past, I've posted recipes for butternut squash soup, butternut squash curry, and even butternut squash crostini. One of my favorite recipes is stuffed butternut squash with quinoa and kale, plus bacon and cheddar cheese (no peeling involved with that recipe!).
This recipe is easier than them all!
About this Butternut Squash Recipe
Squash is healthy and delicious. Who doesn't love that combination? Butternut squash is an antioxidant powerhouse high in vitamins A, C, and beta-carotene. It has many health benefits, plus it's low in calories and high in fiber (Healthline).
Mashed squash is an easy side dish to pair with high-demand mains. When your main dish requires a lot of attention, or you're cooking a Thanksgiving dinner, you want effortless side dishes, and mashed butternut squash delivers. Roast the squash until it's tender, then mash it with the seasonings. Simple!
Make Ahead: Butternut squash mash can easily be made ahead and it will taste just as perfect as the day you made it, which makes it a great side dish for Thanksgiving. Just reheat it in the microwave or oven when you're ready to serve it.
Make it sweet or savory. You have options! And this is also the kind of recipe that's easy to customize if you have other ideas. Butternut squash goes with so many different herbs and spices. You can add smoked paprika, thyme, and just a bit of cayenne if you want to go savory, or go with brown sugar, cinnamon, and nutmeg, reminiscent of classic sweet potato casserole flavor.
Super easy: If you're looking for an easy butternut recipe, it doesn't get much better than this mashed butternut squash. You don't have to peel it for this recipe. The squash halves are roasted in the oven for ultimate flavor; then the squash can be easily scooped out of the tough outer shell and mashed.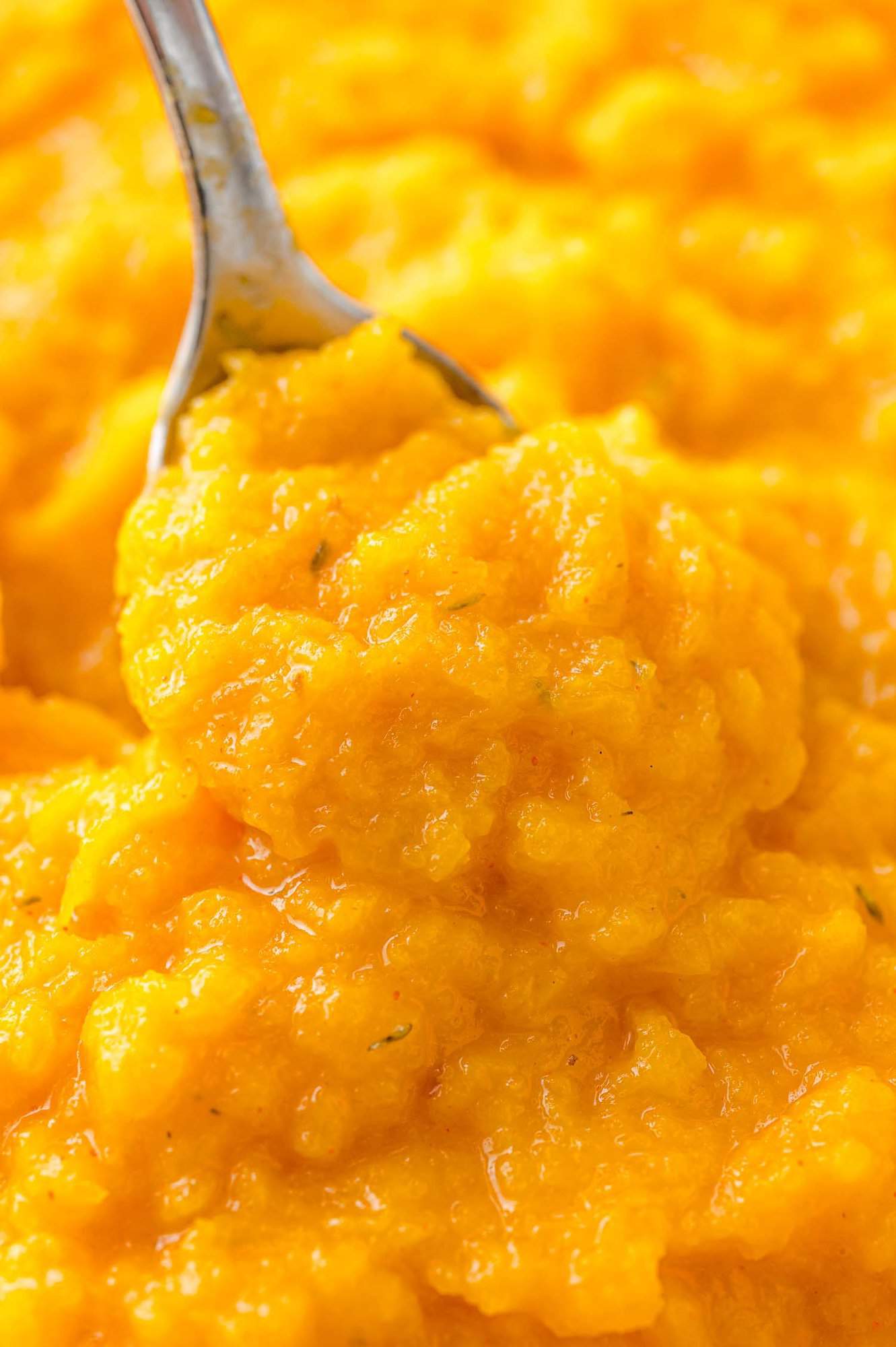 Ingredients You'll need
Butternut Squash – This winter squash is shaped like a long bell, narrow on the top and tapering out to a bell shape. It's light tan in color; the inside flesh is a vibrant orange. Look for a large squash, about three to four pounds. If it's larger or smaller, that's okay; adjust the recipe ingredients accordingly.
Olive Oil – This keeps the squash from sticking to the pan and helps it brown nicely as it roasts.
Whole Milk – Whole milk makes this mashed butternut squash creamy and delicious. You could use half-and-half for a little more decadence if you're making this for a holiday. Really, any type of milk can be used.
Melted Butter – Just like mashed potatoes, you totally need butter to bring out the best in mashed butternut squash. If you're making the sweet version of this recipe, try using brown butter for another layer of flavor.
Kosher Salt – Salt enhances the overall flavor, keeping it from tasting flat.
For Savory Mashed Butternut Squash – Smoked paprika, dried or fresh thyme, cayenne pepper.
For Sweet Mashed Butternut Squash – Brown sugar, ground cinnamon and nutmeg.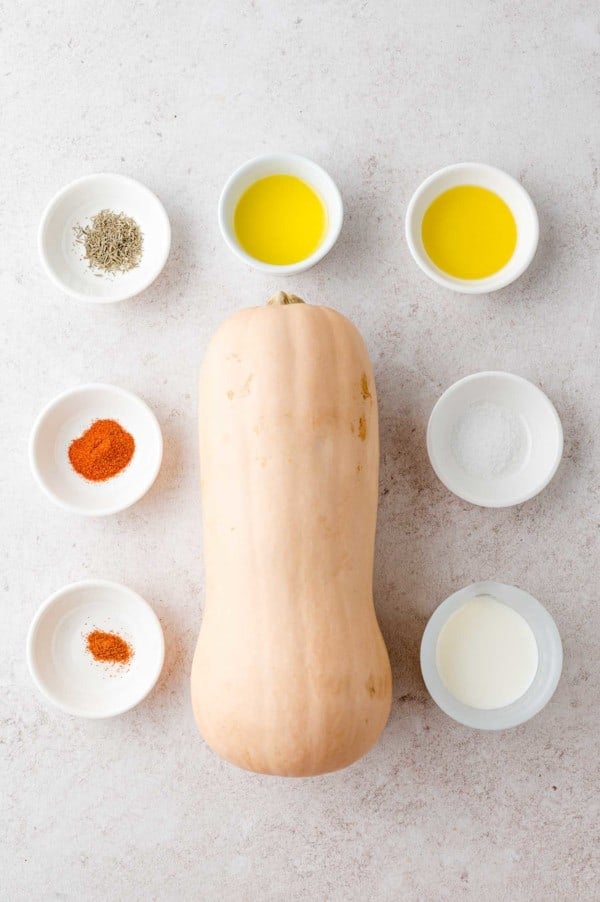 Can I Use A Different Type of Squash?

Other winter squash varieties like buttercup, Hubbard, sugar pumpkin, or kabocha could be used in place of butternut squash.  Honeynut squash is a newcomer that looks much like butternut squash and would be a good substitute. The cooking method is the same; however, be sure to adjust the cook time depending on the size of the squash.
How to make Mashed Butternut Squash
Preheat your oven to 425°F; line a baking sheet with foil or parchment paper. Cut the squash and scoop out the seeds.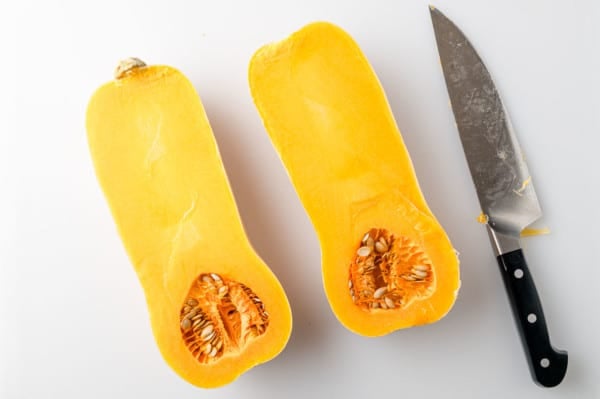 Oil the cut sides of the squash halves and season with salt. Place the squash on the baking sheet cut side down.
Roast the squash for 45 minutes to one hour, or until the squash is fork tender. To test it, simply poke a fork into the thickest part of the squash. If the fork goes in easily with little resistance, the squash is done.
Once the squash cools enough to handle without burning your fingers, scoop out the flesh with a spoon and transfer it to a large bowl.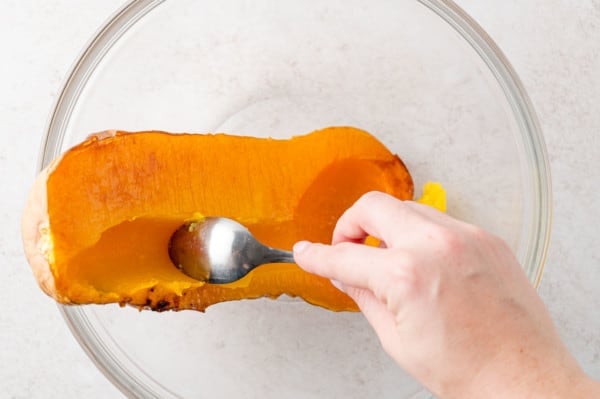 Add the milk, butter, and the seasonings you choose.
Use a potato masher to mash the squash until you achieve the desired consistency. If you want the consistency to be ultra smooth and creamy, use an electric mixer.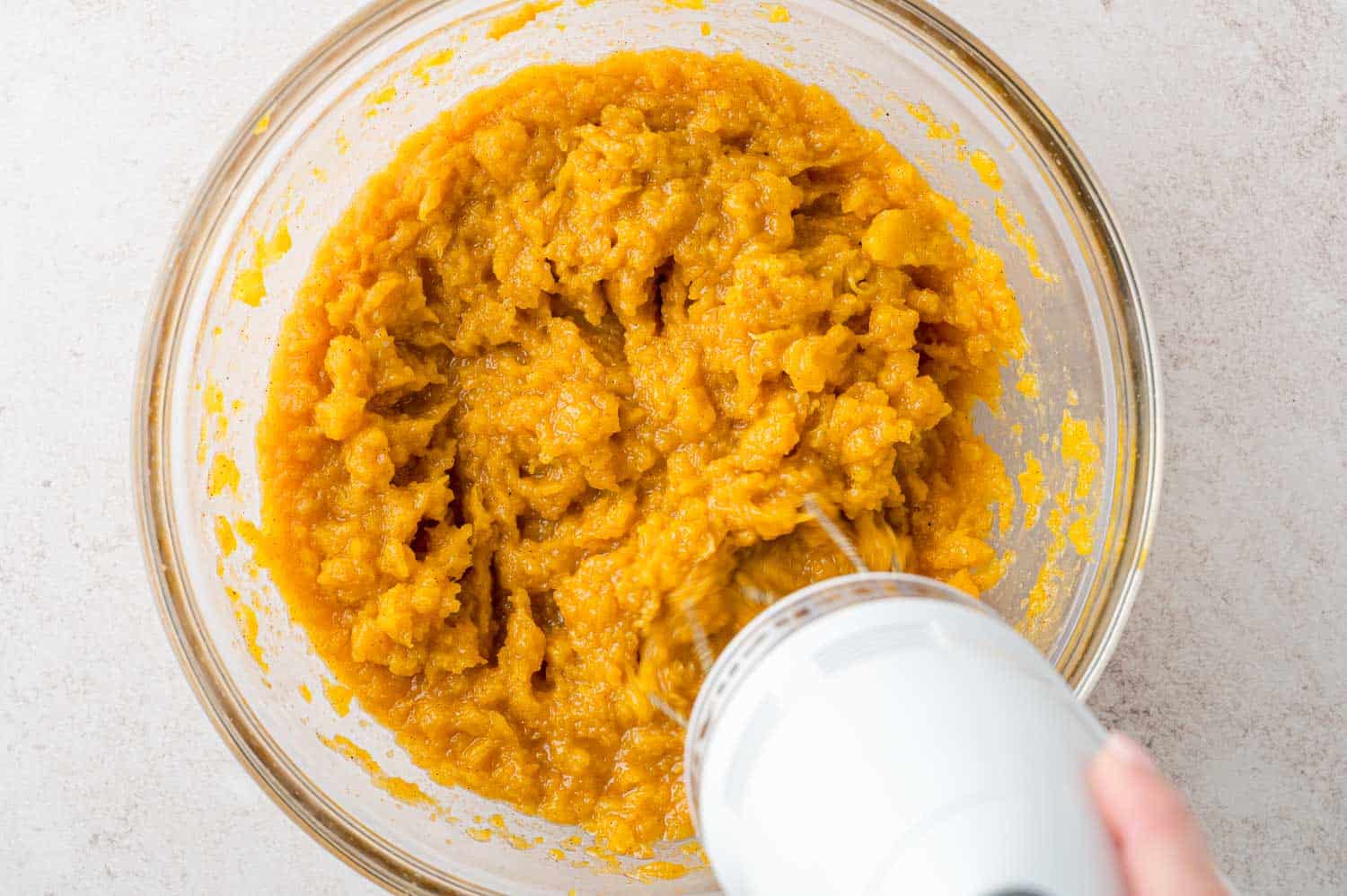 FAQs
Is it necessary to peel butternut squash before cooking?
No, it may not be necessary to peel butternut squash before cooking, depending on your cooking method. You will want to remove the skin before you eat it. Technically speaking, the skin is edible and some people do eat it, but it's pretty tough. 
Can you overcook butternut squash?
Yes, it is possible to overcook butternut squash; when overcooked, it will burn on the outside and the inside will be mushy and watery. Learn more in my post on how to cook butternut squash.
What herbs and spices go well with butternut squash?
Butternut squash pairs well with a variety of herbs and spices. Some popular options are rosemary, thyme, sage, nutmeg, cinnamon, allspice, and paprika. You can also add garlic or onion powder for extra savory flavor. 
Ideas To Change Up this Squash Recipe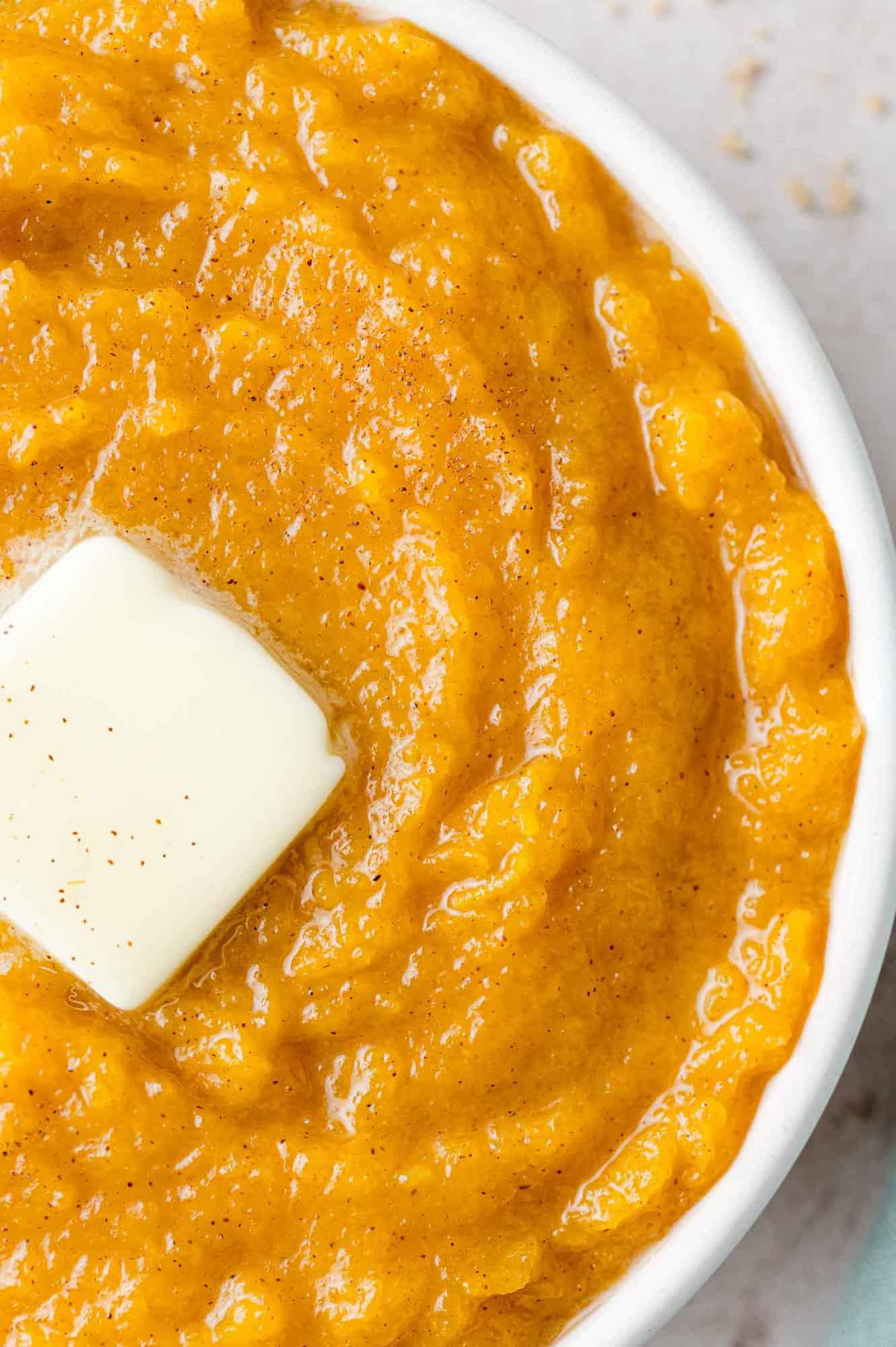 What To Serve With Mashed Butternut Squash
Mashed butternut squash is the perfect side dish for any dinner. Serve it alongside proteins like roasted chicken breasts or air fryer pork chops, and other side dishes like sautéed spinach or roasted broccoli. This recipe is also great for Thanksgiving with other holiday favorites like cranberry sauce and crockpot mashed potatoes.
For a hearty vegetarian meal, serve the squash mash accompanied by rice pilaf, quinoa, or another grain, and sautéed spinach or sweet and sour German red cabbage.
Make Ahead Ideas
The great thing about mashed butternut squash is that you can make it ahead of time and store it in the refrigerator or freezer until you're ready to serve it. It tastes great (no one will ever know that you made it ahead).
Storage & Reheating Tips
Refrigerate/Freeze: Mashed butternut squash can be stored in an airtight container in the refrigerator for up to 4 days, or frozen for up to 3 months. Let frozen squash thaw in the refrigerator before reheating.
Reheat: Individual portions can be reheated in the microwave. If you want to reheat larger amounts, place the squash in a baking dish and cover it with foil. Let it come to room temperature for 30 minutes or so, then bake it at 350ºF for 30 minutes until heated through. Baking time depends on what size dish you use.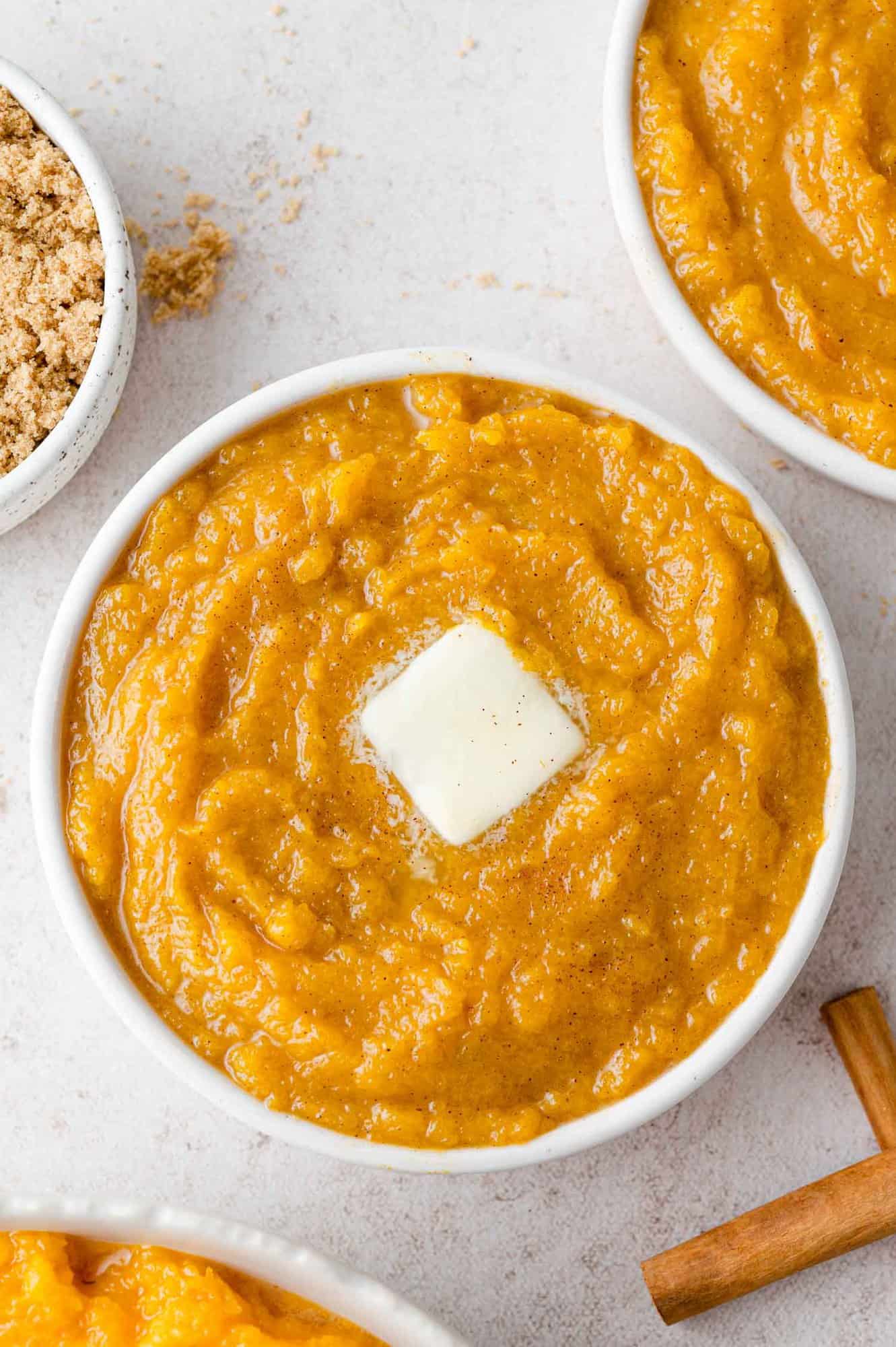 Did you make this? Be sure to leave a review below and tag me @rachelcooksblog on Facebook, Instagram, or Pinterest!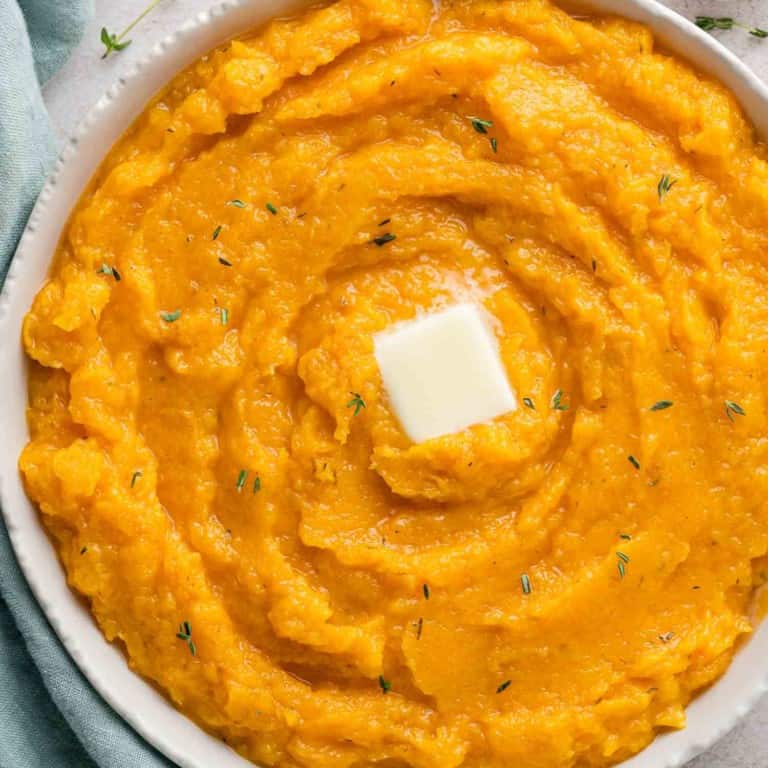 8 servings
Prevent your screen from going dark
Whether you make it sweet or savory, mashed butternut squash will be a standout on your Thanksgiving table, or as a healthy side dish any day of the week!
Instructions
Preheat oven to 425°F. Line a baking sheet with foil or parchment paper.

Scrub squash. Using a sharp heavy knife, cut the squash in half lengthwise (from stem to blossom end). Use a sturdy spoon to scoop out the seeds and stringy fiber in the center.

Rub cut side of squash halves with oil and sprinkle with salt. Place cut side down on the prepared baking sheet. Roast for 45 minutes to one hour or until squash is fork tender.

Remove squash from oven. When squash is cool enough to handle, scoop out flesh, putting it into a large mixing bowl.

Add milk and butter; choose sweet or savory additions. Use a potato masher to mash the squash until you achieve the desired consistency (see note).

Serve hot, or cool to room temperature before covering and refrigerating.
Notes
You may use an electric hand mixer if you prefer a smoother mash.
Storage: Mashed butternut squash can be refrigerated for up to 4 days or frozen for up to 3 months. Thaw overnight in the refrigerator before reheating.
Make ahead: Make squash mash and place in a baking dish. Cover with foil and refrigerate. When ready to serve, let sit at room temperature for 30 minutes and then bake at 350ºF for 30 minutes or until warmed through.
Refer to the post for more flavor ideas.
Nutrition Information
Serving: 0.5cup, Calories: 147kcal, Carbohydrates: 28g, Protein: 2g, Fat: 5g, Saturated Fat: 2g, Polyunsaturated Fat: 0.3g, Monounsaturated Fat: 2g, Trans Fat: 0.1g, Cholesterol: 9mg, Sodium: 183mg, Potassium: 637mg, Fiber: 4g, Sugar: 11g, Vitamin A: 18270IU, Vitamin C: 36mg, Calcium: 111mg, Iron: 1mg
This website provides approximate nutrition information for convenience and as a courtesy only. Nutrition data is gathered primarily from the USDA Food Composition Database, whenever available, or otherwise other online calculators.