Let's talk about caramels: Caramels are one of the easiest candies you can make at home. All you need is a straight-forward recipe and a few tricks. We've got everything you need below!
Watch the Video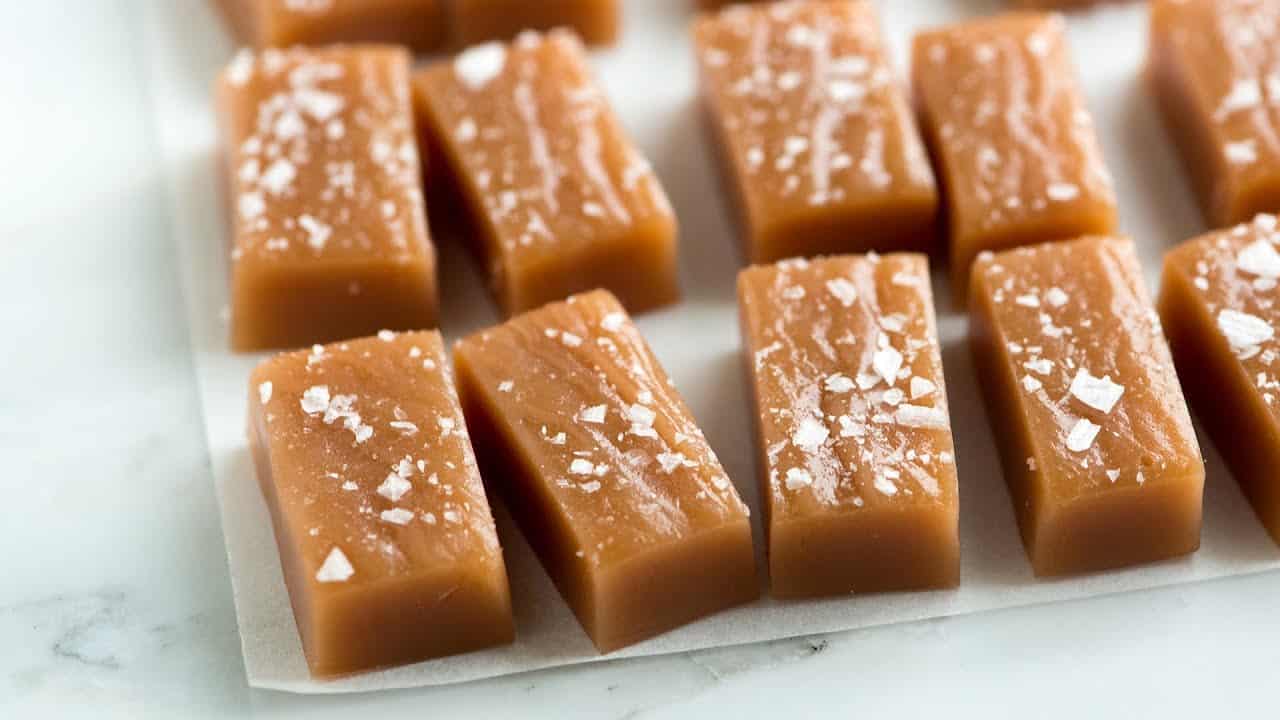 Related: We love these chocolate covered caramels!
7 Tricks for Making the Best Salted Caramels at Home
These salted caramels are soft, chewy and perfectly melt away in your mouth. You probably have all the ingredients needed to make them in your kitchen right now. We also have this chocolate covered caramels recipe. It uses the same caramel base, but adds chocolate.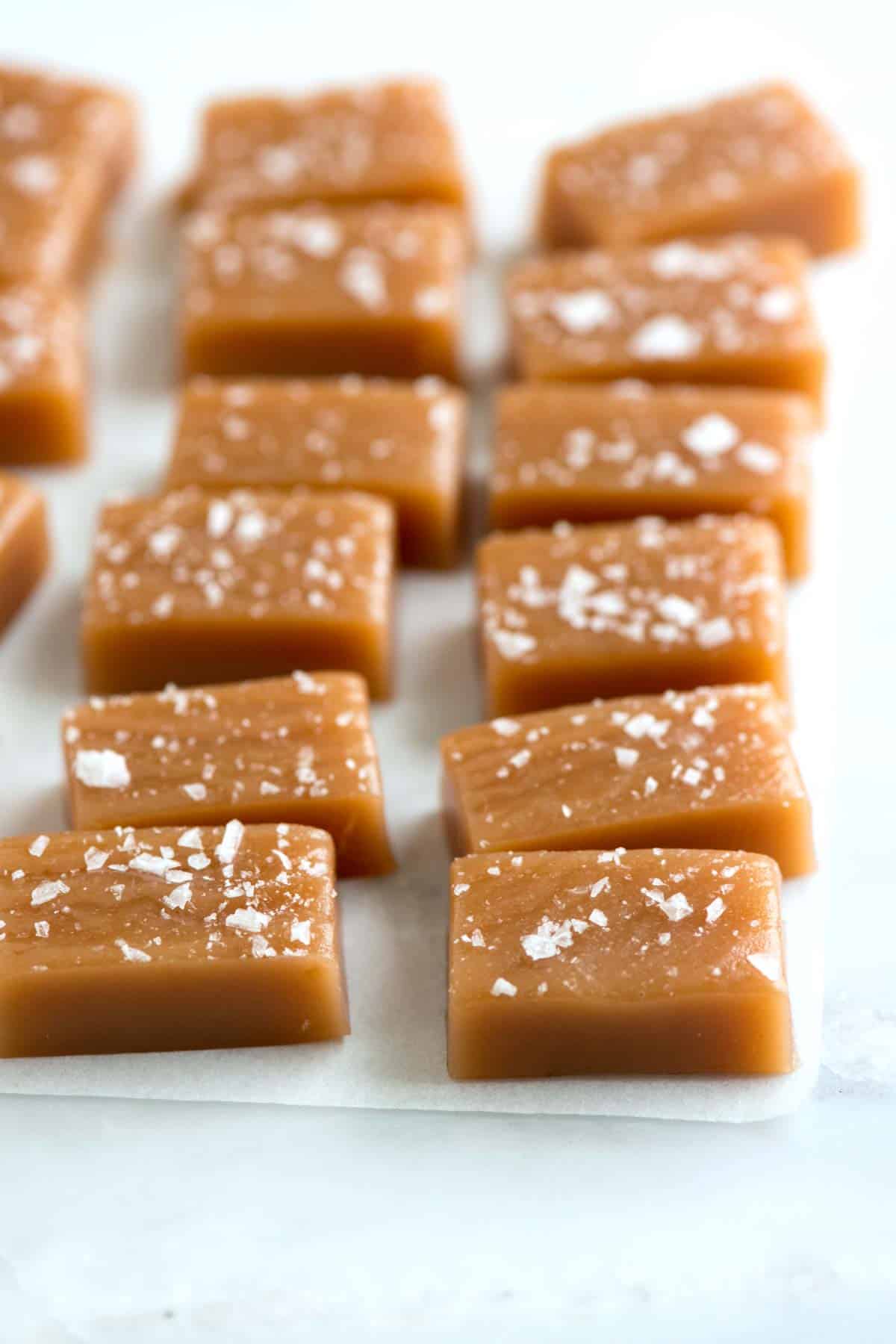 When we first made caramels, we admit, things did not always work out. In fact, some time ago, we published a salted caramel recipe on this very blog. It worked for us, but not for others. So, we went back to the drawing boards and did our best to learn more. That's how we can confidently share the following tricks as well as this new and improved salted caramels recipe.
Here's the deal: Making caramels at home is easy, you just need to know these 7 tricks.
Read the Recipe All The Way Through Before You Start
Before you begin making caramels make sure you you've read through the recipe a couple times and have all equipment ready and ingredients measured out. Candy making can go by quickly and if you're not ready, things can go from good to bad fast.
Do This to Prevent Crystallization
When making caramels, it is important to do everything you can to prevent crystallization, which can make your caramels grainy, ruining the texture.
For our recipe, when you're adding the sugar to the pan, add it slowly and with control. It's best not to allow the sugar to splash up the sides of the pan as this can cause crystallization. With that said, even when we make our caramels, we will sometimes see a few rogue sugar crystals on the sides of our pan.
To prevent crystallization, do this:
Once you have brought the water, corn syrup and sugar to a boil, we ask that you cover the pan and leave it be for one minute. This traps steam and moisture in the pan and helps melt any sugar crystals that may have found their way up the sides of the pan.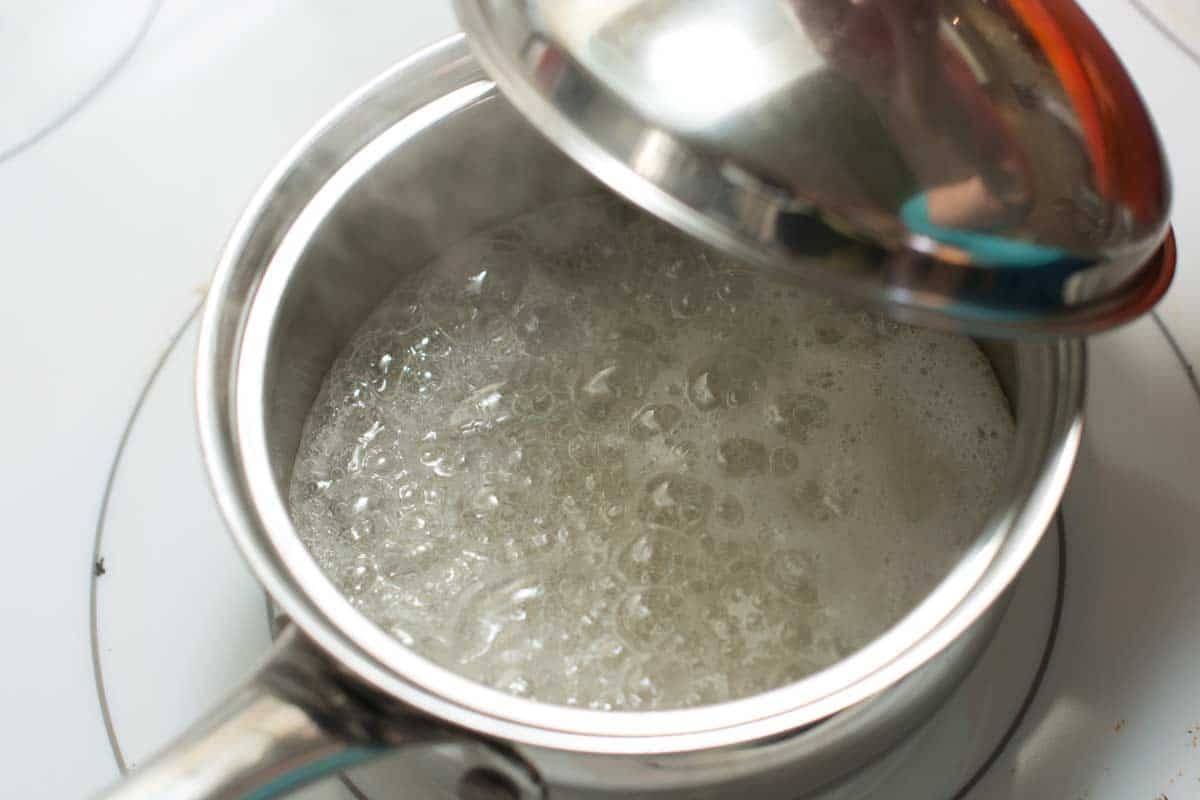 Try not to stir sugar as it cooks. In our recipe, we ask that you stir to moisten sugar before bringing it to a boil. This is fine, but after that, there is no need to stir until you begin to add the butter and cream – even then, though, we only ask that you use the bottom of the candy thermometer to stir, not a spoon.
Make Sure You Use The Right Kind of Cream
In our recipe, we call for "heavy cream" or "heavy whipping cream." If you check the back nutrition panel of cream cartons, you will notice that the percentage of butterfat can vary. For our caramels recipe we need cream that contains at least 36% butterfat. So, use either "heavy cream" or "heavy whipping cream" since they contain 36% or more. Do not use "whipping cream," since that is only made up of 30%.
Use a Candy Thermometer
Don't try this without a candy thermometer. The temperatures matter.
Our recipe is a two-part process:
First, we cook the sugar syrup (sugar, corn syrup, and water), and then we add the cream and butter.
Since this recipe has two stages, there are two temperatures to look out for:
In the first stage, we ask that you cook sugar, corn syrup and water until it reaches 320 degrees F (160 degrees C). According to the stages of candy making, this is past what is called the "hard-crack stage," which means there is virtually no water left in the sugar syrup and if you were to drop a little of the molten sugar into cold water, it would become brittle and most likely crack when bent. The "hard crack stage" is when the sugar syrup is between 300 and 310 degrees F (149 and 154 degrees C). Since we are passing this stage, the sugar syrup will start to "caramelize" and you will actually notice that the syrup will begin to take on an amber color. It is important not to pass 320 degrees F (160 degrees C).
In the second stage, after reaching 320 degrees F (160 degrees C), we ask that you add a butter and cream mixture to the sugar syrup. Then, you will cook that until 240 degrees F (115 degrees C). At this temperature the once the caramels have cooled completely, they will be soft and chewy. If you wanted a slightly harder caramel, you could bring the temperature closer to 245 degrees F (118 degrees C).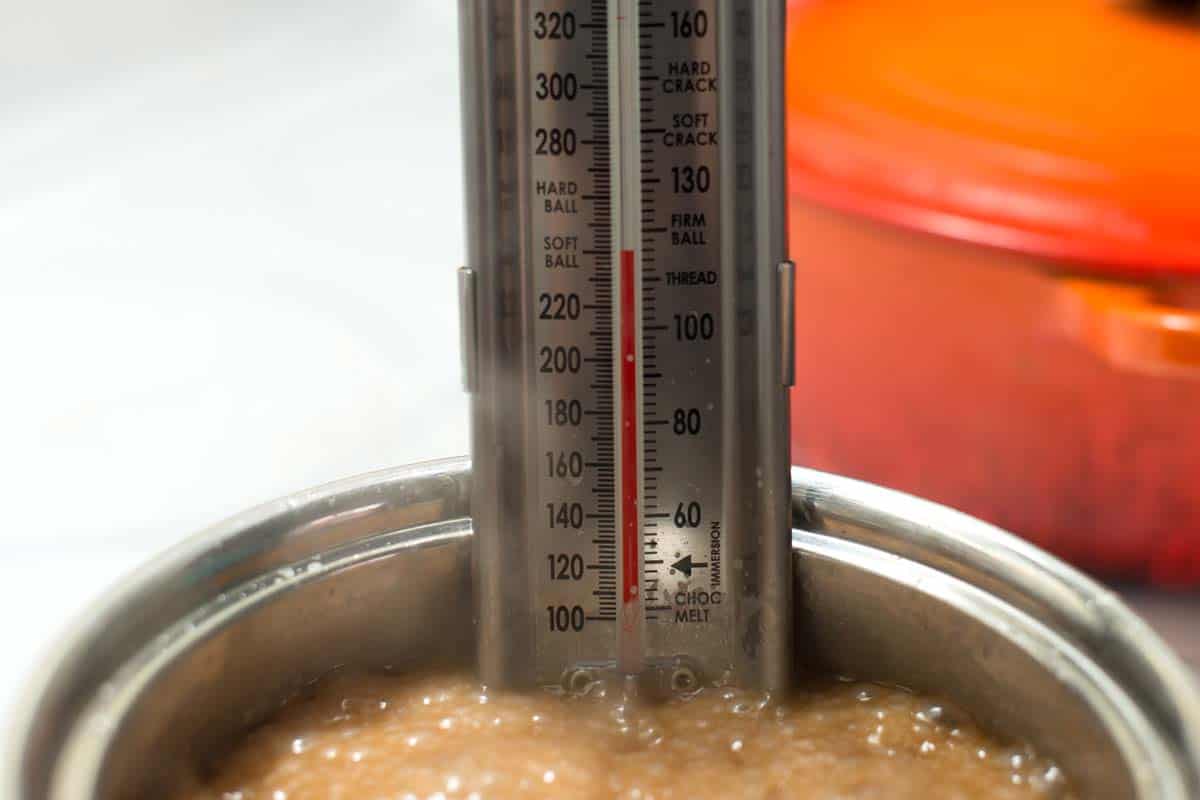 One more note about temperature and candy thermometers. Most candy thermometers will show an "immersion" line. From our experience, the majority of candy recipes will never be large enough of a batch to actually reach the immersion line. With that said, we have found success as long as the tip of the thermometer is fully immersed.
Also, most candy thermometers have a guard to prevent the thermometer from touching the bottom of the pan, if yours does not have this guard, make sure the tip of the thermometer never touches the bottom of the pan as this will affect how accurate the thermometer reading will be.
Don't Double the Recipe
Don't double or triple caramel recipes. Timing is essential when making caramel and doubling a recipe can affect cooking time, something that could affect your end results.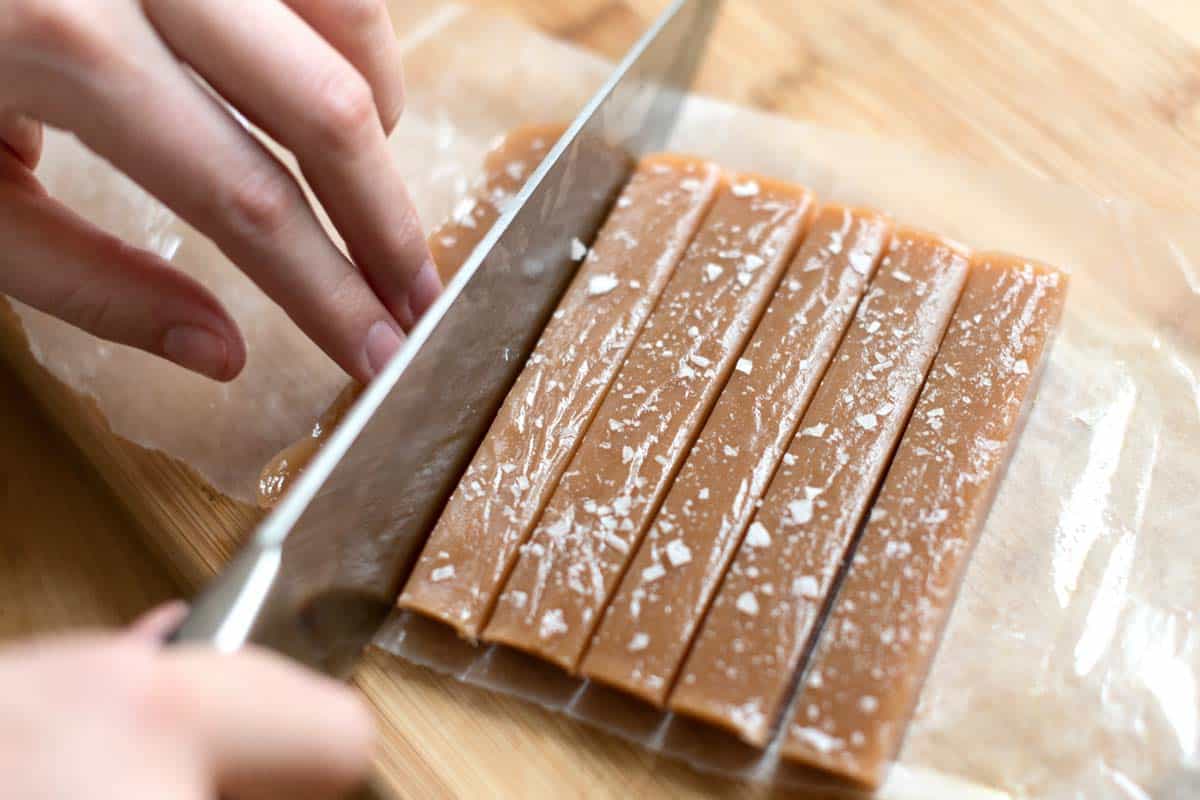 Don't Sweat the Cleanup, Here's How to Do It
Cleaning the pot and candy thermometer after making caramels can be a little sticky. From our experience, we've found that if you add water to the pan then bring it to a boil, the caramel stuck to the sides of the pan will melt away.
You can also add the candy thermometer to the boiling water to remove sticky caramel from the bottom of it, too.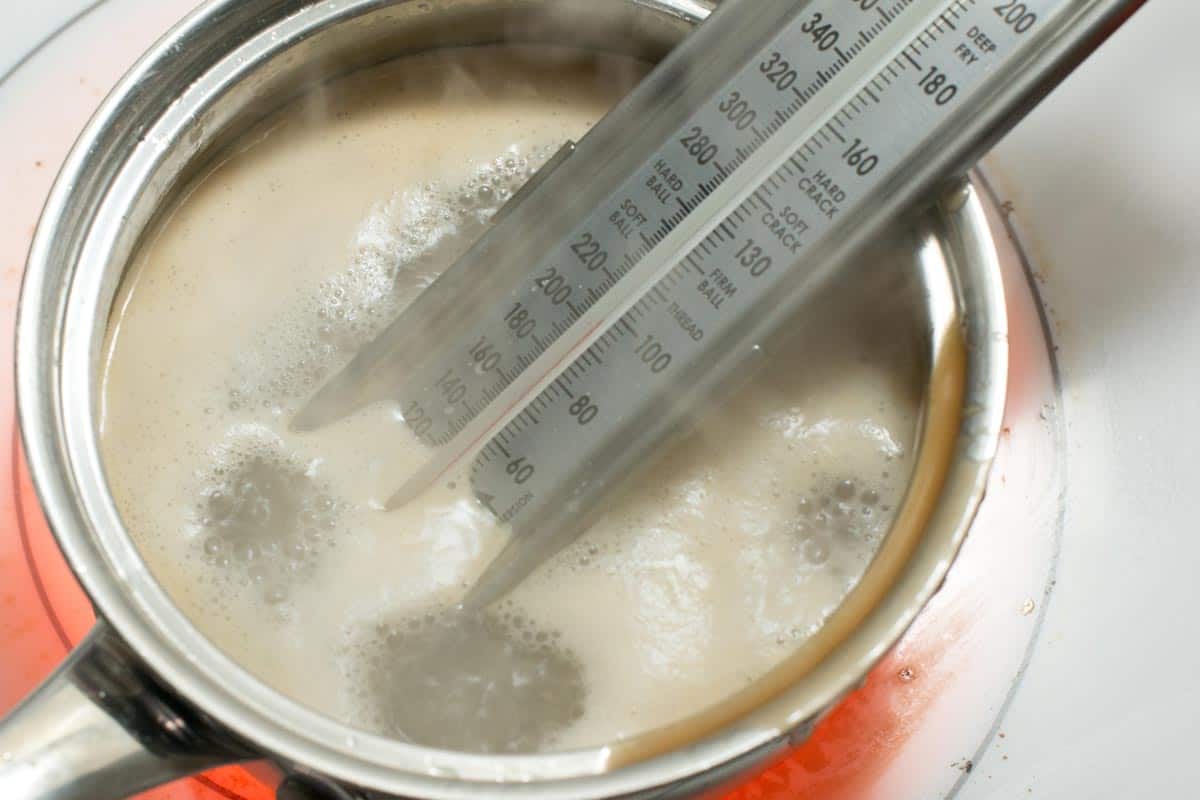 One More Thing (About the Weather)
We know this seems a little odd, but weather can affect the your success when making candy. Cooking sugar to a certain temperature is all about achieving a specific ratio of sugar to moisture. So, if you can, make caramel on a cool dry day. If the air is humid, the caramel can actually reabsorb some moisture, which might negatively affect the texture and softness of your caramel.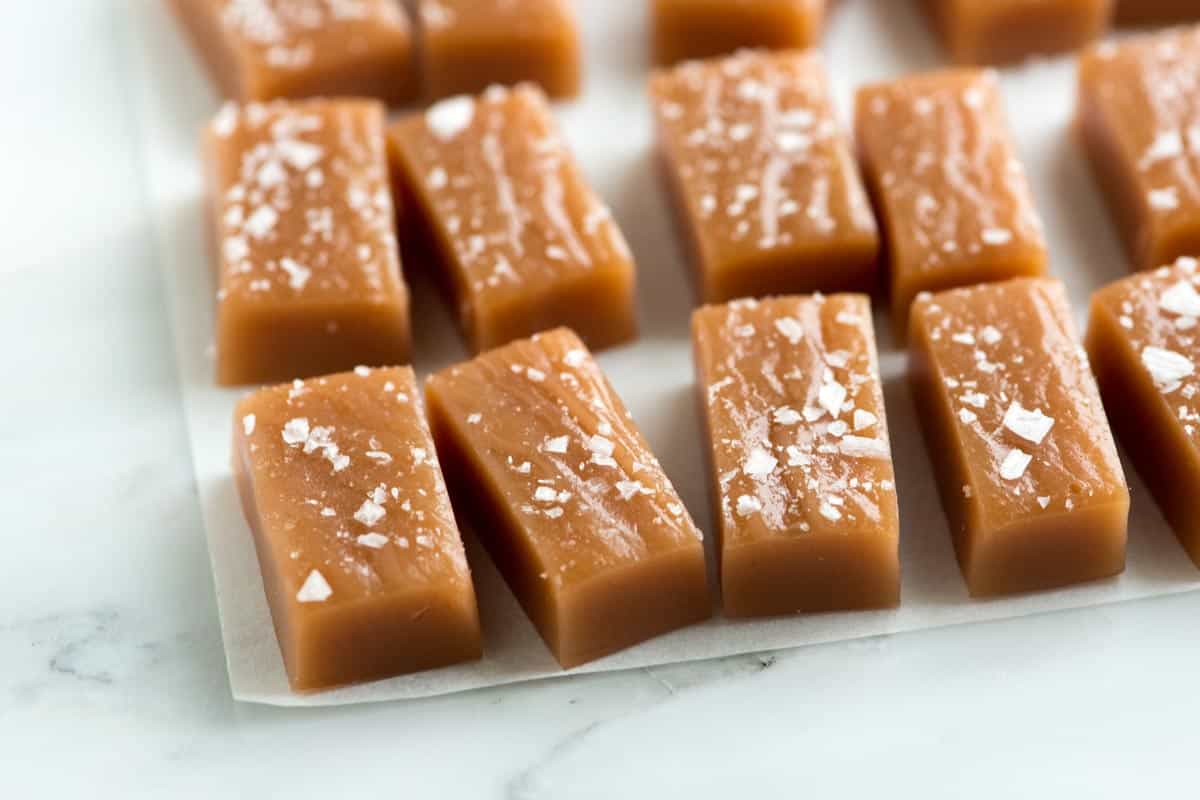 How to Make the Best Homemade Salted Caramels
These salted caramels are soft, chewy and perfectly melt away in your mouth. Before starting to make our salted caramels recipe it is best to be sure you have all equipment ready and ingredients measured out. This caramels recipe has been inspired and adapted from Jacques Pépin's book, "Chez Jacques: Traditions and Rituals of a Cook."
Makes approximately 40 caramels
Watch Us Make the Recipe
You Will Need
1/2 cup (113 grams) unsalted butter (1 stick)
1/2 cup (120 ml) heavy cream or heavy whipping cream (36-40% butterfat content)
3 tablespoons water
1/4 cup (60 ml) light corn syrup
1 cup (200 grams) sugar
1/2 teaspoon course or flaked sea salt
Directions
Prepare Pan and Ingredients

1Lightly oil a 9 x 5 inch loaf pan then measure and cut a piece of parchment paper that will fit inside the pan and come up the sides by at least 1 inch. Next, lightly oil the parchment paper and place into the pan. Set the pan aside.

2Cut butter into 8 pieces then combine with heavy cream in a small microwave-safe bowl. Heat in the microwave for 1 to 2 minutes until hot and butter has melted. Set aside, we will use this later.
Make Caramel

1In a small saucepan combine the water and corn syrup. Then, add the sugar, but try your best not to splatter the sugar up the sides of the pan. Now, use a spoon to gently stir the sugar into the water and corn syrup, just moistening the sugar.

2Heat over medium heat until the sugar has come to a boil. Then, cover with a lid for 1 minute. This adds steam/moisture to the pan, so any sugar that may have stuck to the sides of the pan melts and falls back into the boiling sugar.

3Remove lid then attach a candy thermometer to the side of the saucepan. Then, cook sugar for 5 to 10 minutes, until the sugar reaches a temperature of 320 degrees F. At this temperature, the sugar will take on a light amber color around the edges of the pan.

4The moment the sugar reaches 320 degrees F, carefully pour about a sixth of the butter and cream mixture then stir, using the base of the candy thermometer to incorporate it. Repeat with the remaining cream and butter (adding a sixth of it at a time then stirring). The sugar will bubble violently as you add the butter and cream – so do this carefully and slowly to prevent the mixture from bubbling over the sides of the saucepan.

5By adding the cream and butter, the temperature will drop. Now, continue cooking for another 5 to 10 minutes, until the caramel reaches a temperature of 240 degrees F. This will create a soft caramel, if you want slightly harder caramels, bring the temperature closer to 245 degrees F.

6The moment the caramel reaches your desired temperature, pour into the prepared loaf pan. Cool 20 to 30 minutes then scatter the salt over the caramel. Then, let the caramel cool 3 1/2 hours.
To Finish

1Unmold the caramel. If the caramel is too soft to work with, place into the refrigerator 30 to 45 minutes to firm up. Then, use a large sharp knife to cut into your desired shape. We like to cut into 1-inch by 1/2-inch rectangles.

2Wrap caramels in plastic wrap or waxed paper and enjoy immediately, or you can refrigerate or freeze for enjoying later. (Individually wrap them and keep in the fridge for up to two weeks and in the freezer for up to a month.)
Adam and Joanne's Tips
Softer caramels: This recipe makes soft and chewy caramels, for softer caramels, experiment with adding 2 to 4 more tablespoons of cream.
Corn syrup substitutes: Corn syrup is reliable in this recipe, however, we have had success substituting pure honey and golden syrup.
Don't forget to watch our

salted caramel recipe video.

Nutrition Facts: The nutrition facts provided below are estimates. We have used the USDA Supertracker recipe calculator to calculate approximate values.
If you make this recipe, snap a photo and hashtag it #inspiredtaste — We love to see your creations on Instagram and Facebook! Find us: @inspiredtaste
Nutrition Per Serving
Serving Size
1 caramel
/
Calories
56
/
Protein
0 g
/
Carbohydrate
7 g
/
Dietary Fiber
0 g
/
Total Sugars
7 g
/
Total Fat
3 g
/
Saturated Fat
2 g
/
Cholesterol
10 mg

AUTHOR: 

Adam and Joanne Gallagher