We love this veggie stir fry recipe! It features perfectly cooked vegetables, and the most delicious garlic ginger stir fry sauce. Serve over rice or noodles.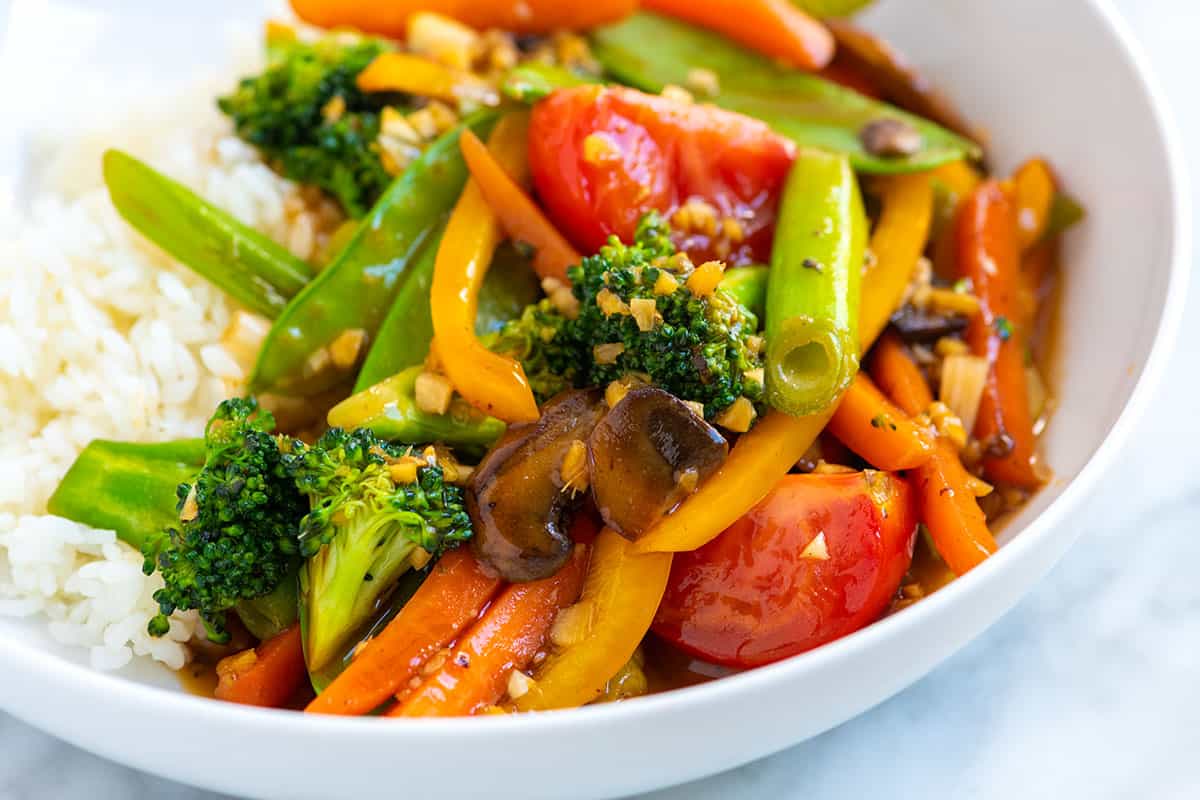 How to Make a Vegetable Stir Fry?
This vegetable stir fry is simple and can be adapted based on what you have on hand. Here's a quick rundown of the method to give you an idea:
(1) Rinse and chop veggies into similar sizes. I like keeping everything in bite-size pieces.
(2) Separate the veggies into two piles: quick-cooking and more hearty veggies. Greens like bok choy or spinach, bell peppers, scallions, and tomatoes go into the pile of quick-cooking veggies, and place heartier veggies like broccoli, mushrooms, and cauliflower into the other pile.
(3) Cook the heartier veggies first. Use a wide skillet or wok and cook them in oil, stirring often, until they are almost tender, which takes around 3 minutes.
(4) Toss in the quicker-cooking veggies and cook until everything is brighter in color and crisp-tender, 2 to 3 minutes more.
(5) Pour in your stir-fry sauce (here is ours) and bring it to a simmer. Thicken the sauce with some cornstarch mixed with water, and then serve!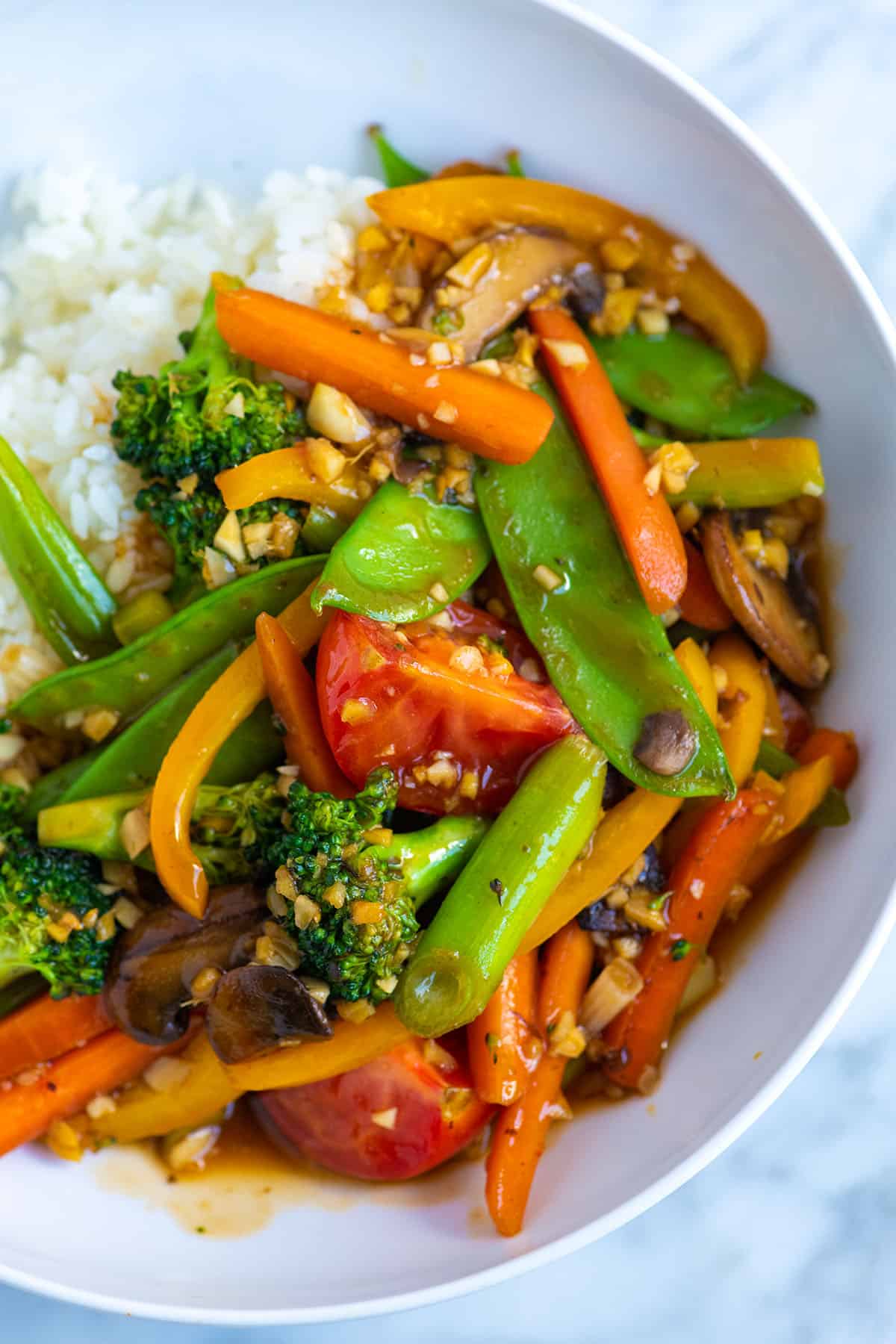 What Vegetables Should I Add to a Stir Fry?
You can add any vegetable to this recipe. I encourage you to experiment with different textures and colors. Or use whatever you have in the fridge. From our photos, you can see that we used a variety, but don't feel you need to follow in our footsteps. Use what you have and use what you love.
When choosing vegetables for stir fry recipes, keep this in mind:
Vegetables can be separated into two camps: quick-cooking and hearty. In the case of this stir fry, it is best to give the heartier vegetables a few extra minutes in the pan before adding the quicker cooking ones. This way, the hearty vegetables are cooked, and the faster cooking vegetables don't overcook. Here are some suggestions:
Quick Cooking Veggies
Greens like spinach, kale, and mustard greens
Thinly sliced onions or scallions
Thinly shredded cabbage or shredded Brussels sprouts
Bok choy
Bell peppers
Bean sprouts
Zucchini and summer squash
Snap peas, snow peas, and English peas
Green beans
Baby corn
Tomatoes
Fresh herbs
Heartier Veggies
Broccoli
Cauliflower
Carrot
Mushrooms
Potatoes
Eggplant
If you love veggies, you might also want to take a look at our recipes for these easy sautéed vegetables, veggie tacos, veggie spaghetti, and these easy veggie enchiladas!
Our Garlic Ginger Stir Fry Sauce
We use our Garlic Ginger Stir Fry Sauce for this recipe and love it! Please look at our stir fry sauce recipe to see why we think it's better than anything you can buy at the store. We use a generous amount of stir fry sauce (our recipe makes 1 ½ cups and we use all of it!).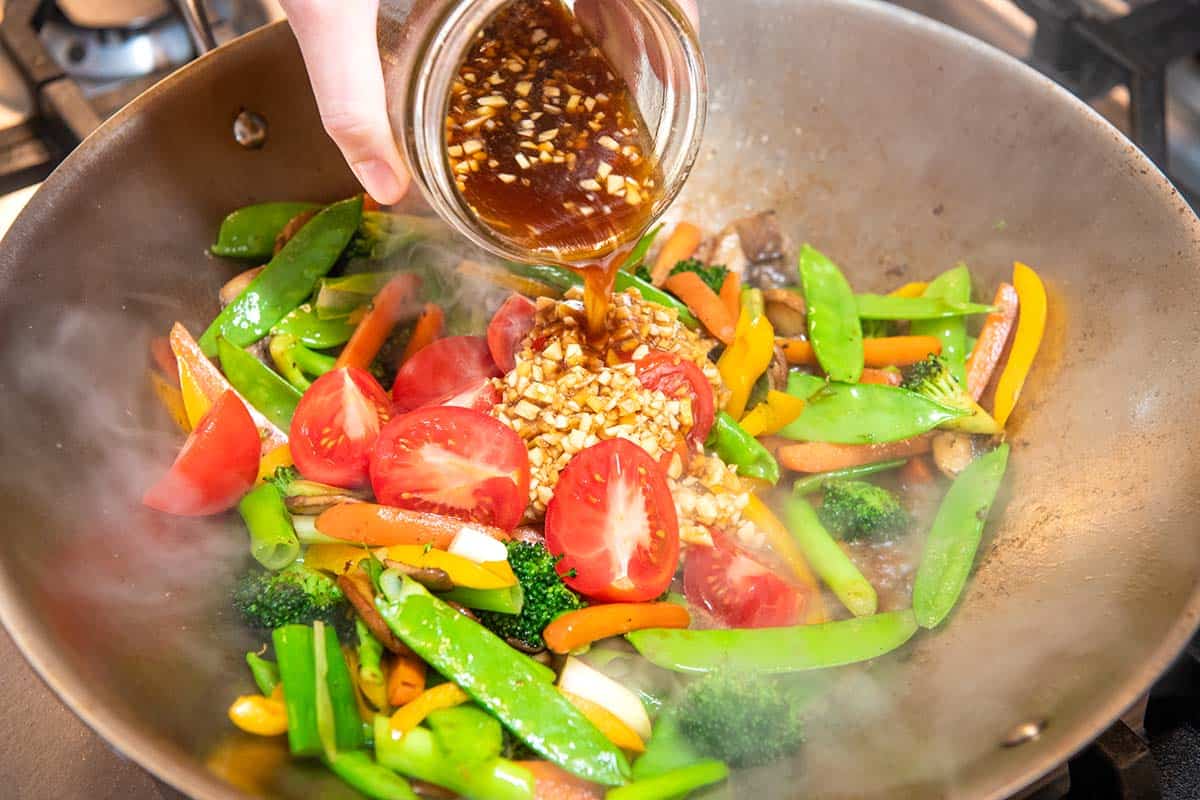 After adding the sauce, we wait for it to start bubbling. At that point, we stir in a mixture of cornstarch and cold water. This cornstarch mixture helps to thicken the sauce so that it turns into the perfect consistency and sticks to the veggies.
The full recipe is shared below. We also use this sauce to make our Garlic Chicken and Broccoli Stir Fry.
FAQ: Do I need to use cornstarch in this stir fry recipe?
Cornstarch is what thickens our sauce and helps it stick to all those beautiful vegetables. If you choose to leave it out, remember that the sauce will be thinner than what is shown in our photos.
We have two cornstarch substitutes you can try if you still want to thicken the sauce, but leave out cornstarch. We do prefer cornstarch in this recipe, but all-purpose flour and arrowroot are also options. To thicken the sauce with flour, use two tablespoons of flour mixed with 1/4 cup of cold water. To thicken the sauce with arrowroot, use one tablespoon of arrowroot powder mixed with 3 tablespoons of cold water. (Note, arrowroot does not reheat that well, so it is best to serve the stir fry straight-away).
FAQ: What type of pan should I use for a stir fry?
A wok is wonderful for cooking stir-fries, but any heavy-bottomed skillet will work for this recipe. A large cast iron skillet would be perfect. When cooking stir fries, we want to use high heat so pans with nonstick surfaces aren't the best.
Cast iron, stainless steel, and carbon steel are all excellent options. Depending on how often your pan has been used, you might experience some sticking. If you do, keep the heat high and add a little more oil to help the vegetables move around in the pan.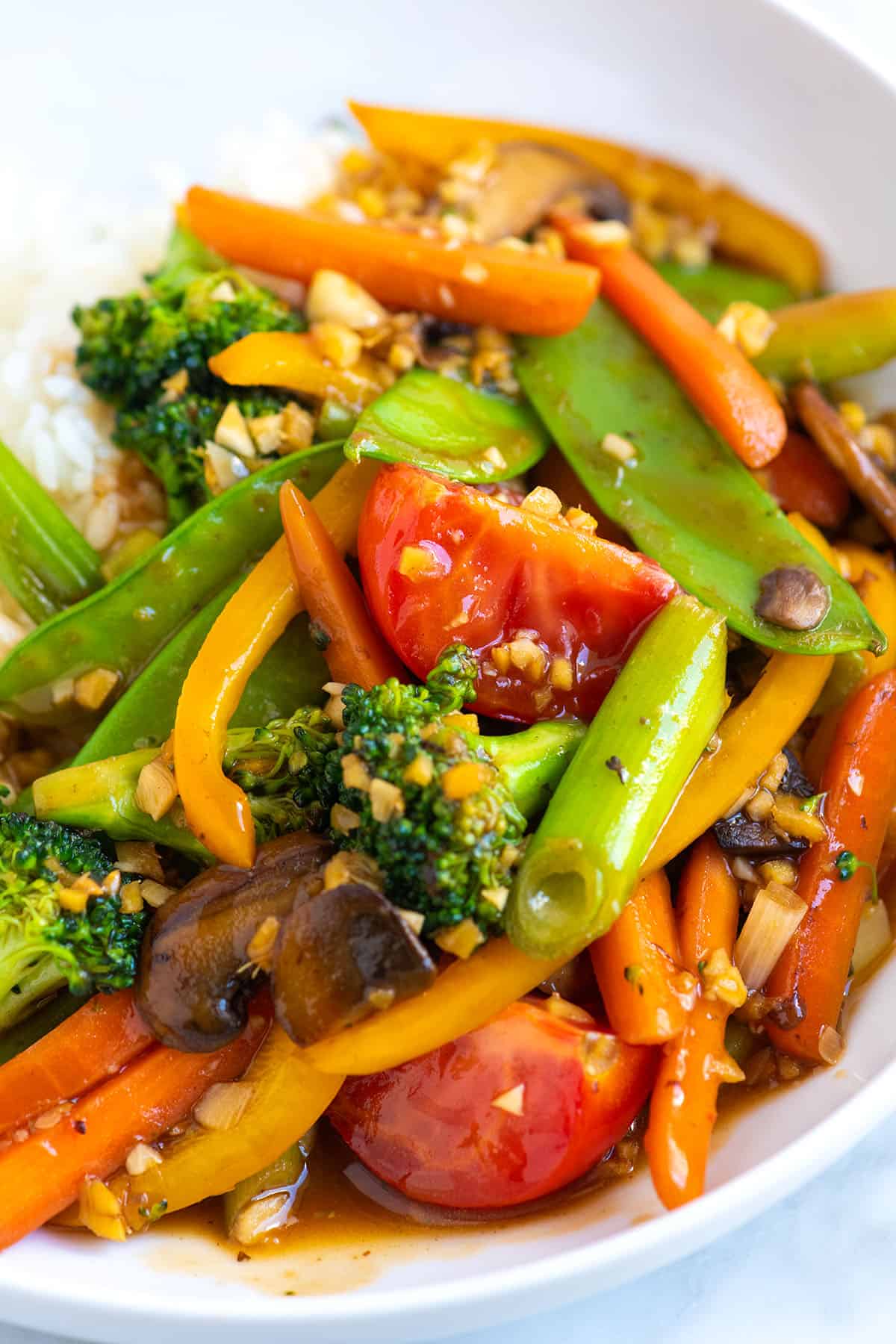 Garlic Ginger Veggie Stir Fry
This veggie stir fry is simple and quick to make. You will need 6 to 7 cups of vegetables. Choose a variety of colors and textures. We like to keep about half of the vegetables on the heartier side (like broccoli and carrots). Add the heartier veggies to the pan first and cook for a few minutes before adding quicker cooking vegetables like scallions, bell pepper, and snow peas. This way, all the vegetables turn out perfectly cooked.
The stir fry sauce can be made in advance. It is extra delicious when made with fresh ginger and garlic, but if you do not have these on hand, you can leave them out.
We love this stir fry with plain rice or Coconut Rice.
Makes 4 servings
You Will Need
Veggie Stir Fry
1 ½ cups broccoli florets
2 medium carrots, sliced into matchsticks, about 1 cup
4 ounces mushrooms, sliced, about 1 cup
1 bell pepper, sliced
1 bunch scallions, sliced into 1-inch pieces
1 cup snow peas
2 small tomatoes, cut into wedges
3 tablespoons neutral oil like vegetable or avocado oil

Stir Fry Sauce
6 garlic cloves, minced
3 tablespoons minced fresh ginger (thumb-size piece of ginger)
1 cup chicken or vegetable stock
2 tablespoons dark soy sauce
2 tablespoons light soy sauce
2 tablespoons Shaoxing wine, substitute dry sherry or mirin, see notes
1 tablespoon toasted sesame oil
2 tablespoons sugar
1/4 to 1/2 teaspoon ground white pepper
Directions
Make Stir Fry Sauce

1Combine all of the stir fry sauce ingredients in a jar. Seal the jar with a lid, and then shake until the sugar dissolves. Use straight away or store in an airtight container, refrigerate, and use within two days. For questions about the ingredients and substitutions for this sauce, see our stir fry sauce recipe.

2Alternatively, add all ingredients to a small saucepan and cook over medium heat until the sugar dissolves. Store or use straight away.
Make Stir Fry

1Stir one tablespoon of cornstarch with three tablespoons of cold water, and then set aside.

2Divide the vegetables into two piles. One should be heartier, longer cooking vegetables (broccoli, carrots, and mushrooms) and the other pile should have the quicker cooking vegetables (bell pepper, scallions, snow peas, and tomatoes).

3Heat a large, heavy skillet or wok over high heat. Add 1 ½ tablespoons of high heat oil (like vegetable or avocado oil), and then add the pile of heartier vegetables (broccoli, carrots, and mushrooms). Cook, stirring the vegetables around the pan, until they start to sweat and soften, about 3 minutes.

4Throw in the remaining vegetables and continue to cook for another 2 to 3 minutes or until the vegetables are done. If the pan needs more oil, add another tablespoon or so as needed. (For reference on telling when the vegetables are done, the broccoli should be bright green and crisp-tender, the mushrooms should be browned slightly and reduced in size, and the snow peas should be bright green and a little floppy.)

5Pour in the stir fry sauce. Give the cornstarch mixture one more stir, and then slowly pour it into the stir fry. Stir everything around until the sauce thickens and sticks to the vegetables. Serve immediately.
Adam and Joanne's Tips
Nutrition facts: The nutrition facts provided below are estimates. We have used the USDA database to calculate approximate values.
Shaoxing wine is a Chinese rice wine often used in Chinese cuisine. It's the most authentic choice in this recipe, so we highly recommend adding it to your pantry if you can find it. However, if you do not have access to it, we have two alternatives: dry sherry and mirin. Mirin is sweeter than Shaoxing wine so you will likely need to reduce the sugar by 1 tablespoon. One more option is to use rice wine vinegar. This will make the sauce taste a little different and you may need a little more sugar.
Gluten-free tips: When shopping for the ingredients listed above (especially the soy sauce), look for gluten-free on the label. If you cannot find gluten-free soy sauce, look for gluten-free tamari, which, unlike soy sauce is traditionally made without or with very little wheat.
If you make this recipe, snap a photo and hashtag it #inspiredtaste — We love to see your creations on Instagram and Facebook! Find us: @inspiredtaste
Nutrition Per Serving
Serving Size
1/4 of the recipe
/
Calories
244 calories
/
Total Fat
14.5g
/
Saturated Fat
2.1g
/
Cholesterol
0mg
/
Sodium
1053.8mg
/
Carbohydrate
25.9g
/
Dietary Fiber
4g
/
Total Sugars
16.5g
/
Protein
4.7g

AUTHOR: 

Adam and Joanne Gallagher