How to make classic, unfussy pumpkin pie from scratch. This is our favorite way to make pumpkin pie. It's easy, too!
Watch the Video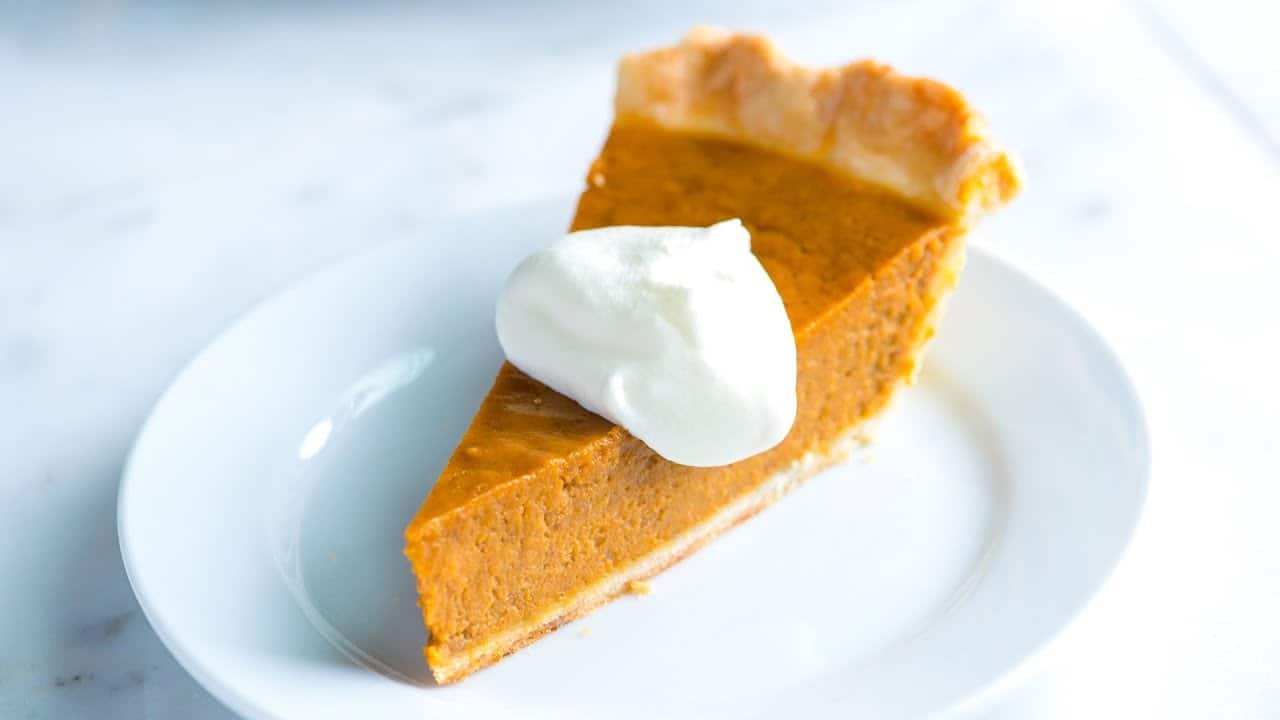 Related: We love this homemade pumpkin puree!
How to Make Our Favorite Pumpkin Pie
We take it plain or, when feeling feisty, with a dollop of softly whipped cream. The pie filling is creamy, rich and has just enough sweetness to balance some spice from cinnamon, ginger, and cloves. You can easily go for an extra slice at the end of dinner. Don't tell anyone, but we've even stolen a few bites for breakfast.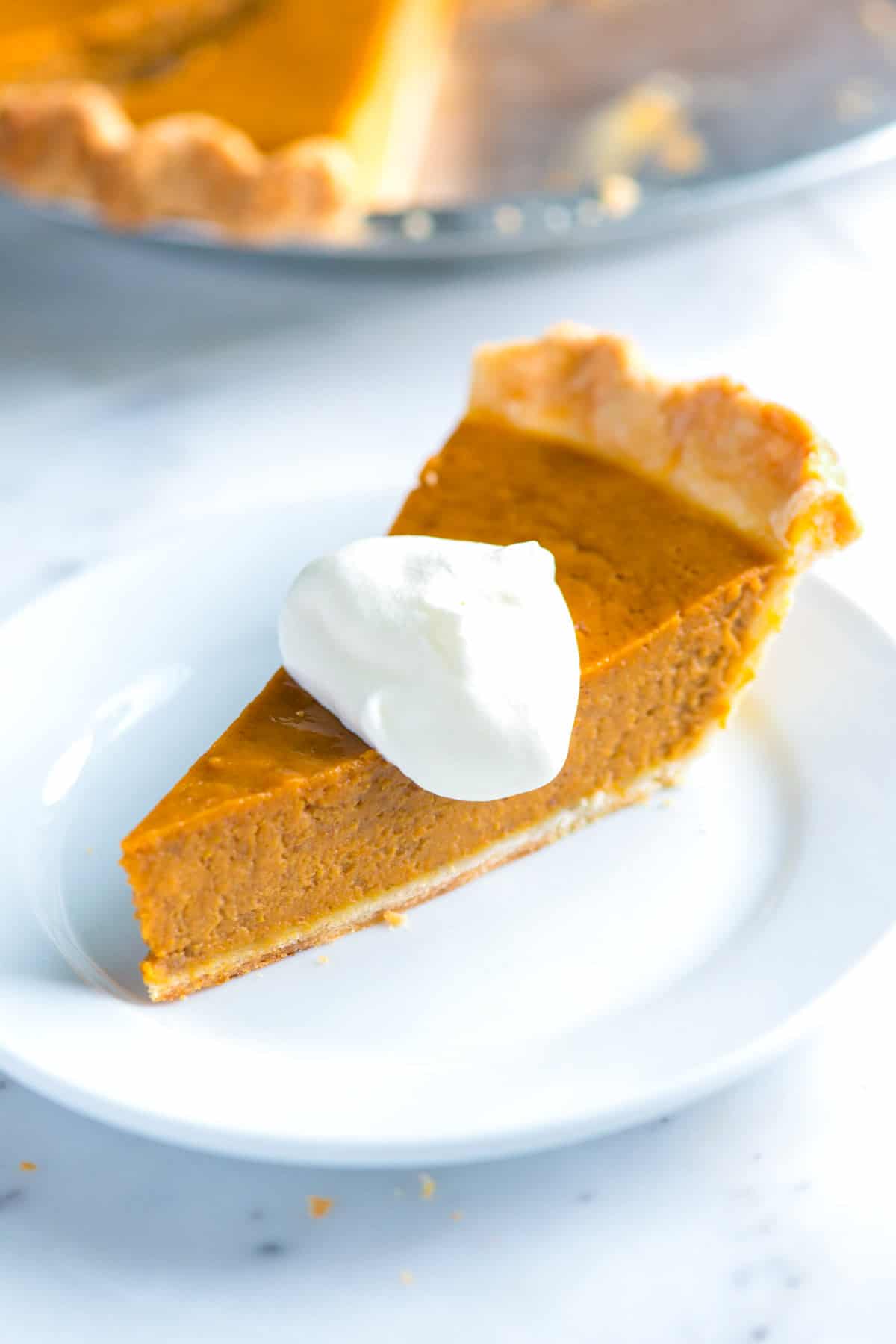 Making this pumpkin pie from scratch is easy — we think it's one of the simplest (and tastiest) pies you can make at home.
The filling comes together in minutes and is made from pumpkin puree, eggs, cream, sugar, and fall spices. Everything is mixed together and poured into a pie crust. You can use canned or homemade pumpkin puree in this pie. I love the pie when we've used canned (especially since it is so consistent), but making your own puree is easy and means the pie is 100% homemade. (Bonus, you get to roast the pumpkin seeds. Here's our easy recipe for roasted pumpkin seeds.)
We don't add too many spices either — we like how the pumpkin gets a chance to shine. If you love spicier pies, just bump up the spice amounts listed in the recipe below.
For the crust, we use our own homemade pie dough. Our favorite crust calls for 100% butter and is pretty simple to make. You can even make it well in advance and refrigerate or freeze it until you are ready to make the full pie. If you have a favorite store-bought pie crust, then use it. It's completely up to you.
The Crust – Blind Bake or not?
We're usually partial to blind baking single-crust pies — especially those with liquid fillings. With that said, we don't blind bake when making pumpkin pie. "Blind baking" means to partially cook the crust before adding the filling, which helps the crust stay crisp and flaky.
With pumpkin pie, though, we love how the crust becomes moistened a little from the filling. The base of the crust browns, but where the filling and crust meet, it's soft and tender. That's how we saw our mothers make it as kids, so we just can't stray.
If you want to blind bake the crust, go for it. Line your pie dish with dough, prick the bottom with a fork and line with foil. Fill the foil with pie weights (or use uncooked rice or beans) then bake in a 450-degree oven for 8 minutes. Remove the foil (and weights) then bake another 5 to 6 minutes, or until golden. From there, fill the crust as usual and bake until the filling sets.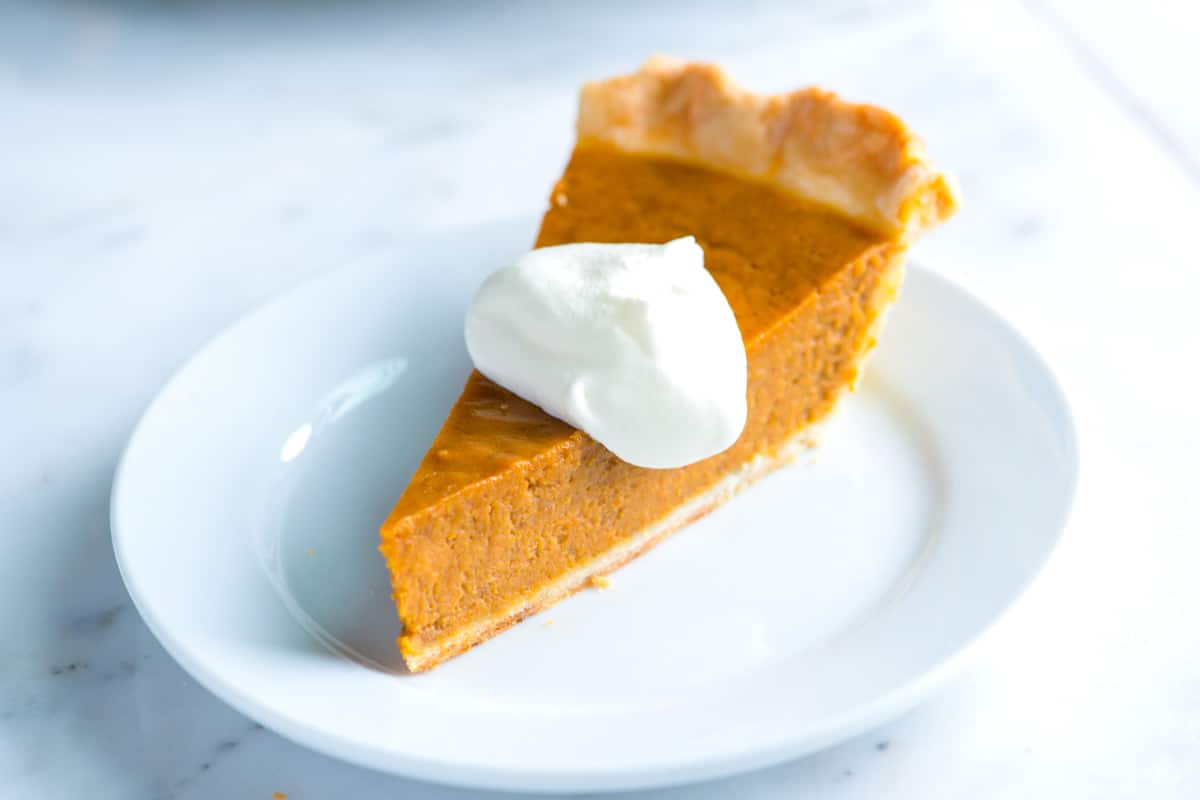 More Pumpkin Recipes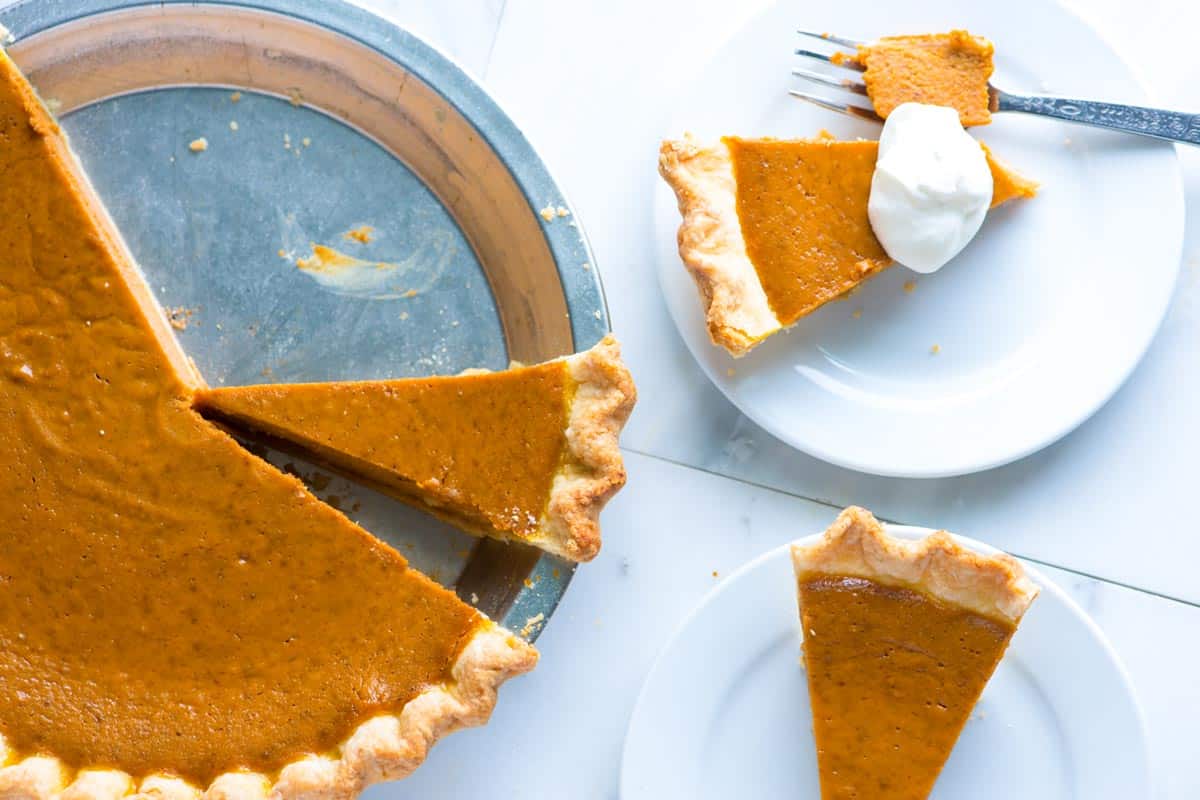 For more pie recipes, check out Our Favorite Apple Pie from scratch, Easy Homemade Blueberry Pie, this delicious Cherry Pie from Scratch and our Fresh Strawberry Pie topped with whipped cream.
Easy Homemade Pumpkin Pie
This is a classic, unfussy pumpkin pie recipe. We take it plain or, when feeling feisty, with a dollop of softly whipped cream. The spices are not overpowering, here. If you like your pie spicy, increase the cinnamon and ginger a little. (We'd stay away from increasing the cloves, a 1/4-teaspoon should suffice).
Makes 1 (9-inch) pie
Watch Us Make the Recipe
You Will Need
Chilled pie dough for one single-crust 9-inch pie, see our pie crust recipe
3 large eggs
1/2 cup (100 grams) granulated sugar
1/3 cup (65 grams) light brown sugar
1 (15-ounce) can pure pumpkin puree or 2 cups (440 grams) fresh pumpkin puree, see our homemade pumpkin puree recipe
3/4 cup (175 ml) heavy whipping cream
1 teaspoon vanilla extract
1 1/2 teaspoons ground cinnamon
1/2 teaspoon ground ginger
1/4 teaspoon ground cloves
1/2 teaspoon kosher salt
Directions
Prepare Crust

1Roll out the dough so that it is two inches larger than your pie dish. Gently press dough down into the dish so that it lines the bottom and sides. (Be careful not to pull or stretch the dough). Trim dough to within 1/2-inch of the dish edge.

2Fold edges of dough underneath itself, creating a thicker, 1/4-inch border that rests on the lip of the dish. Crimp edges. (You can see us do this in our pie crust recipe video). Refrigerate while you make the pie filling.
Make Filling

1Whisk eggs and both sugars together until smooth. Add pumpkin puree, cream, vanilla, cinnamon, ginger, cloves, and the salt. Stir until well blended.
Bake the Pie

1Heat oven to 425 degrees F.

2Place the pie on a baking sheet. Pour pumpkin filling into the pie shell.

3Bake pie at 425 degrees for 15 minutes. Reduce the oven temperature to 375 degrees and bake 35 to 45 minutes or until a toothpick or thin knife plunged it into the pie, about 2 inches from the edge, comes out clean. Rotate once or twice during baking. If, while the pie bakes, the tops of the crust becomes too dark, cover with a thin strip of aluminum foil.
To Finish

1Cool on a wire rack for 2 hours or until room temperature. Cut into eight wedges and serve alone or topped with whipped cream. To store, cover the cooled pie loosely with foil or plastic wrap and keep in the refrigerator up to 3 days.
Adam and Joanne's Tips
Substitute 2 ¼ teaspoons pumpkin pie spice for the cinnamon, ginger, and cloves. Here's our homemade pumpkin spice blend.
How to tell the pie is done: Take the pie out of the oven when the majority of the pie looks shiny and set on top. It should jiggle a little like jello, but not much more. The middle will still look wet on top. This is okay, it will continue to cook as the pie cools on the counter. And, as a final test, grab a toothpick or thin knife then plunge it into the pie, about 2 inches from the edge. If it comes out clean, the pie is done. As the pie sits until cooled to room temperature, it will continue to cook and set. We wait for 2 hours. If, when you cut into the pie, the middle does not seem to be set, let it cool a little longer. Or, cut the slice anyway and cover the end with whipped cream. It will still taste great.
Nutrition facts: The nutrition facts provided below are estimates. We have used the USDA database to calculate approximate values.
If you make this recipe, snap a photo and hashtag it #inspiredtaste — We love to see your creations on Instagram and Facebook! Find us: @inspiredtaste
Nutrition Per Serving
Serving Size
1 slice (1/8th of pie)
/
Calories
365
/
Protein
6 g
/
Carbohydrate
38 g
/
Dietary Fiber
2 g
/
Total Sugars
21 g
/
Total Fat
22 g
/
Saturated Fat
13 g
/
Cholesterol
131 mg

AUTHOR: 

Adam and Joanne Gallagher
Recipe updated, originally posted October 2013. Since posting this in 2013, we have added a recipe video and tweaked the recipe to be more clear. – Adam and Joanne