These pull apart stuffed bread rolls make us wish we made bread rolls everyday.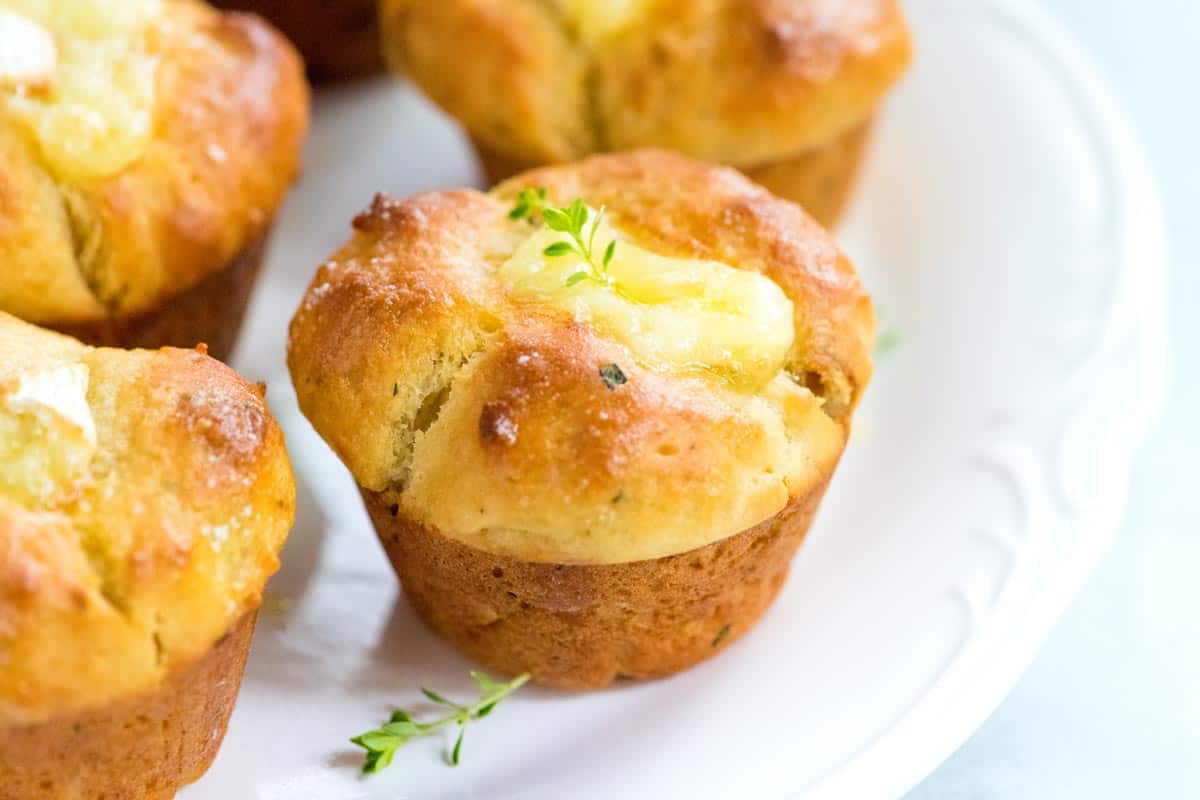 Related: We love our popular focaccia bread!
These rolls are naturally sweetened with honey, soft inside, and because you know we can't do anything "normal" they've got a slice of creamy brie cheese and fresh herbs in the middle. You will need to let the dough rise for 1 hour, but after that, they are no-knead, easy bread rolls!
How to Make No-Knead Bread Rolls Stuffed with Brie Cheese
These really are easy to make. The hardest part is making sure you have enough patience to wait an hour for them to rise. Other than that, they're a cinch!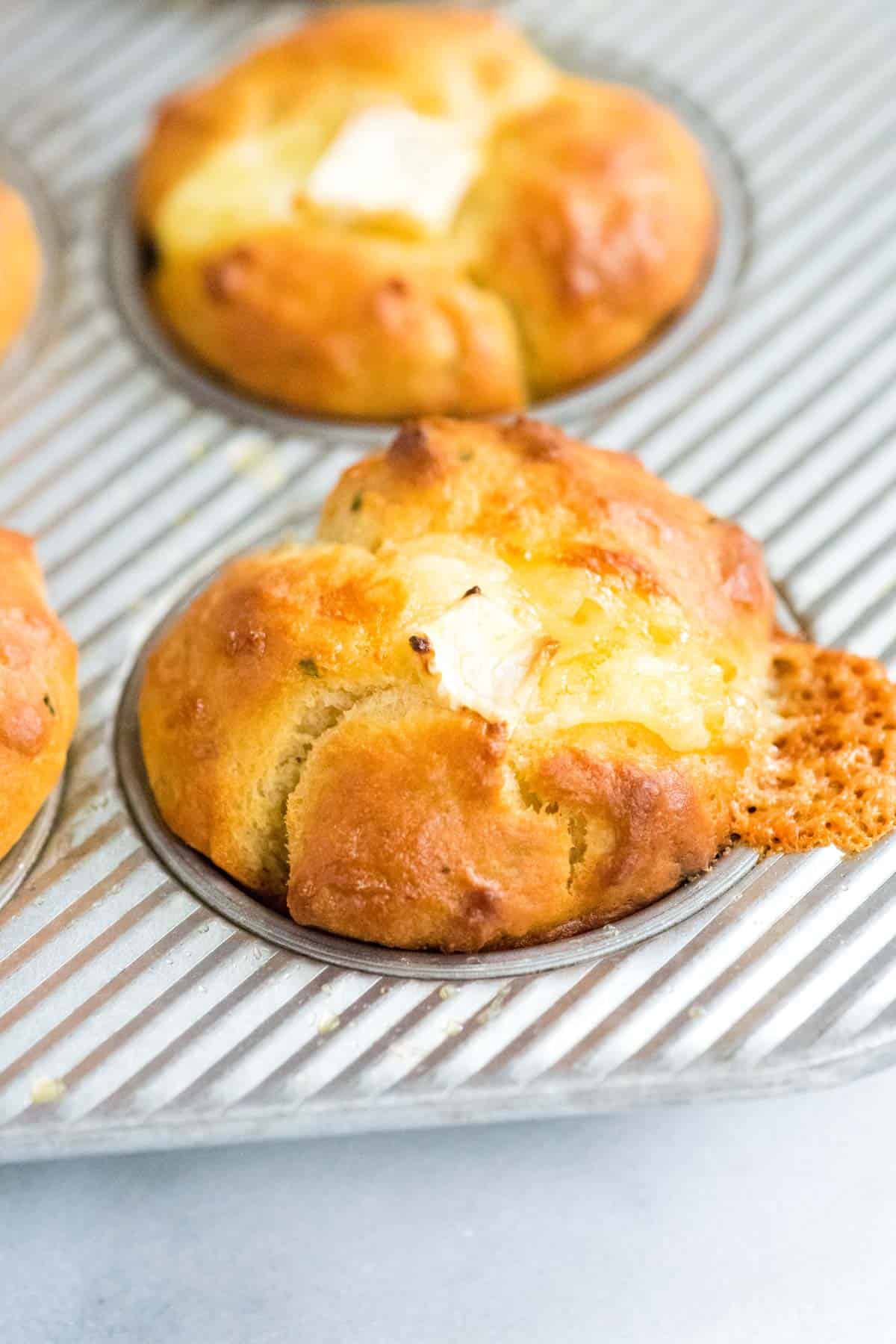 Start by dissolving honey into milk and olive oil. Stir in yeast and flour then cover the pot and wait about an hour until the dough doubles in size. After an hour, stir in more flour, baking soda, baking powder, salt, and lots of fresh herbs — I like a combination of rosemary and thyme.
When the dough comes together, form it into mini balls. Since we love pulling the bread apart, we add three of the mini balls into each muffin cup. This way, when they are baked they are just begging to be pulled apart!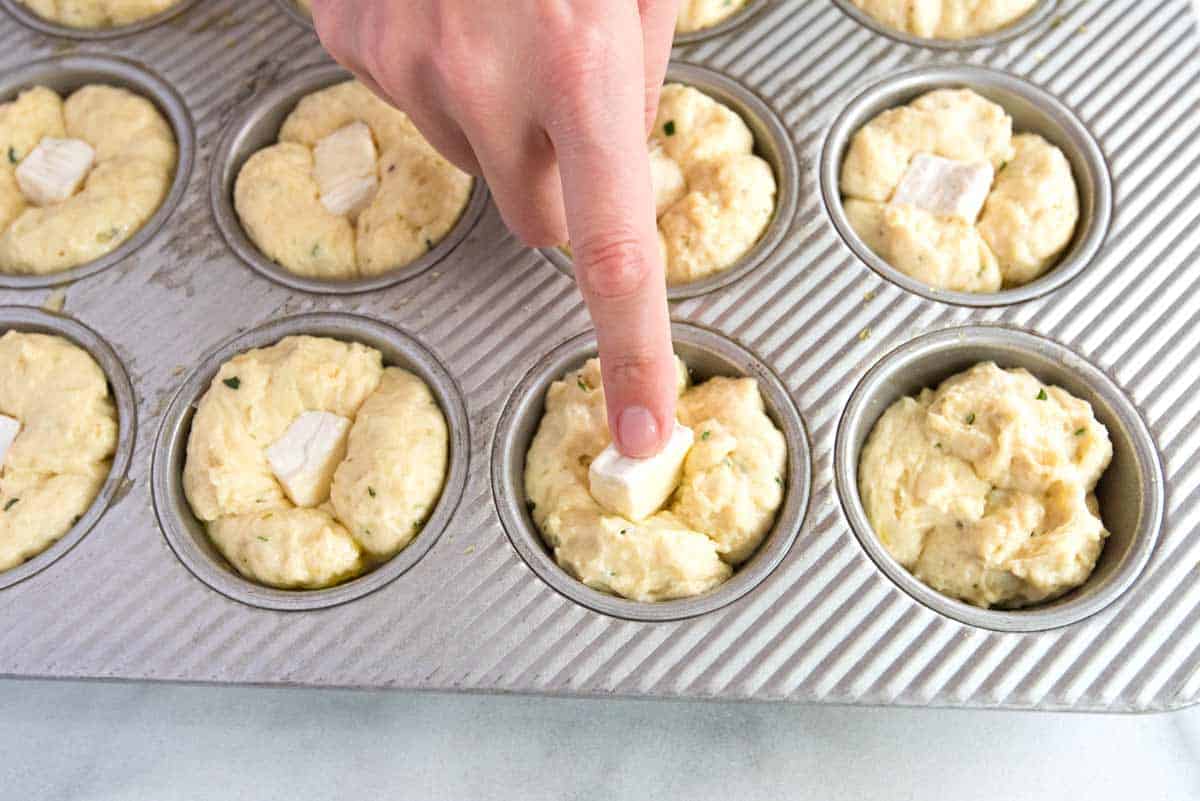 Oh, and let's not forget that it's a good idea to sneak in a piece of brie cheese into the middle before baking. Not bad, right? So simple and can you even begin to imagine your family and friends faces when you come out with a big basket of these rolls!? Winner!
YOU MAY ALSO LIKE: How to make perfectly juicy oven-roasted turkey breast with garlic, herbs, and orange. Jump to the Garlic Herb Roasted Turkey Breast Recipe.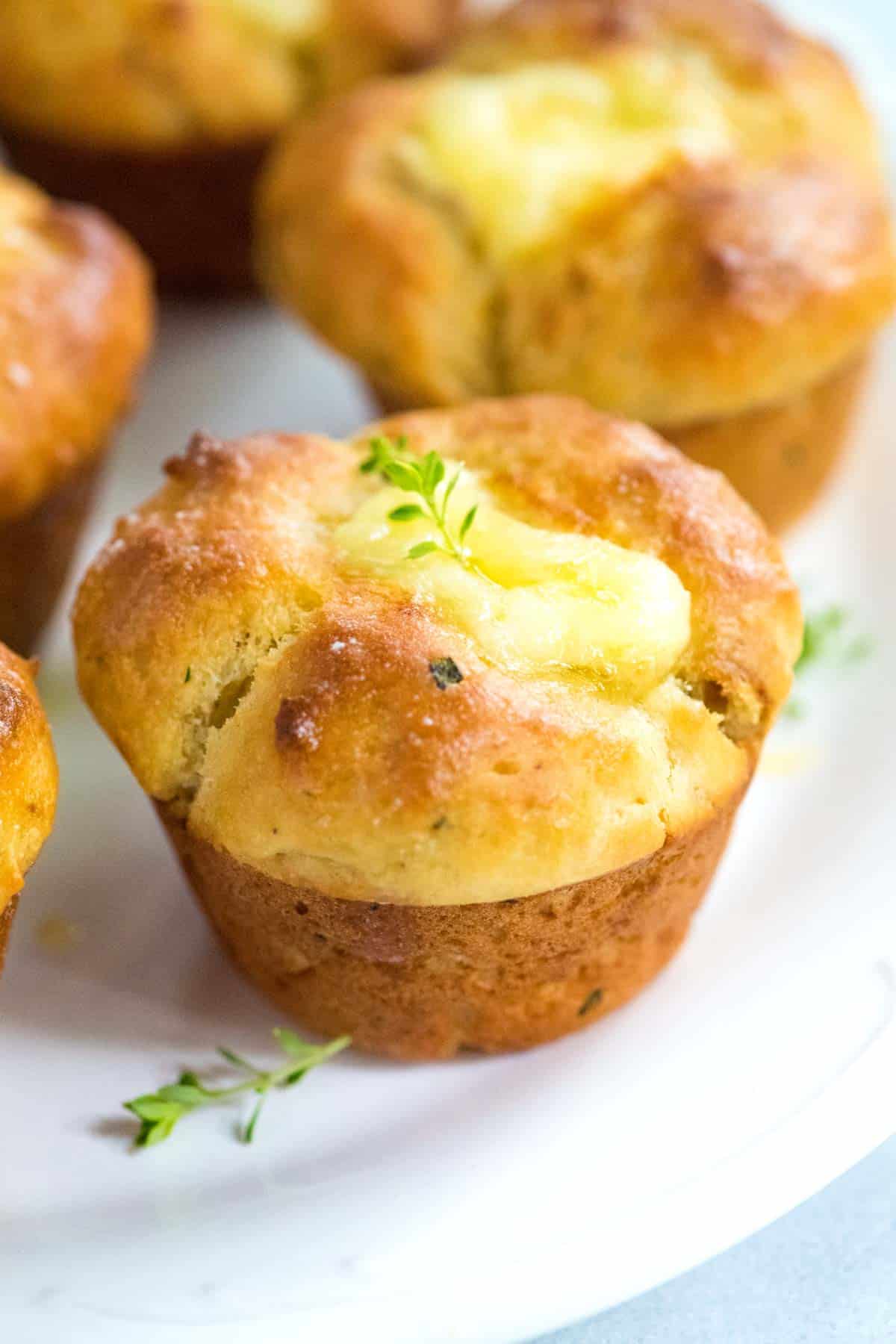 Brie Stuffed Bread Rolls
These soft and stuffed no-knead dinner rolls will fly off the plate. Only one hour is required for rising, but nothing else. No kneading is required!
Makes approximately 18 rolls
You Will Need
2 cups (470 ml) milk, reduced fat or whole milk
1/3 cup (115 grams) pure honey
1/2 cup (120 ml) olive oil
4 1/2 cups (585 grams) all-purpose flour
1 package active dry yeast (2 1/4 teaspoons)
1/2 teaspoon baking powder
1/2 teaspoon baking soda
1 tablespoon finely chopped fresh herbs, such as rosemary or thyme
2 teaspoons fine sea salt
6 ounces (170 grams) brie cheese, cut into 18 cubes
1 tablespoon melted butter, optional
Directions
Make Dough

1Add the milk, honey, and olive oil to a 3-quart saucepan. Place over medium heat and cook, stirring often until the honey dissolves into the milk and oil.

2Remove from the heat and let cool until you can place the tip of your finger into the liquid and hold it there for a bit, without feeling like it's too hot. (The liquid should be between 90 and 110 degrees F).

3Stir in 2 cups of the flour and the yeast. Cover and let rise until doubled in size, about 1 hour.

4Stir in the remaining 2 1/2 cups of flour, the baking soda, baking powder, herbs and the salt.
Form Rolls

1Heat the oven to 400 degrees F and lightly grease 18 muffin cups with olive oil.

2Roll dough into 1-inch balls — you will need 54 balls to make 18 rolls. Place three balls into each muffin cup. Push 1 cube of cheese into the middle of each filled muffin cup, pushing most of it under the tops of the dough balls.
Bake Rolls

1Bake the rolls until golden brown, 16 to 20 minutes. Remove from oven then push any cheese that has overflowed onto the muffin tin back on top of the rolls.

2Cool about 10 minutes in the pan then transfer to a cooling rack and cool completely. Serve with a little melted butter brushed on top.
Adam and Joanne's Tips
If you make this recipe, snap a photo and hashtag it #inspiredtaste — We love to see your creations on Instagram and Facebook! Find us: @inspiredtaste

AUTHOR: 

Adam and Joanne Gallagher